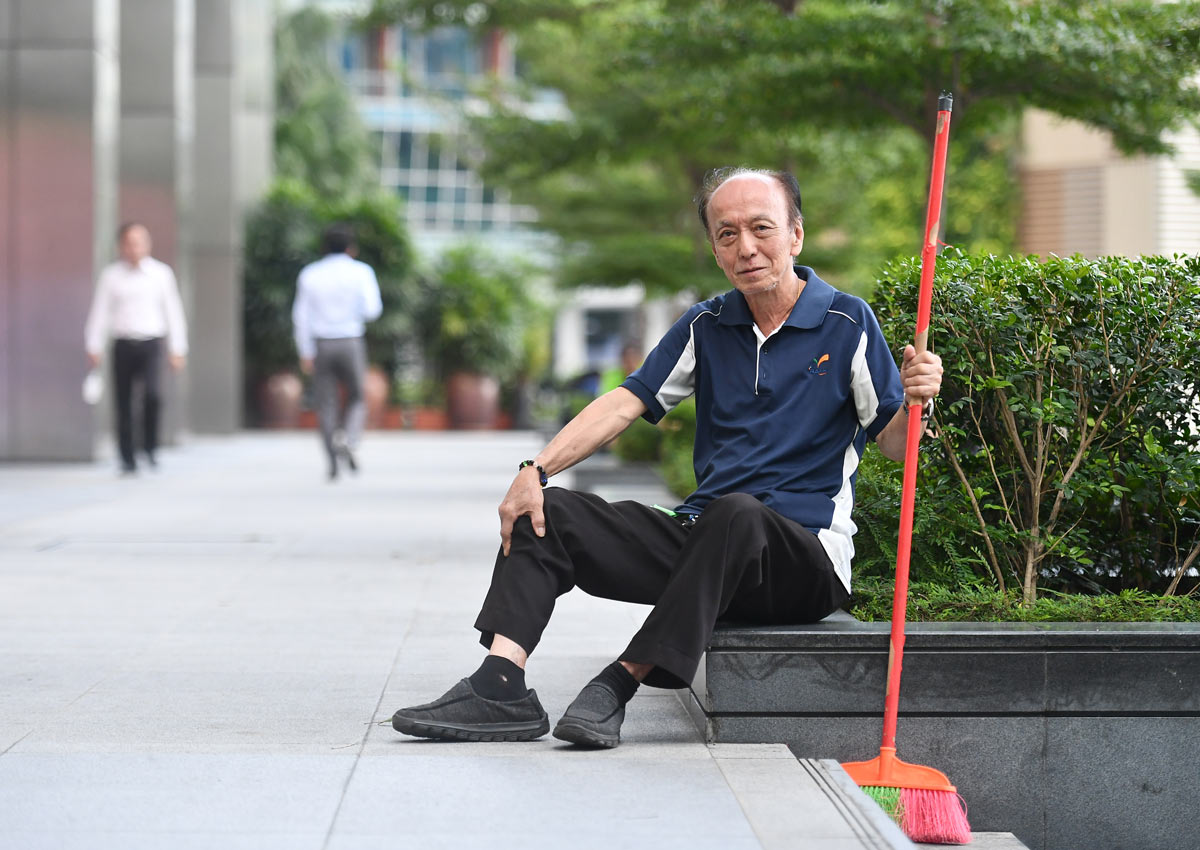 For eight years, assistant cleaning supervisor Leow Chin Kia's monthly pay has been stuck at $1,300.
The 73-year-old was resigned to it.
"I'm old already. Where else can I go? It's not enough, but I have to accept it," he said.
But like other cleaners struggling to rise above their flatline salaries, Mr Leow will be assured of a pay rise in future, thanks to a raft of recommendations by the Tripartite Cluster of Cleaners (TCC) to uplift workers in the cleaning industry.
It has recommended a $200 boost in basic wage levels set out in the Progressive Wage Model in the next three years. These will be raised by $60 annually in the next two years, and $80 in 2019.
And from 2020 to 2022, cleaners can expect an annual increase of 3 per cent to these wage levels.
The extra income will go into his meagre savings, said Mr Leow, who has been working in the cleaning industry for more than 20 years. He cleans indoor and outdoor areas in downtown Singapore.
He will get $20 more a month from July 2018, when the minimum wage level for an outdoor cleaner like him hits $1,320. The year after, his monthly salary will be $1,400.
"I'm still healthy now. I still can work. But I have new problems with my body, so I need to save enough for medicine, for doctors," he said, adding that he wants to support himself in his old age so he will not be a "burden" to his family.
Meanwhile, Madam Junaina Ismail - a cleaner for the past 15 years at mostly government buildings - is a victim of the wage "reset" that plagues the cleaning industry.
Some cleaners find their pay and benefits, like paid leave, falling back to the minimum level when there is a change in service providers or when contracts with service buyers, like building owners, are renewed.
At her previous workplace, Madam Junaina had $1,400 in monthly pay. But when she was sent to a new workplace last year, it fell to $1,000 - the minimum under the Progressive Wage Model for cleaners.
The 59-year-old, who takes medicine for high blood pressure, said the new pay levels will help ease her concerns in the coming years.
The annual bonus from 2020 - her first in almost a decade - is the icing on the cake. "I was worried because everyone kept telling me the economy was bad. But now, every year, there's something to look forward to: Even $60 is enough, for groceries, for little things," she said.
National Trades Union Congress (NTUC) assistant secretary-general Zainal Sapari, who chairs TCC, hopes the pay rises will help improve the image of cleaning, a job shunned by many in an industry staffed mostly by elderly workers.
"If you want to make cleaning a viable industry to attract people, you have to improve the employment terms and conditions. If the job doesn't give annual increases, doesn't give bonuses, it will not be attractive," he said. "We hope it will attract even younger workers to become cleaners."
TCC and NTUC said in a joint statement that the new pay levels will benefit all: Cleaners will get sustained wage growth and progress in their careers, businesses can better attract and retain quality workers and be more motivated to invest in their training, and service buyers will benefit from more reliable and better-quality cleaning services.
Service providers and businesses that hire them agree, saying it is time to take a long-term perspective of where the industry is going.
Said City Developments' group general manager Chia Ngiang Hong: "As buyers of cleaning services, we play a key role in supporting this effort through our procurement practices."
Mr Milton Ng, president of the Environmental Management Association of Singapore, which represents cleaning firms, said higher pay will help draw people into the industry.
"Hygiene is also important in our daily life, but we take these hygiene workers for granted. We have a moral obligation to make sure that this group is taken care of," he added.
Read Also:
Steps to hike pay for 40,000 cleaners unveiled
Giving cleaners a reason to celebrate – for six years

This article was first published on December 13, 2016.
Get a copy of The Straits Times or go to straitstimes.com for more stories.@sph.com.sg>