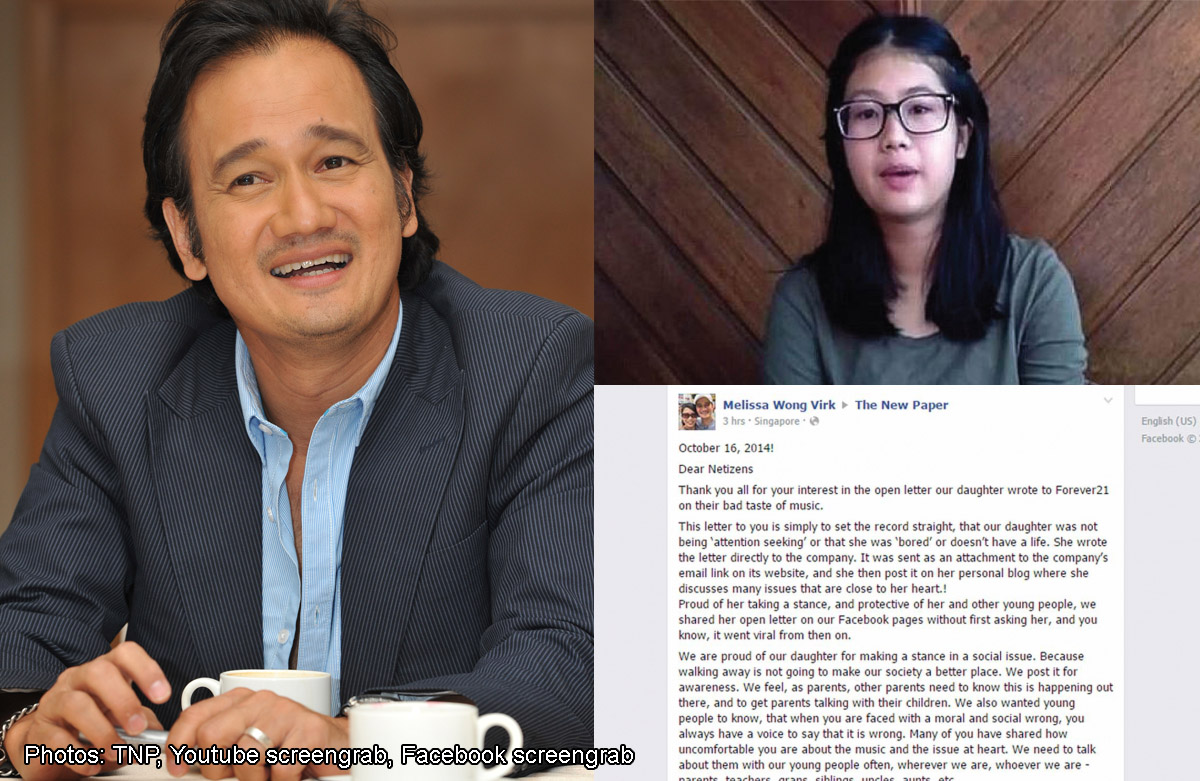 SINGAPORE - Gurmit Singh's wife Melissa Wong has come out to defend her daughter Gabrielle's open letter to Forever21, in which the teenager slammed the fashion retailer for playing songs with lurid lyrics in the store.
"Our daughter was not being attention-seeking," wrote Madam Wong in her letter, addressed to netizens, that was sent to The Straits Times yesterday.
Her letter was in response to netizens' comments that Gabrielle was trying to get attention by using her father's status as a local personality. Gabrielle's open letter was shared on Gurmit's Facebook page.
Madam Wong explained that it was she and Gurmit who made the decision to share Gabrielle's post, which had been posted on the 17-year-old's Tumblr account.
"We posted it for awareness. Proud of our daughter for taking a stance on a social issue, and protective of her and other young people, we shared her open letter on our Facebook pages without first asking her... It went viral from then on," Madam Wong wrote.
The post that was shared on Gurmit's Facebook page on Wednesday had more than 7,000 "likes" before he took it down later that night, and The Straits Times' report on Gabrielle's post has been shared more than 10,000 times.
The teenager had written that she will be boycotting the American high-street brand, which has several stores here, for "blasting horribly misogynistic, uncensored, women-shaming, women-blaming lyrics".
She had gone shopping with her mother and baby sister in the Forever21 outlet at Somerset 313, and the store was playing songs with lyrics that were derogatory to women, such as, "half you b***hes like p***y too". Other lyrics that she claimed she heard include "you have a right to rape her".
Gabrielle explained that she found this unacceptable because Forever21's main target audience is young women.
In her letter, Madam Wong further elaborated on how she and Gurmit support Gabrielle's post: "We feel, as parents, that other parents need to know this is happening out there, and to get parents talking with their children.
"We also wanted young people to know that when you are faced with a moral and social wrong, you always have a voice to say that it is wrong."
While Forever21 has apologised for its choice of music, Madam Wong's hope is that "Forever21 and other stores who have not thought about how their music selection can impact people will start making a conscious effort to play tasteful music".
Towards the end of her letter, she made this call to netizens: "We are not going to agree, let's agree on that... But we got you talking.
Okay, it is attention we are seeking, but the attention is on the issue."
brynasim@sph.com.sg

Get MyPaper for more stories.