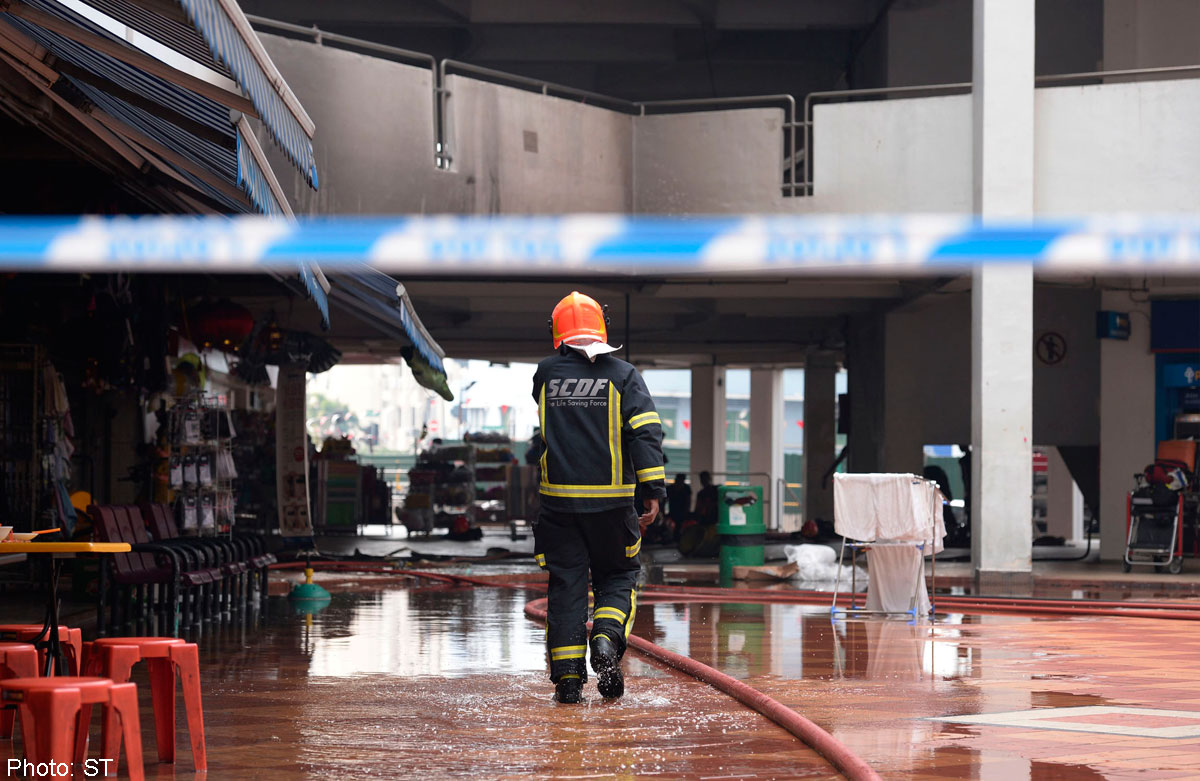 Mr Jason Goh was in the middle of getting his hair cut on Thursday afternoon when he got a call informing him that his electrical appliance shop had caught fire.
With his locks only half- trimmed, the shop supervisor rushed back to his ground-floor unit at the nearby Rochor Centre to find it filled with thick smoke.
"I had just opened the shop and closed it for 20 minutes to go and cut my hair," he said. "Who knew this would happen?"
The Singapore Civil Defence Force (SCDF) was alerted to the blaze just after 2pm. It was extinguished within 20 minutes by two water jets.
An SCDF spokesman said the entire three-storey complex was evacuated and there were no reported injuries. The cause of the fire is still under investigation.
When The Straits Times visited the scene at around 3pm, firefighters and policemen were still moving in and out of the unit. Smoke could still be smelt and the walls along the corridor above the damaged unit were also charred. Around 100 bystanders gathered to observe the proceedings.
Beautician Jes Pang, 32, was working at the adjacent beauty salon with her boss and colleague when smoke started spilling over from Mr Goh's shop, which is separated from hers by a partition.
Ms Pang, a permanent resident from Malaysia, has worked at the salon for seven years, and it was her boss who called Mr Goh to alert him.
"We don't know what happened but we all rushed out," she said. "It was so sudden and I was rather scared."
Residents nearby said the electrical appliance shop has been there for more than 20 years and has irregular opening hours.
Housewife Joanna Lim, 69, who lives just behind the centre in Block 4, said smoke entered her 15th storey flat. "My eyes smarted and I couldn't breathe properly," she said in Mandarin.
MP for Moulmein-Kallang GRC Denise Phua visited the site at about 3.20pm and was seen speaking to residents and shop owners.
She told The Straits Times: "We are all very concerned because it is a high-traffic area. Luckily, no one was injured."

Get a copy of The Straits Times or go to straitstimes.com for more stories.