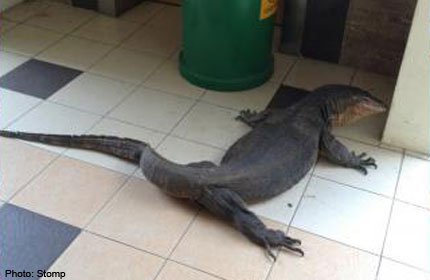 SINGAPORE - A Sembawang resident had an unusual visitor yesterday: A large monitor lizard was found hanging outside the flat, with two legs entangled in some wire above the front gate.
Citizen journalism website Stomp user John and his wife were among the onlookers. John's wife said she was not sure if the lizard was injured. "It appeared to be stuck. There was a group of people looking at it and someone from the town council was also there and called for help.
This article was published on May 7 in The Straits Times.
Get a copy of The Straits Times or go to straitstimes.com for more stories.