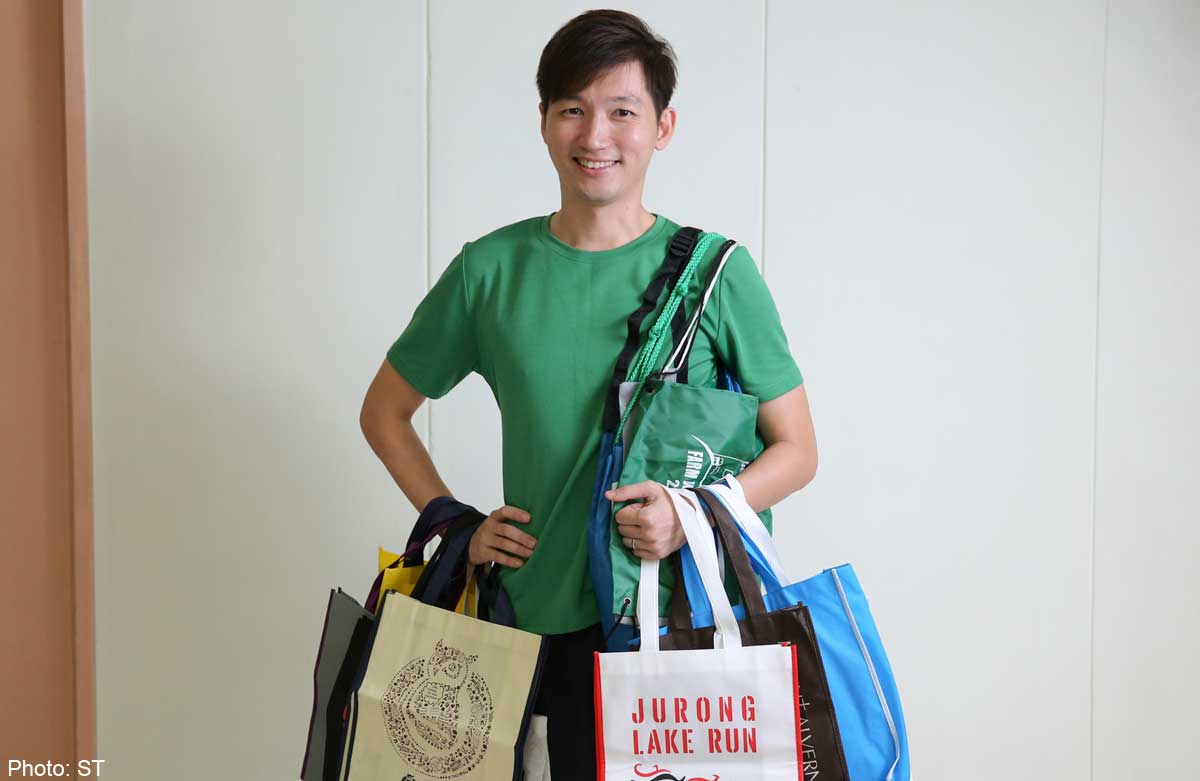 Reusable eco-bags, often touted as greener alternatives to plastic bags, may not be that environmentally friendly after all. Experts have warned that their prevalence may soon be counterproductive to green aims. 
"If a reusable bag is used just once and then thrown away, then... it may not be the more environmentally friendly option," said environmental group World Wide Fund for Nature Singapore's chief executive Elaine Tan.
The problem, ironically, is the bags' popularity. When there are so many lying around, they are rarely reused sufficiently.
Nurse Magdeline Koh, 54, has close to 30 such bags. "Even though I try to re-use these bags, it's impossible," she said.
For the bags to be truly environmentally friendly, they must be used many times.
For a standard reusable bag to have a lower carbon footprint than a high-density polyethylene plastic bag, it must be re-used at least 11 times, according to a 2011 study by Britain's Environment Agency.
It gets worse for cotton reusable bags. They should be re-used at least 131 times.
Yet, consumers keep buying and receiving more such bags.
Supermarket chain NTUC FairPrice, for instance, said it has seen a more than 20 per cent increase in the number of reusable bags sold last year, compared to 2013.
Instead of paper bags, many companies also prefer to issue reusables now.
Avid runner Darren Ang, 32, said organisers of fitness events, for example, are giving out more such bags.
"They used to give out sling bags, but switched to reusable bags three to four years ago," he said.
The health, safety and environment head at an oil and gas company has more than 30 such bags, all from corporate events.
The National Environment Agency said it does not regulate the distribution of reusable bags.
To make things worse, the various green agencies in Singapore have differing views on the best way to discard extra bags.
While one said it could be grouped with your recycled trash, another said it should be thrown away with regular rubbish.
But the upside is that the abundance of reusable bags has slowed the growth in the number of plastic bags.
Singapore uses about three billion plastic bags each year, a figure which has remained constant over the past five years, said Singapore Environment Council's resident environmental engineer Kavickumar Muruganathan.
FairPrice said it helped save more than eight million plastic bags in 2013, up from 7.2 million in 2012.
Its Green Rewards Scheme, which gives customers who take along their own bags a 10-cent rebate for a minimum purchase of $10, gave out $410,000 in rebates in 2013, up from $360,000 the year before.
For Mr Ang, who keeps four to five reusable bags in his car for weekly grocery trips, using them helps minimise the negative environmental impact of plastic bags.
"Seeing sea creatures entangled in plastic bags and fishing lines during a coastal clean-up in 2008 really (affected) me," he said.
"By carrying reusable bags, I hope to change the misconception that such bags are only for 'aunties'."
What to do with the extra bags
NATIONAL ENVIRONMENT AGENCY: "The different types of reusable bags can be put into the blue recycling bins provided at residential estates. With appropriate technology, these bags could be recycled into new products."
WORLD WIDE FUND FOR NATURE SINGAPORE: "Consumers must first start the habit of reducing plastic bag use and replacing it with reusable bags. Recycling comes as the last option when reusable bags reach their end of life."
SINGAPORE ENVIRONMENT COUNCIL: "Reusable bags made from canvas and woven synthetic fibre should be disposed of in general waste bins as they cannot be recycled in most instances.
"Singaporeans should also develop the simple habit of carrying with them a reusable bag, which is lightweight and foldable, at all times, in the same way they would carry a pack of tissues with them."
WASTE MANAGEMENT AND RECYCLING ASSOCIATION OF SINGAPORE: "Bags made from canvas, synthetic plastic fibres and cotton can be recycled. Households should place bags they no longer want in the recycling bins below each block. The waste collectors will pick these up for sorting."
audreyt@sph.com.sg

This article was first published on Jan 02, 2015.
Get a copy of The Straits Times or go to straitstimes.com for more stories.