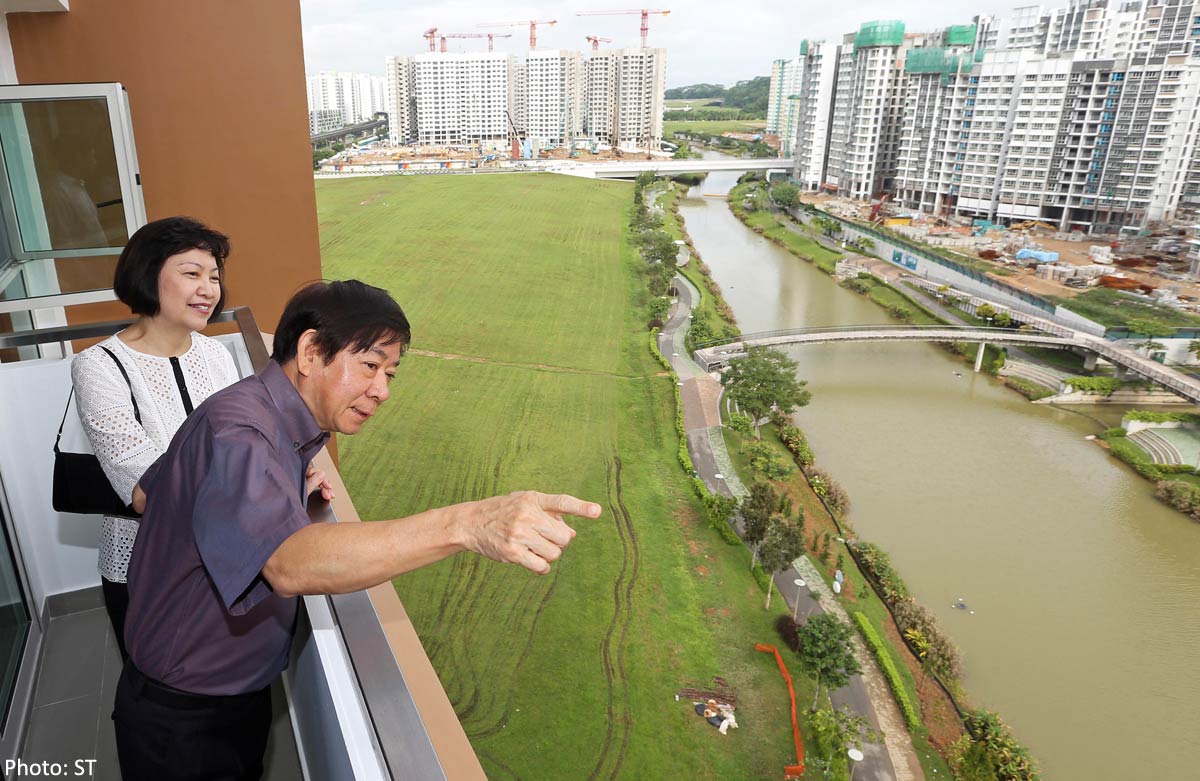 SINGAPORE - As the backlog of first-timer demand for new Housing Board flats has been cleared, next year's focus will be on helping families to live close together, as well as singles and low-income families who cannot yet afford a flat.
But there will be limits, National Development Minister Khaw Boon Wan cautioned yesterday as he set out his priorities for 2015.
"Everybody who wants to stay near their parents, and parents who want to stay near their children... I'll do my very best to meet their wishes," he said. Still, it will not be possible all the time, particularly in mature estates as there is not enough land.
Efforts have already been made to meet such demand.
Last month's Build-to-Order launch was the first in which flats were set aside for those applying to live with or near their parents or married children. Asked what else can be done, Mr Khaw replied: "We have to be creative."
R'ST Research director Ong Kah Seng suggested higher subsidies or housing grants. What counts as "nearby" could also be relooked, with benefits available for couples who stay in the same region as their parents, and not just the same estate, he said.
Mr Khaw's other focus next year will be "groups where the needs are still not completely met". These include singles and those who are unable to own a flat and hence rent instead.
The HDB's overall pace of construction will slow next year, but not when it comes to building units for these two groups.
"If policies can be tweaked to facilitate their needs being met, I will do so," he added.
He was speaking to reporters at the handover of a block in the Waterway Woodcress project, the first to be completed along My Waterway@Punggol. Among its earliest residents are personal driver Kayom Abdul Samad, 36, his wife, their three children, and his mother.
Getting a four-room flat there was his wife's idea, said Mr Kayom: "She really loves the master bedroom with a balcony. It's something very unusual for an HDB flat. It's condo-style."
Yesterday's ceremony marked the completion of 28,000 flats this year, up from the 13,600 that were finished in 2013. The target for next year is to complete 26,000 new flats.
In a blog post last week, Mr Khaw said the HDB would work harder to address elderly residents' wishes to age in place.
Asked yesterday about reverse mortgages, which convert part of a home's value into cash, he replied that the Government's study of it was ongoing. "But I'm not pinning too much hope on it," he said. The take-up rate in cities where reverse mortgages are established is very low.
The HDB also gave updates on how many people have benefited from policy tweaks this year.
As of the end of last month, almost 11,000 households had taken part in the Enhancement for Active Seniors scheme, which subsidises elderly-friendly fittings. About 1,040 of them were able to do so after the age criterion was lowered in August.
In July, the HDB also allowed resale sellers to stay in their flats for up to three more months, if the buyer agrees. This was to help sellers who needed more time for the transition. As of Nov 30, there were 847 requests for this temporary extension.
janiceh@sph.com.sg

This article was first published on December 30, 2014.
Get a copy of The Straits Times or go to straitstimes.com for more stories.