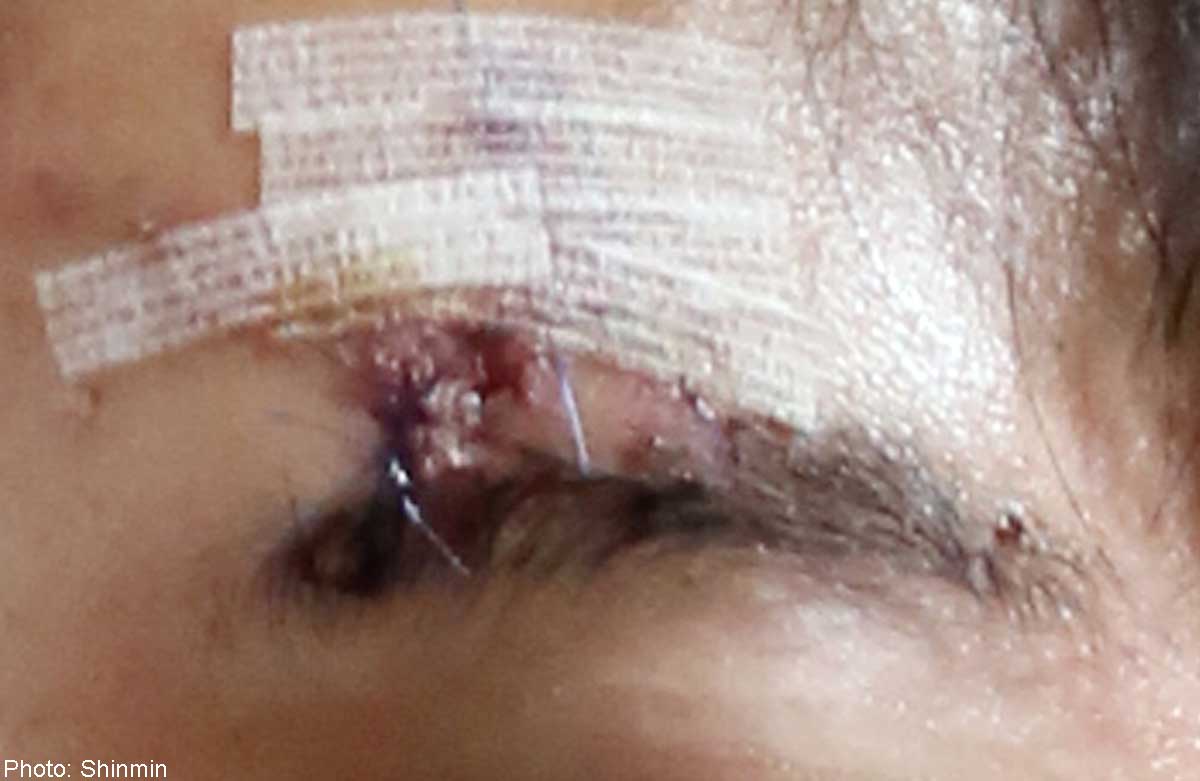 He was walking his girlfriend back last Saturday night to ensure she got home safely.
But Mr Cheng, 22, got himself bloodied, battered and taken to the hospital instead.
While his girlfriend, Miss So, 22, eventually made it home without injuries, Mr Cheng was punched on the face.
His Crizal spectacle lenses were cracked.
Above his left eye, there was a gaping wound that required 10 stitches.
Recounting their ordeal, Mr Cheng said he and his girlfriend were walking along Geylang Lorong 3 around 10pm when they saw a cyclist approaching.
As the pedestrian walkway was narrow because of road widening works, Mr Cheng ushered Miss So to his front to walk in single file and give way to the cyclist, until they were "almost off the pavement".
But as the cyclist rode by them, the couple claimed the middle-aged man flashed a finger at them for no apparent reason.
Appalled, Mr Cheng said he replied with a firm "Hello" to show his displeasure.
The cyclist continued on his way, but that was not the end of it.
When the couple left the pathway and entered the carpark behind Miss So's HDB block, Mr Cheng noticed the cyclist heading back in their direction.
"We started to speed up, in case this guy was crazy," he said.
He even handed his girlfriend's bag, which he was carrying, back to her as he felt something "wasn't right".
The cyclist headed right for them.
Mr Cheng said the man threw his bicycle on the pathway and confronted them.
"He muttered something in a dialect very softly, and as I leaned in to listen to what he was saying, he suddenly punched me on my forehead," he said.
Drawing blood
As Mr Cheng was regaining his balance, the man threw a second, more forceful blow to his left eye area, drawing blood.
"I wanted to defend myself, but I lost my balance and had my left hand on the concrete to prevent myself from falling to the ground," said Mr Cheng.
Through all this, his girlfriend was screaming hysterically for the cyclist to stop.
"I was very frightened, and screamed, 'Stop it!'," said Miss So.
Mr Cheng said: "I was very afraid that the man would attack my girlfriend as well."
He then found that blood was streaming from his head like a "waterfall", and shouted in Mandarin for Miss So to call the police.
By this time, the cyclist had fled the scene.
But Miss So's screams had attracted the attention of nearby residents.
Mr Tan, a passer-by, told evening daily Lianhe Wanbao that he was at a lift lobby nearby when he heard the screaming.
He ran across and used tissue to apply pressure on Mr Cheng's wound to stem the blood flow.
The police confirmed that they received a call at 10.36pm seeking assistance at Geylang Lorong 3.
It was classified as a case of voluntarily causing hurt, and the police have advised the victim on his legal recourse.
Mr Cheng, a polytechnic student, had to miss his examinations on Monday as he was on medical leave.
Mr Cheng and Miss So hope that the area where he was attacked would be made safer.
"The place is always very dark and unsafe at night. We hope the police will patrol the area more," she said.
I wanted to defend myself, but I lost my balance and had my left hand on the concrete to prevent myself from falling to the ground.
-Mr Cheng
This article was first published on July 16, 2014. Get The New Paper for more stories.