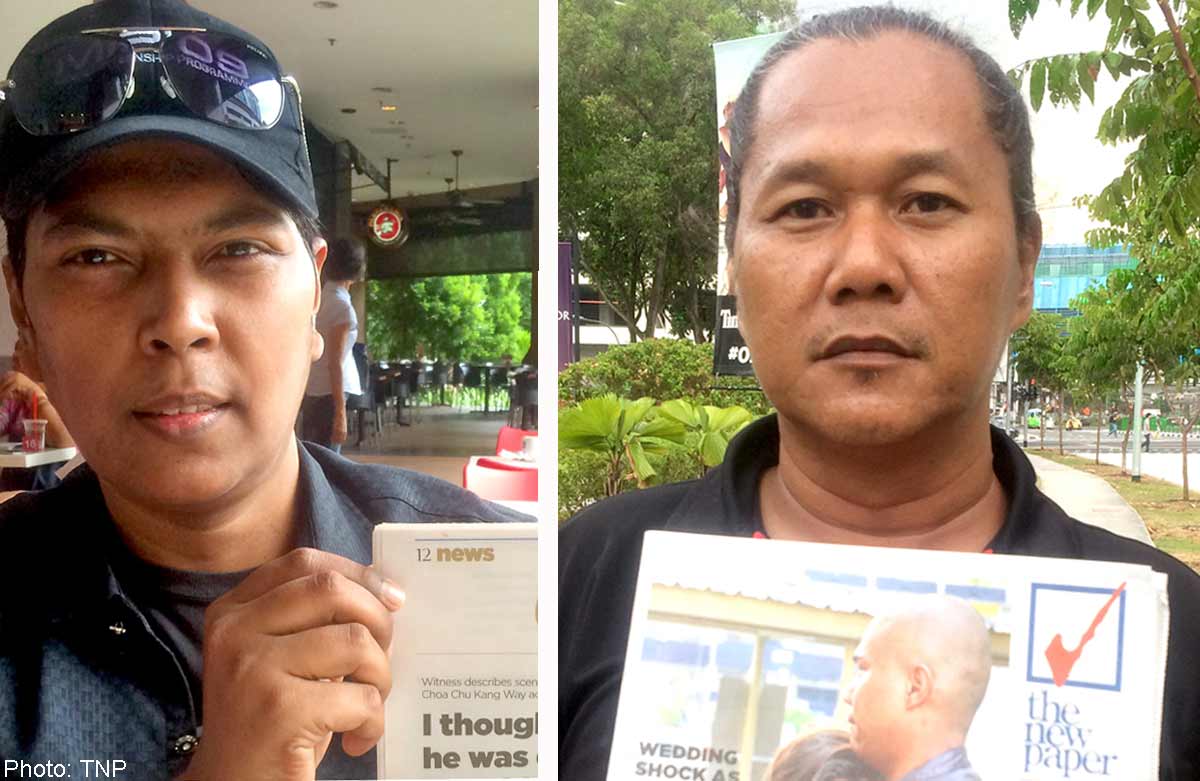 SINGAPORE - Happy and excited that his daughter was getting married, he was not prepared for what was to happen next.
She could not get her marriage solemnised because records showed her fiance was already married.
The groom-to-be claimed that someone must have used his identity card, which he had lost in 2012, to get married.
Afraid that the same incident might befall others, her father called The New Paper hotline.
Mr Mohamad Shariff Mohd Halik, 43, said: "It wasn't for my sake, but for others. I wanted to let people know that this can happen to anyone."
Last Monday, Mr Mohamad Shariff and his relatives followed his daughter, Miss Sharafana Mohamad Shariff, and her fiance, Mr Mohamad Norizuan Shazali, to the Registry of Muslim Marriages to solemnise their marriage.
But Mr Norizuan was shocked to discover it had to be cancelled as records showed he had married a woman from India in August 2012.
Mr Norizuan lost $15,000 as he had to cancel the wedding dinner. A police report was made.
Said an angry Mr Mohamad Shariff (above): "I was told that this was not the first time that something like this has happened and I was extremely shocked that it was not brought to public attention. I thought I'd better make people aware."
His first thought was to inform The New Paper. He said: "I've read The New Paper ever since it first came out till now. "The paper informs the public of the latest issues and I feel that it is good for people who are working and want to read the news on the go."
Road Accident
Another regular TNP reader, Mr Syed Muneef, 41, came across an accident involving a motorcycle and a taxi at Choa Chu Kang Way on Feb 7.
He snapped pictures of the accident scene and sent them to TNP.
Said Mr Syed: "I decided to send (the pictures) to The New Paper because they feature stories closer to home that we can relate to."
He and his wife were headed home on their motorcycle after a trip to Johor Baru.
The motorcyclist in the accident died later in hospital, while his female pillion rider landed onto the rear of the taxi.
Mr Syed, who has been reading TNP daily since 1995, said he wanted others to be more careful on the road.
He said: "I was hoping that the photo would allow people to sympathise (with the rider's family), as well as stress the importance of road safety.
"I really like how The New Paper looks at stories in depth, and how they write it so that it's a more personal account."
Another reader, who declined to be named, tipped TNP off to a fire at the Singapore Mint last Tuesday.
More than 100 employees were evacuated at about 11am that day and no one was injured before the fire was put out.
Readers also contributed to stories involving accidents in Clementi and Woodlands, and a five-car pile-up on the Central Expressway, in the past week.
These readers will each receive $100 in Manhattan Fish Market vouchers and two T-shirts worth $60.
We value your calls, so do contact us at 1800-733-4455. You can also reach us via SMS or MMS at 9477-8899, or through e-mail at tnp@sph.com.sg
cgeraldk@sph.com.sg

Get The New Paper for more stories.