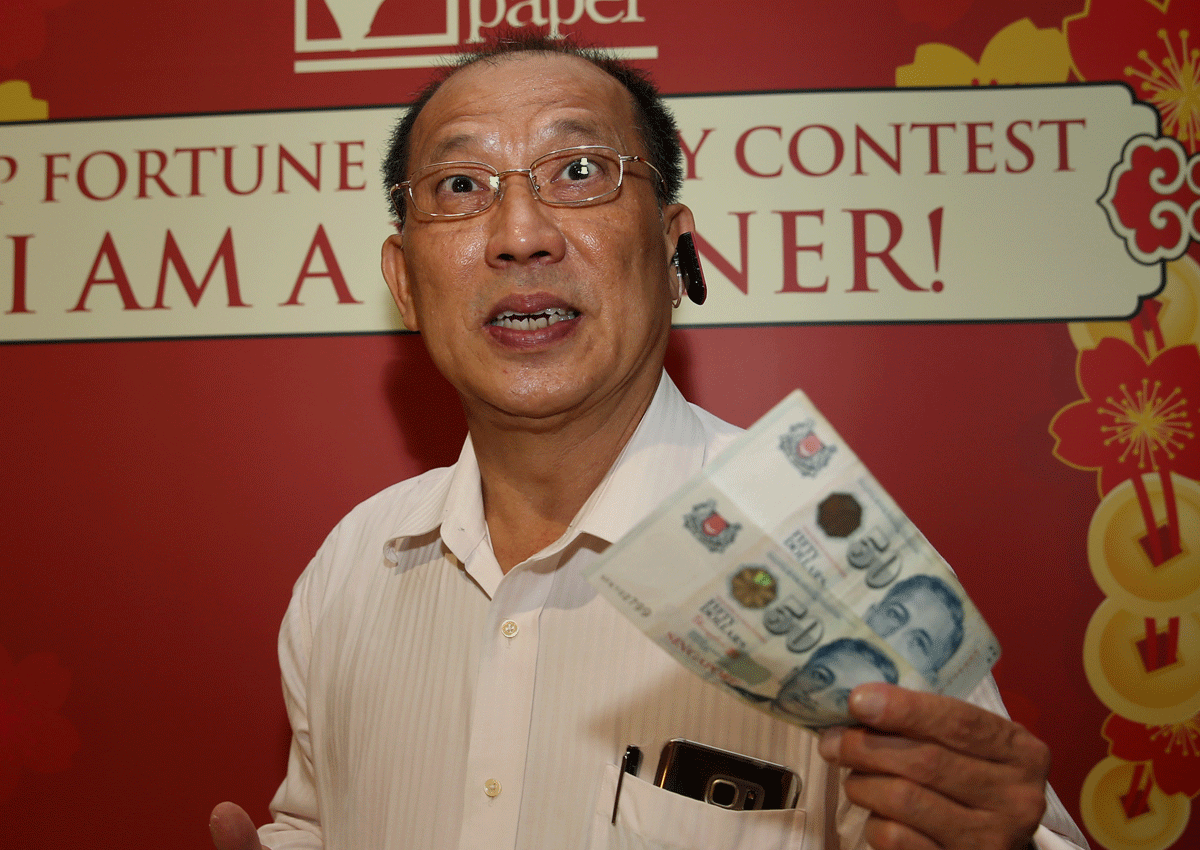 He was close, missing just by one monkey.
To taxi driver Vincent Lim, the "See No Evil" monkey has proven elusive.
Getting hold of one for The New Paper (TNP) Fortune Monkey contest would have won Mr Lim the $3,000 cash jackpot yesterday.
Still, the 62-year-old did not end up empty-handed as he won $100 in the contest and claimed his prize.
Mr Lim, who has been a loyal reader of TNP since its launch in 1988, said: "This is the first time my fortune came. I may not be able to buy dinner for my cabby buddies, but I can definitely buy them coffee."
Mr Lim has kept all his monkey cut-outs in a black wallet since the contest started on Feb 9.
To increase his chances of winning, he buys copies of TNP from all over the island.
The father of four adult children said: "I don't just buy from my home in Woodlands. While on the job, I'll buy (copies of TNP) from areas like downtown and other places."
His contest fever started a few years ago when TNP ran the Bonus Challenge.
Still, to win the cash jackpot, he intends to continue collecting the monkey cut-outs, especially now that it has snowballed to $4,000.
Mr Lim said: "I've to keep on trying. I'll roll my $100 prize money to buy more copies of TNP. Maybe then, I'll get to meet the 'See No Evil' monkey."
HOW TO TAKE PART
Readers have to look out for TNP Fortune Monkeys printed from today to Thursday. Cut out and keep the monkeys, which will be valid till Feb 24.
The monkeys have to be matched to the winning combinations published from Feb 19 to 22. Please keep cut-outs of the monkeys you have collected from Feb 9 to 11, since they are stil valid.
Up to $17,000 in cash is to be won. Readers stand to win $100 daily and cash jackpot prizes that start from $1,000.
If there are no jackpot cash winners, the money will snowball. Today's jackpot cash prize has snowballed to $4,000.
To claim the prizes, winners must produce their identity cards and submit the monkey cut-outs at the lobby of SPH News Centre at Toa Payoh North between 8pm and 9pm on the same day of getting the winning combinations.
zaihan@sph.com.sg

This article was first published on February 16, 2016.
Get The New Paper for more stories.