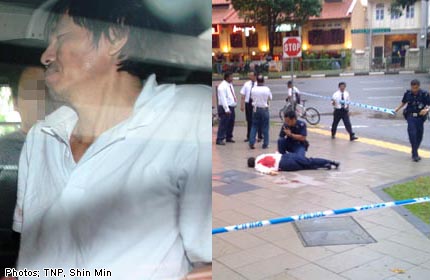 He had stabbed a man to death in public, but felt no remorse.
After all, the Taoist deity Jade Emperor he "consulted" had given him the go-ahead, Fang Gao San told a psychiatrist after his arrest.
In fact, if he had a gun, he would have killed everyone at the Singapore Pools headquarters because they were all cheats, Fang, who has a history of schizophrenia, said.
And he would kill again if he got permission from the Jade Emperor a second time.
These were just some of the chilling details that emerged in court yesterday as Fang pleaded guilty to killing a part-time Toto announcer outside the Singapore Pools HQ at PoMo on Selegie Road in 2010.
Justice Woo Bih Li sentenced the 56-year-old to life imprisonment for culpable homicide.
Fang, who suffered from persecutory delusions because he often refused to take his medicine for his paranoid schizophrenia, claimed he won the fourth prize in a Singapore Pools Toto draw some time in 2010.
But he was unhappy because he received only $479 since there were more than 900 winners for the same prize.
However, it later emerged that Singapore Pools did not have any records of Fang winning any prizes in 2010.
CHEATS
His unhappiness led him to believe that the people working in Singapore Pools were cheats.
To confirm this, he went to a Taoist temple on Telok Blangah Road to consult the deities, where he claimed the Jade Emperor agreed with him that they were cheats and that he could kill them.
On May 31, Fang left his Redhill flat for PoMo with a 10.5cm paring knife.
After his arrest, Fang told a psychiatrist at the Institute of Mental Health (IMH) that if he had access to a gun, he would have used it to kill everyone in the Singapore Pools office.
When he reached PoMo, Fang bought a Toto ticket at an outlet there and waited for the results to be announced at 6.30pm.
He saw part-time lottery announcer Sito Woon Chee, 59, conducting the Toto draw.
After the draw, Fang waited at a nearby coffee shop for Singapore Pools staff to emerge from the building.
About 10 minutes later, he saw Mr Sito and ran after him.
He grabbed the back of his victim's shirt and stabbed him once in the back while scolding him.
When Mr Sito turned around, Fang stabbed him in the abdomen and he fell to the ground.
Fang stabbed Mr Sito two more times - in the right torso and on his right leg.
Paramedics later pronounced Mr Sito dead at the scene at 7.13pm.
When two Singapore Pools employees, who saw what happened shouted at Fang, he simply said, "Call for police lah", before turning to walk away.
They tailed Fang and sought the help of police officers in a passing patrol car.
Fang was eventually arrested near Bugis Village where he put up a violent struggle before he was pinned to the ground.
After he was charged in court, he was admitted to the IMH for psychiatric evaluation in June that year. After five sessions, the psychiatrist found him unfit to plead to the charge as he was too psychotic to follow court proceedings.
He had a long psychiatric record which senior consultant Stephen Phang described as "two thick volumes".
REMANDED
Fang was remanded in Changi Prison Complex Medical Centre where he was re-evaluated in April last year.
It was there that he told Dr Phang that he had done nothing wrong because "the god supported me... supported me to kill him so that people would not get cheated any more".
He said: "If I had not been arrested, probably I'd kill another one... There are so many Toto officers in there."
Dr Phang concluded that Fang needs permanent psychiatric treatment with strict supervision as he had a history of throwing away his medication, or even keeping pills under his tongue and spitting them out later.
And that with his severe mental illness, there was a high risk of violence against other people if he were left alone.
During his sentencing submissions, Deputy Public Prosecutor Wong Woon Kwong said it is "chilling" to think of the danger that Fang poses to the public, and that it was in the public's interest that he be "incarcerated for life to prevent any further harm from arising at the accused's hands".
He bathed in vinegar to get rid of toxins
Fang Gao San, 56, who was sentenced to life imprisonment for culpable homicide, suffered from paranoid schizophrenia and delusions.
He claimed to hear voices and detect smells when he believed he was being "attacked" by charms that others had put on him.
Fang was first taken to the Institute of Mental Health (IMH) in May 2003 when he was arrested by the police after praying loudly outside his flat and behaving in an aggressive manner.
Since then, the jobless man was admitted to be stabilised whenever he had a psychotic episode. The longest he spent at the institution was over five months, between August 2007 and January 2008.
In a medical report, senior consultant psychiatrist Stephen Phang described Fang's records as amounting to "two thick volumes".
He would throw away prescribed medication and often missed follow-up treatment sessions.
During his first admission to IMH, it emerged that he had been suffering from mental illnesses for several years, hearing voices and believing that others were out to harm him through "black magic".
He constantly believed that he was under attack by someone who had put a charm on him and that he was being gossiped about. Initially known as Tan Whai Soon, he changed his name in a bid to reverse his fortunes.
Fang's only regular contact with his family was with his younger sister, who revealed that he had an intense obsession with religion, often chanting and frequenting temples.
In his youth, he had even threatened to kill his brother with a knife.
The illness also led him to believe that others were trying to poison him, and he would repeatedly wash or re-cook food to ensure it was safe.
He even bathed in vinegar, which he believed would rid his body of toxins that others were using to harm him.
There were also frequent altercations with his neighbours because Fang regularly wet the corridor outside his one-room rental flat in Redhill.
Victim had quit bank job to escape stress
Fang Gao San's victim was a jovial man who worked as an announcer at Singapore Pools twice a week.
It was a retirement job of sorts and Mr Sito Woon Chee, 59, enjoyed his job, said his colleague Joseph Shee.
The executive officer, 53, with the betting company had been working with Mr Sito in the draw-and-results department in 2010.
Mr Shee told The New Paper over the phone yesterday that Mr Sito had quit his job in a bank when it got too stressful.
He was with Singapore Pools for close to five years when tragedy struck.
Mr Sito was involved in the lottery draws for 4-D, Toto and the monthly Singapore Sweep, where he would read out the winning numbers.
The part-time worker never shied away when asked to take on extra duties for special events, Mr Shee said.
Married without children, Mr Sito regularly attended Buddhist classes and meditation sessions.
A former president of the Singapore Buddhist Meditation Centre, he was well-read and often shared his knowledge of Buddhism with fellow workers.
"He was a very cheerful and jovial man, and we miss him," Mr Shee said.

Get The New Paper for more stories.