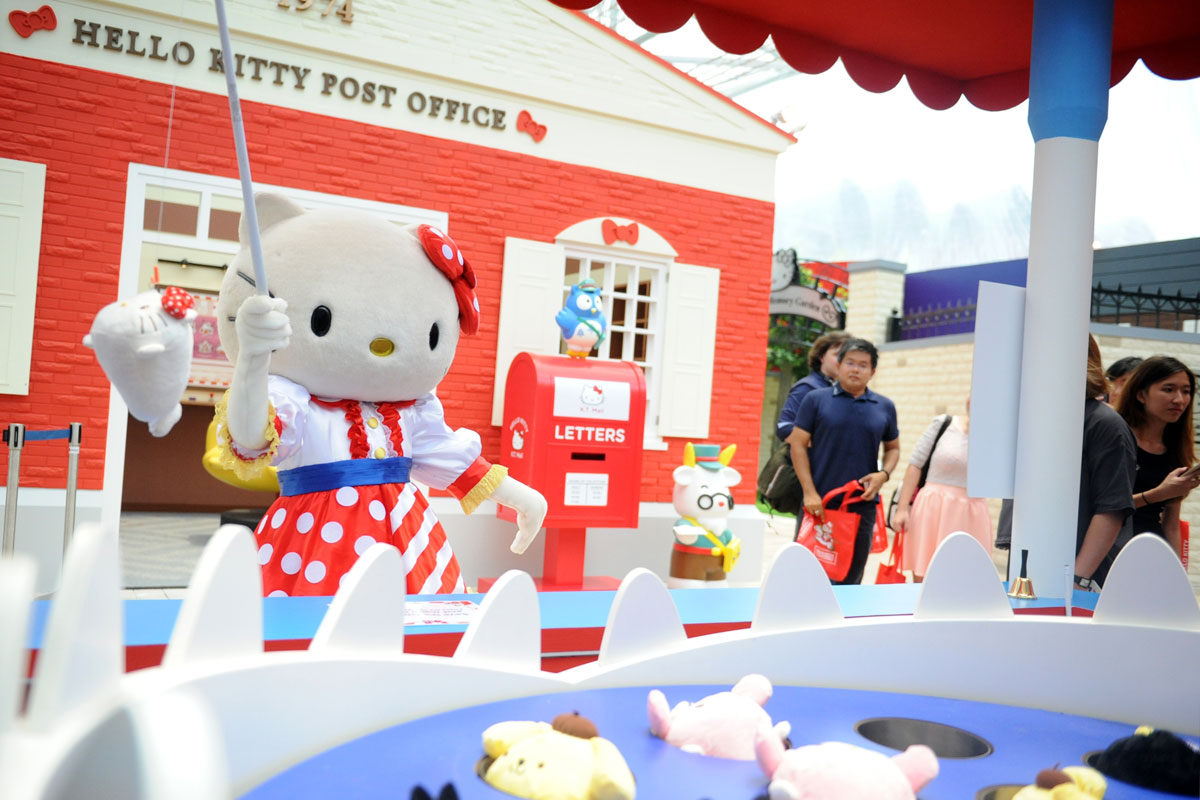 Merchandise-related missteps at a Hello Kitty carnival here have raised the hackles of fans of the Sanrio icon, with some demanding a full refund from organiser Mighty Eight.
Fans who bought tickets to Hello Kitty Go Around, which opened at the Resort World Sentosa's Coliseum last Friday, are unhappy that a limited-edition Hello Kitty paper figurine was missing from an SG50 exclusive pack that was being sold at $80.25 each through Sistic.
These packs, containing items such as a specially designed T-shirt, tote bag and comic book, were sold separately from tickets to the carnival, which went for upwards of $40. Only ticket-holders could buy the 8,000 SG50 packs.
Fans are upset, too, that non-ticket holders could also buy limited-edition merchandise, such as umbrellas and fans at booths outside the carnival venue, which they felt diluted the exclusive appeal of the merchandise.
On the carnival's opening day, Mighty Eight announced on Facebook that a Hello Kitty paper figurine would be pulled from the SG50 exclusive pack.
Mighty Eight founder Jacky Teo told The Straits Times that when the figurines arrived in Singapore from a factory in Vietnam, the quality was spotty, with glue stains and the paper poorly cut.
"They looked nothing like the prototypes we received, so we made the decision not to release them, even though it came at a big loss to us," he said.
This is the first time the carnival, which will run till Nov 10, is being held outside Hong Kong. It has six game stalls and photo spots, such as a carousel with life-sized Hello Kitty figures.
Mighty Eight had initially offered a $20 refund for fans who had purchased the SG50 pack, a move that did not go down well.
Customer service executive Amanda Tan, 26, said she purchased tickets for two dates in November to get two of the exclusive packs, and now wants to return both tickets for a full refund of the amount she paid for admission and for the packs.
"It was very poorly organised," she said. "And then the first thing they did was offer us just $20 as a refund? It shows they are not respecting us as customers."
On Sunday night, Mighty Eight posted on Facebook that it would offer more options, including a full refund for the SG50 pack if customers wanted to return theirs. Another option was to have a different figurine included in the pack.
It will not be giving fans refunds for their tickets, said Mr Teo.
"We're talking about a fair deal and reasonable expectations. I've given three options to the people who are not happy that the paper figurine is gone. I can give them a full refund for the pack, but the request for a refund on tickets is a bit unreasonable," he said.
Limited-edition merchandise being sold at the carnival has appeared for sale online at inflated prices. A white Hello Kitty figurine, which can be purchased for $20 at the carnival, is going for $60 on selling platform Carousell, for instance.
Student Chloe Wong, 21, who is looking for a full refund on her ticket for Oct 31, said: "People are buying in bulk and making a profit. There should be limits on who gets to buy the exclusive items, and how many they can buy at one time.
"The real Hello Kitty fans are losing out. Only the people who want to make money are happy."
Mr Teo said his team is working to address complaints. "We're trying hard to sort things out, but people have to be understanding, too."

This article was first published on October 20, 2015.
Get a copy of The Straits Times or go to straitstimes.com for more stories.