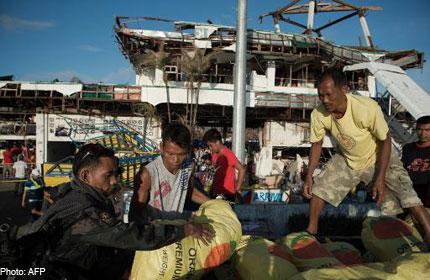 Typhoon Haiyan has left a trail of human misery in the Philippines. As a concerned neighbour with the means to help, and with a large number of Filipino workers here, Singapore should offer as much assistance as it can.
Seen in this light, the $200,000 aid that our Government has offered seems a little paltry, in contrast to the millions pledged by other countries.
However, I am not in favour of merely offering cash. Instead, we should use any donations to buy the necessary items such as food, medicine and tents, and later on, help to rebuild the infrastructure lost or damaged in the disaster.
Close to 10 years after the 2004 Indian Ocean tsunami, not much infrastructure rebuilding is evident in Aceh, and it is not clear what the donations have been used for.
This will be a concern for many donors. To ensure help reaches those who need it most, we should adopt a more proactive role and take the needed supplies to Ground Zero. This can be in the form of direct delivery by our navy's landing ship tanks or airdrops.
Later on, we can help provide expertise in rebuilding the affected areas and set up clinics to manage the medium- and longer-term consequences of the disaster. Perhaps we could also allow for more missions and relief work to improve the general state of the area.
Ultimately, we still want to be generous donors, but we should temper this with prudent and judicious stewardship of the funds, to ensure these reach the right people.
Let us be compassionate and generous, and get out there to help.
Peter Loon Seng Chee, Reader

Get a copy of The Straits Times or go to straitstimes.com for more stories.