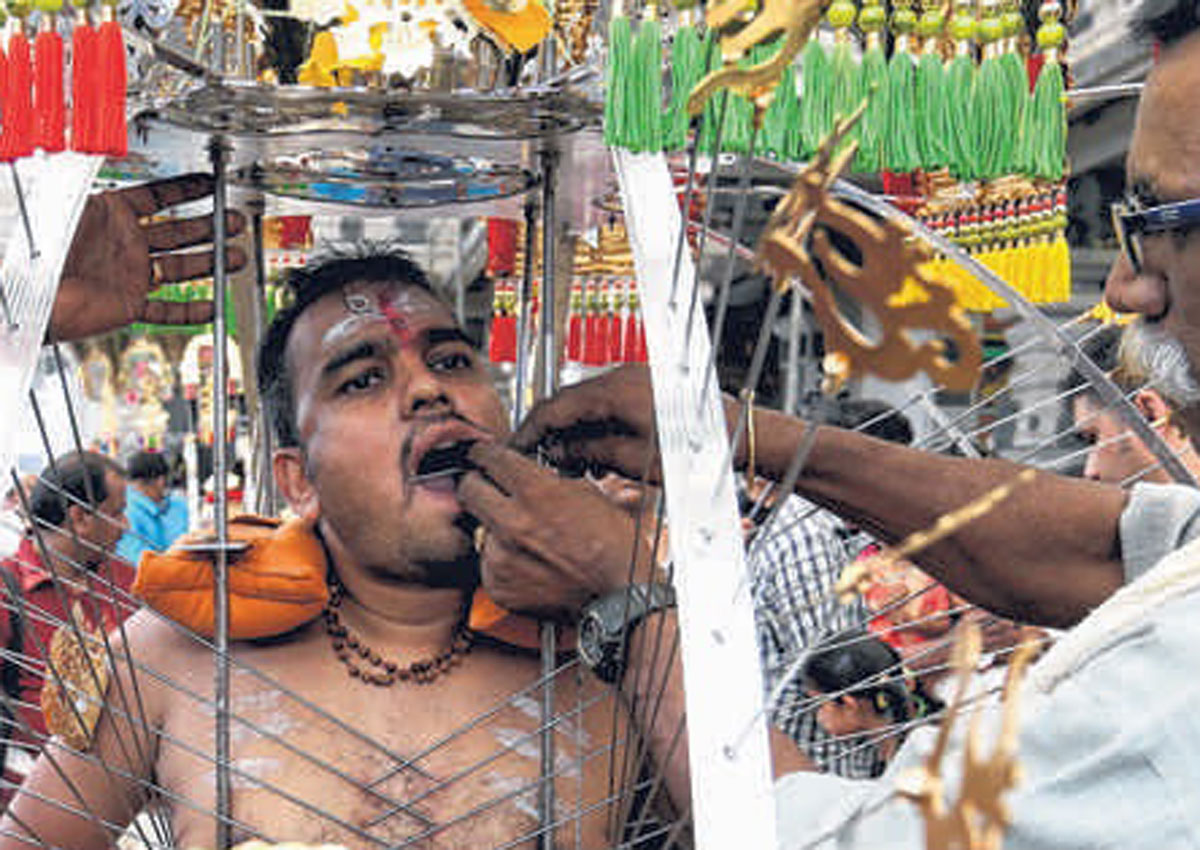 For some 35 years, Mr Tamilchelvan Suppiah has played an important role in the Thaipusam Festival.
The 55-year-old specialises in piercing devotees to prepare them for the Thaipusam procession.
At least 108 skewers are pierced into a devotee's body and attached to the kavadi's frame, with nearly 30 more smaller ones on his arms, forehead, mouth and tongue.
A commercial diver by day, Mr Tamilchelvan first started by helping a more experienced piercer and doing tasks like handing him the skewers or holding the devotee's body.
"Then one day, the (piercer) wasn't available so they just passed me the equipment and said 'You do!'," Mr Tamilchelvan said with a laugh.
All he knows, Mr Tamilchelvan said, is from learning on the job.
After each session, he asks the devotee for feedback so he can adjust how he does the piercing.
"Sometimes when it's not properly done, the devotee can be in a lot of pain and the skin can tear," he said.
Mr Tamilchelvan is widely regarded as one of the best piercers in Singapore, said Mr Prethev Raj Singaravelloo, who engaged the piercer's services when he performed the ceremony yesterday.
He even waited an hour just for Mr Tamilchelvan to be available, even though there were other piercers who could do the same job. "He's really among the best because he's been doing this for so many years, so he knows my body.
"And when you know this is properly done, you can focus on the worshipping process," he added.
By the time Mr Tamilchelvan started on Mr Prethev at 4.20pm yesterday, he had been at work since 10am and looked visibly tired.
But he worked quickly and, within an hour, an elaborate network of skewers surrounded Mr Prethev, holding up the kavadi's frame.
And then with a final blessing, he sent Mr Prethev on his way, his handiwork a personal form of worship to the gods.

This article was first published on Jan 25, 2016.
Get The New Paper for more stories.