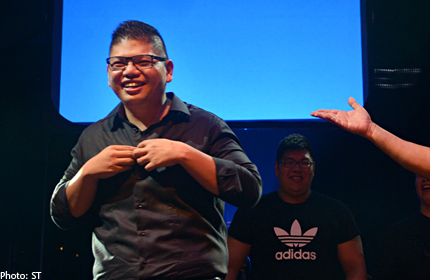 SINGAPORE - When Mr Jeffrey Chow was growing up in a poor family, there were times when he would eat only instant noodles for all his meals in a day just to save money.
"Five packets cost only $1.70 in secondary school. That's the reason for my size," said the 35-year-old senior director of financial services at Premier Financial Planners.
Earlier this year, he decided to lose those extra kgs for a good cause, and has since shed 13kg over 100 days to raise $30,550 for The Straits Times School Pocket Money Fund (SPMF).
The money was raised from donations for each kilogram he lost.
Mr Chow revealed his new 123kg figure last Friday at his agency's annual charity night.
The hardest part for him, he said, was neither the daily trips to the gym nor the road race he took part in. But rather, it was completely avoiding the alcoholic drinks that he previously enjoyed as part of his work.
"But I feel healthier, happier and fulfilled now," he told The Sunday Times. "More importantly the message I want to send to people is that everything can be done with the right attitude."
Proceeds from an auction of Seventh Month items and pledges taken during singing performances at the charity dinner were also donated to SPMF.
A total of $60,000 was raised, including the funds from Mr Chow's personal challenge. "We believe in the cause of education being the key to lift people out of poverty," he said.
SPMF general manager Martina Wong said she was touched by Mr Chow's dedication in the weight loss challenge and the generosity of his guests. "The amount raised will go a long way in supporting the growing number of children we support."
On Saturday, convenience store chain Cheers and the NTUC FairPrice Foundation launched an initiative to raise $30,000 for the SPMF through the sales of Heaven and Earth 500ml bottled drinks at all Cheers and FairPrice Xpress stores in September.
Twenty beneficiaries of SPMF were treated to a shopping trip at Cheers at Downtown East as part of the launch.

Get a copy of The Straits Times or go to straitstimes.com for more stories.