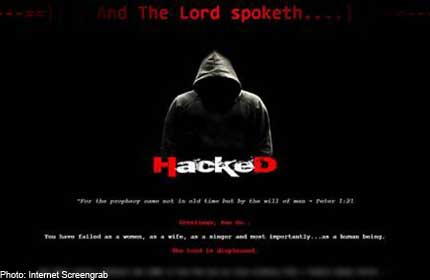 SINGAPORE - City Harvest Church co-founder and pop singer Ho Yeow Sun's official website was hacked yesterday morning by a perpetrator who signed off as "The Messiah", prompting the church to file a police report.
In a long message directed at Ms Ho, the hacker threatened to expose her "hidden agenda" and release personal data, such as e-mail and text messages, into the public domain.
This is unless Ms Ho confesses "to (her) crimes", although the hacker was not specific about what those "crimes" were. The hacker claimed to have obtained such information and more over the last month and a half of scouring Ms Ho's server and "databases".
The hacker also took issue with the amount of money that was pumped into Ms Ho's foray into the American music market, and made reference to the ongoing trial of six City Harvest leaders, including Ms Ho's husband and church founder Kong Hee, for allegedly misusing more than $50 million in church funds.
The money is said to have been funnelled into sham bond investments to further the music career of Ms Ho and to cover up their tracks.
The site, http://www.heyaosun. com, was taken down by noon, and the church's lawyer, Mr Desmond Ong, said that the matter will be referred to the police.
The church found out about the hacking only after The Straits Times approached it for a response.
Get a copy of The Straits Times or go to straitstimes.com for more stories.