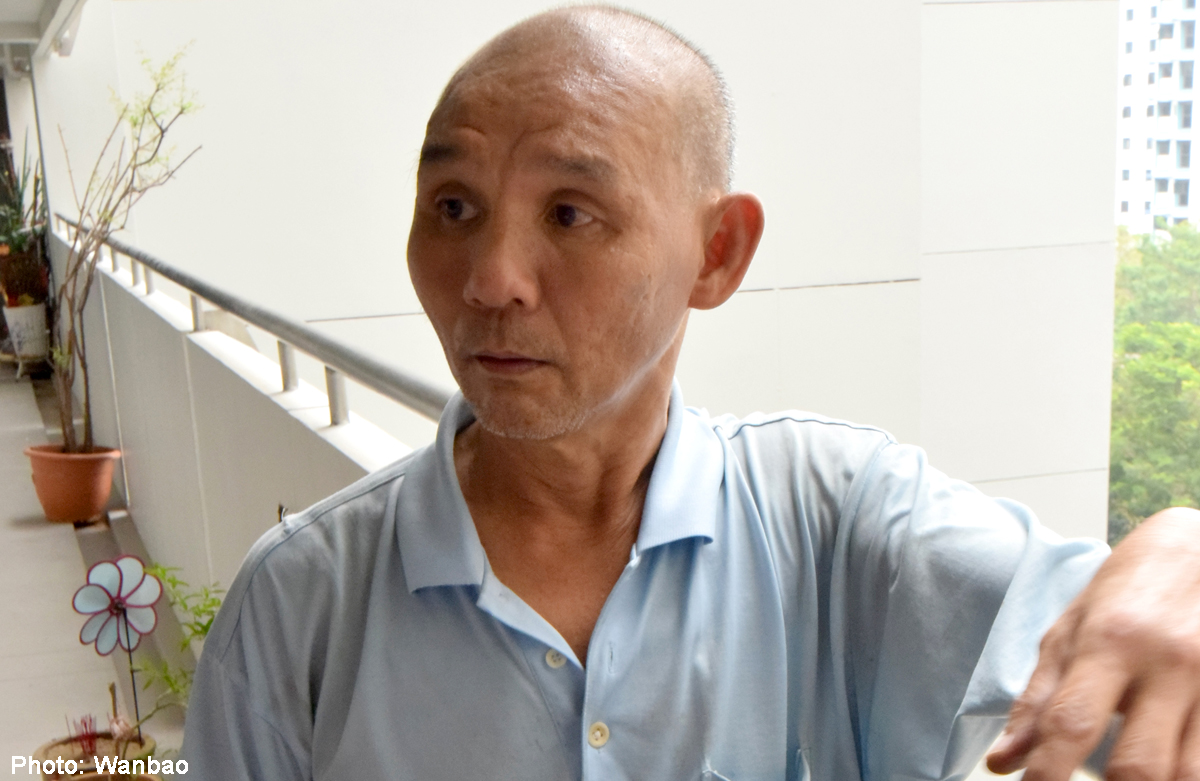 Mr Tony Seah, 55, would collect just about anything - plastic food containers, mattresses, standing fans, umbrellas, suitcases and even test papers.
His habit of hoarding started two years ago with newspapers and magazines, which he sold for some cash.
His mother, now 87, tried to keep their home clutter-free, until she moved to a nursing home last year after a stroke. That was when Mr Seah's condition took a turn for the worse.
Shaking his head slowly, he told The New Paper: "I just felt this urge to pick up something whenever I see it in good condition.
"I don't know why, but picking things up just made me feel better," he said.
The result is a four-room flat packed with so much junk, he had to climb over little "hills" of items just to get to the kitchen. Within a year, he filled the storeroom and three bedrooms.
Mr Seah then started putting things in the living room.
TIGHT SPACE
Space became so tight in recent months he could no longer walk freely around his flat.
"No big deal. I just had to climb over the clutter to get to the kitchen," he said, with a shrug of the shoulders.
He insisted the piles of junk were kept clean.
"When they cleared everything, there were only a few cockroaches running about. Not very dirty, what," Mr Seah said. But neighbours, like Ms Emily Tan, 55, felt otherwise.
She said a foul smell wafted along the corridor whenever he opened his door.
"A group of us brought this matter up to the town council when he started putting his things out on the corridor. We had to walk sideways past his junk to get to our flats," said the saleswoman.
She recalled an incident when she called for an ambulance for her husband.
"There was not enough space for the paramedics to push the wheelchair through the clutter," she said.
On Sunday, six volunteers from the Rivervale Horizon Residents' Committee, led by Dr Koh Poh Koon of the PAP's Punggol East branch, helped to clear the items.
Seven foreign workers were also roped in to help compress the trash into debris containers.
It took them nearly 10 hours.When The New Paper visited Mr Seah on Monday at his flat along Rivervale Drive, it was clean and spacious, a far cry from the clutter he used to live with.
But all the unemployed man could say was: "Heart pain, lah, so many things gone."
With his flat now cleared, Mr Seah is determined to kick his hoarding obsession.
"I try to tell myself not to think so much. I can't retrieve what has been thrown away anyway. Now, when I have newspapers lying around at home, I quickly pick it up and throw it away so I won't be tempted to hoard," he said.
As if to start afresh now that the junk has been cleared, Mr Seah, who is on financial assistance and monthly food subsidy packages, hopes to give his flat a facelift after living there for 15 years.
He is unemployed and relies on his younger brother to help him with the utilities and other miscellaneous expenditure.
Pointing to the walls in his flat, which have remnants of ripped paper and chipped paint, he added with a toothy grin: "My younger brother said he will pay for a fresh coat of paint on my walls."
Important to treat underlying condition: Experts
When dealing with hoarders, the work does not end with clearing out the junk in their homes.
It is important to treat the underlying condition to prevent the problem from recurring, said Dr Rajesh Jacob.
"Families and community agencies may spend many hours and thousands of dollars clearing a home, only to find that the problem recurs - often within just a few months," said the consultant at the Institute of Mental Health's general psychiatry department.
Hoarding behaviour can occur in two ways, said Dr Lim Boon Leng, a psychiatrist at the Dr BL Lim Centre For Psychological Wellness. As a standalone illness, it is considered a type of obsessive compulsive disorder. It can also develop as a symptom of a psychiatric condition like schizophrenia.
"It is sometimes a misunderstanding that hoarders keep things because they are more sentimental. But it is an insidious illness," he said.
Evidence points to a "multi-modal treatment" involving health-care professionals, social workers and other relevant community agencies to treat hoarding, said Dr Jacob.
"It involves mainly four steps: discarding, organising, preventing incoming clutter and introducing alternative behaviours so that they spend less time hoarding.
"The person who hoards should be actively involved in the process along with the relevant community agencies," he added.

This article was first published on Oct 23, 2014.
Get The New Paper for more stories.