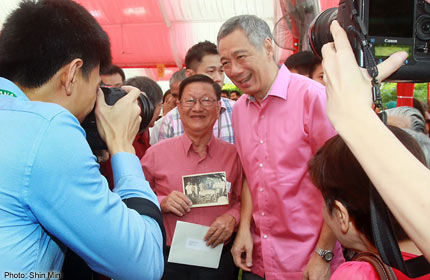 Editorial
THE special package of health-care subsidies, for those who are 65 and older, reflects Singapore's deep sense of gratitude to a generation of toilers.
While finer details of the package will be announced in the Budget speech later this month, what Prime Minister Lee Hsien Loong revealed on Sunday makes clear the generous scope of the scheme for the pioneering generation of Singaporeans.
About 450,000 people are expected to benefit from the package, which includes enhanced subsidies for outpatient treatment, additional annual Medisave top-ups and assistance with premiums for the MediShield Life national insurance scheme.
For many in this group, these practical forms of help will make a substantial difference to the way in which they spend their silver years, at a time when health-care costs loom large on the minds of the elderly in particular.
Justifiably as well, the benefits will be provided for the rest of a recipient's lifetime, with more going to those who are older. Of course, not all beneficiaries need help equally, but all deserve to be honoured by the thank-you gift.
Thus, one question posed is whether there could be a form of means-testing, whereby more assistance would go to those who need it more. But that approach, if adopted, would be a matter of fine-tuning the distribution of benefits.
What is important is the intention of the package and the way in which the range of beneficiaries has been conceptualised. These attest to the seriousness with which the Government, on behalf of all Singaporeans, treats the sacrifices of the pioneering generation.
What distinguishes this group is the selfless support it gave the wider national cause when there was no guarantee that Singapore would survive, let alone succeed. With nothing to fall back on, like national reserves or organised support systems, they made do with less, saved and invested in their children's future.
With an instinctive understanding of what made Singapore work and by contrast what could break it, the independence generation took the road to multiracialism and avoided the calls of communalism. Its determination to take the long view enabled the success of tripartism - the common stake of labour, capital and the state in a growing economy and the fair apportioning of rewards.
Out of the limelight now, some older Singaporeans might have a sense of having missed out on the fruits of success, and perhaps even a disconnection with contemporary life. Seniors have their pride, and many would not make demands as of right.
Their past contribution was simply what they saw as their duty and became a legacy to the young. In turn, it is fitting that society bestows on them a useful token of gratitude.

Get a copy of The Straits Times or go to straitstimes.com for more stories.