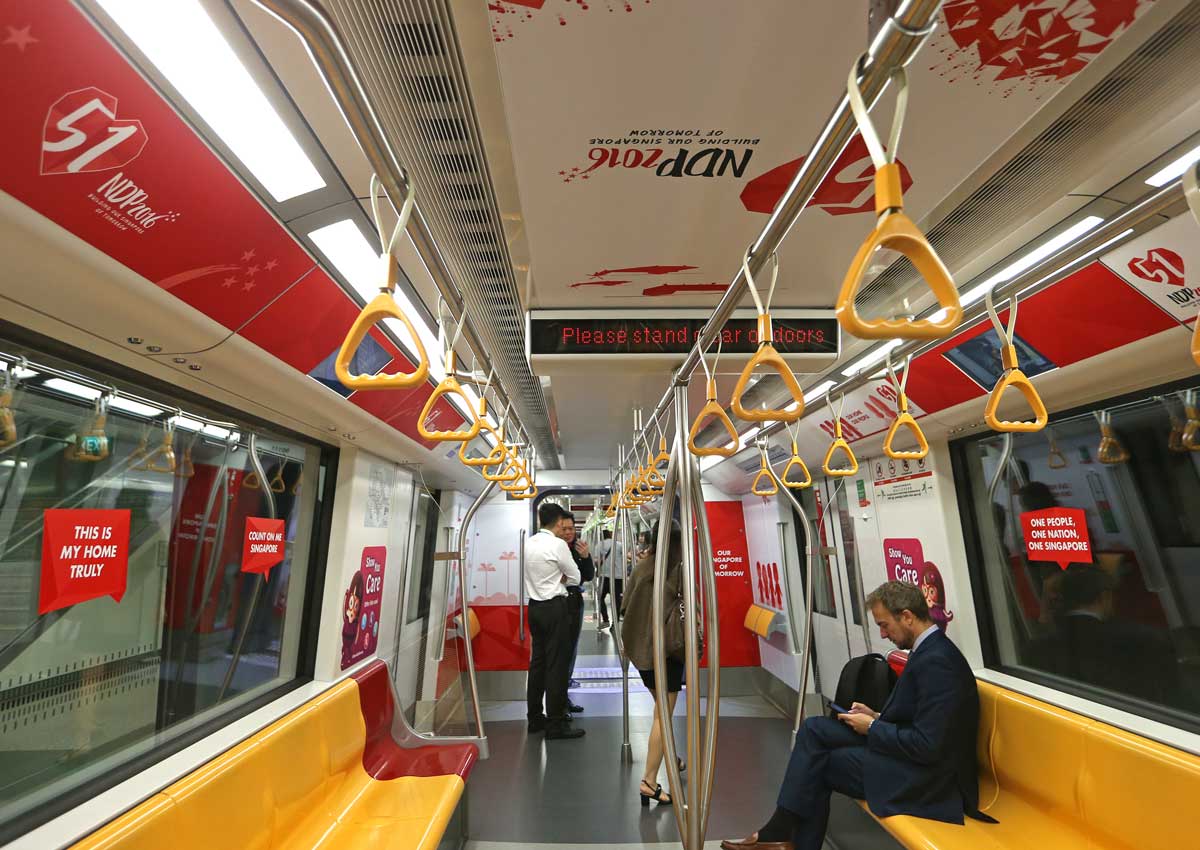 Ahead of National Day next month, the Land Transport Authority (LTA) has launched its first National Day Parade (NDP) themed trains, awash in red and white.
Two of these trains, one each on the North-East Line and the Downtown Line, began running yesterday while two more will begin service from next Monday on the Circle Line and the North-South and East-West lines. The four trains, which are decorated to reflect the NDP 2016 theme, Building Our Singapore Of Tomorrow, will run until mid-August.
The trains feature three designs based on Singapore folklore, building a better future for Singapore, as well as unity and racial harmony.
Colonel (NS) Eugene Lam, chairman of branding and publicity in this year's NDP executive committee, said: "The three designs are like a continuum, it is meant to reflect different acts of the NDP show."
The decorations include speech bubbles above passenger seats with lyrics of classic NDP songs such as Count On Me Singapore.
Other design elements, such as footprint decals with the words Stand Up For Singapore, in reference to the classic NDP song, are also meant to foster better commuter behaviour by encouraging commuters to move in, which can be helpful during peak hours.
The LTA hopes these features can be "social nudges" for people to act more graciously.
Commuters who took the NDP train on the Downtown Line yesterday gave the thumbs up for the decorations.
Full-time national serviceman Foon Hong Ming, 20, said the designs were "unique to Singapore" while 65-year-old Madam Jessie Lim, a part-time cleaner, called them "colourful and attractive".

This article was first published on July 12, 2016.
Get a copy of The Straits Times or go to straitstimes.com for more stories.