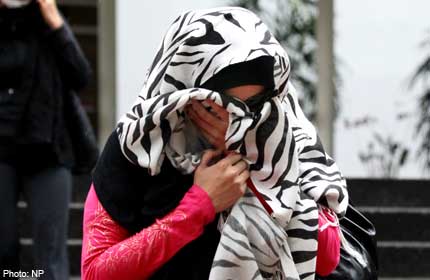 SINGAPORE - They were promised $500 - the "standard" rate - upon taking on an "outside job" of entertaining three men from Lebanon.
But the person who booked the three KTV hostesses never paid.
It was only more than a month later that their "mama-san", Ms Christine, paid them $450 each from her own pocket.
The shortfall of $50 was because Ms Christine needed money to "support her family", Ms Ann, one of the three hostesses, testified on Wednesday.
On Thursday, the other two hostesses, who ply their trade using the names Chanel and Lisa, took the witness stand on the fourth day of the sex-for-match-fixing trial.
The accused, Eric Ding Si Yang, allegedly hired the hostesses for three Lebanese football officials - referee Ali Sabbagh and his assistants, Ali Eid and Abdallah Taleb.
They were in Singapore to officiate an Asian Football Confederation match between Tampines Rovers and India's East Bengal on April 3.
Click on thumbnail to view (Photos: ST, Facebook, AFP)
When questioned by Deputy Public Prosecutor Grace Lim, Ms Lisa and Ms Chanel related the sequence of events of the night they met the match officials at Amara Hotel in Tanjong Pagar. 
Ms Christine had driven the hostesses to the hotel and instructed them twice - once in the pub and then in the car - not to seek payment from the guests.
She also gave them condoms "for safety purposes", although all three hostesses said they didn't think they would be providing sexual services.
When they arrived, they heard Ms Christine speaking on the phone in Mandarin.
Ms Lisa, 28, who turned up in court in an all-black ensemble, but later changed into a zebra-striped tudung and pink top, said she could only make out Ms Christine asking about the Lebanese officials' whereabouts from the phone conversation.
Two Lebanese men approached them soon after and took them up to their rooms. Both hostesses told the court they could barely understand the men.
Translation tool
Ms Chanel, 32, who has been a KTV hostess for about two years, said she had to resort to sign language and a translation tool on the Internet.
The three women were detained by the authorities as they were leaving the hotel before dawn on April 3 and later released.
The Lebanese officials were arrested and convicted for accepting sexual gratification allegedly arranged by Ding.
It remains unclear who had arranged for the women to meet the officials at Amara Hotel.
Asked by Ding's lawyer, Mr Thong Chee Kun, to identify the 31-year-old Singaporean businessman in the dock, both witnesses said they had never met him and did not recognise him.
The trial will resume on Aug 27, when Corrupt Practices Investigation Bureau officers are expected to take the stand.
ABOUT THE CASE
ERIC Ding Si Yang (right), 31, faces three counts of corruptly giving gratification to three Lebanese match officials in the form of sexual services to induce them to fix future matches.
If convicted, he can be fined up to $100,000 or jailed up to five years, or both, on each of the charges.
The three officials - referee Ali Sabbagh, 34, and assistant referees Ali Eid, 33, and Abdallah Taleb, 37 - pleaded guilty to accepting sexual gratification allegedly arranged by Ding.
Eid and Taleb were sentenced to three months' jail on June 10.
As their sentences were backdated to April 4, they were released that evening for good behaviour. Sabbagh was given a heavier sentence of six months' jail on June 11.

Get The New Paper for more stories.
The trial will resume on Aug 27.