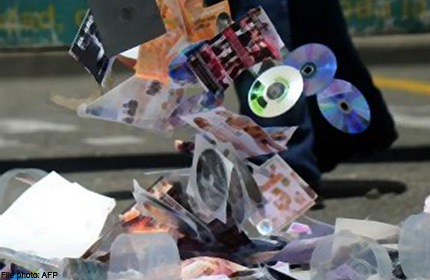 IPOH, Perak - A 44-year-old housewife could only stare blankly at the Sessions Court judge when she was fined RM176,000 (S$68,300) in default of 264 months' jail for possessing 88 pirated DVDs two years ago.
Judge Noor Hayati Mat said the prosecution had proven a prima facie case against Chai Siew Wan and ordered her to pay a fine of RM2,000 in default of three months' jail for each pirated DVD.
The decision raised the ire of Chai's counsel, K.C. Lai, who asked for a clarification.
Noor Hayati stood by her decision and said it was based on provisions of the law.
"I only imposed the minimum sentence on the accused.
"I do not mind if you think that I have made the wrong decision.
"You can appeal my decision at the High Court."
Chai had committed the offence at a stall in Pasar Awam Chenderong, Batu Gajah, at 6.30pm on Oct 3, 2011.
She was charged under Section 41(1) of the Copyright Act 1987, which carries a fine of between RM2,000 and RM20,000 for each infringed copy or imprisonment of up to five years or both.
At press time, Chai failed to pay the fine. Deputy public prosecutor Mark Kenneth Netto prosecuted.
Recently, three boys, aged between 15 and 18, were arrested in three raids in Selangor and Penang on Oct 29 and Nov 9, respectively, for suspected violation of online anti-piracy laws.
They had uploaded unauthorised copies of local movies KL Gangster 2, KL Zombie and Tanda Putra for public streaming via their respective blogs.
It was reported that the trio had been placed under police bail for infringing copyright laws.