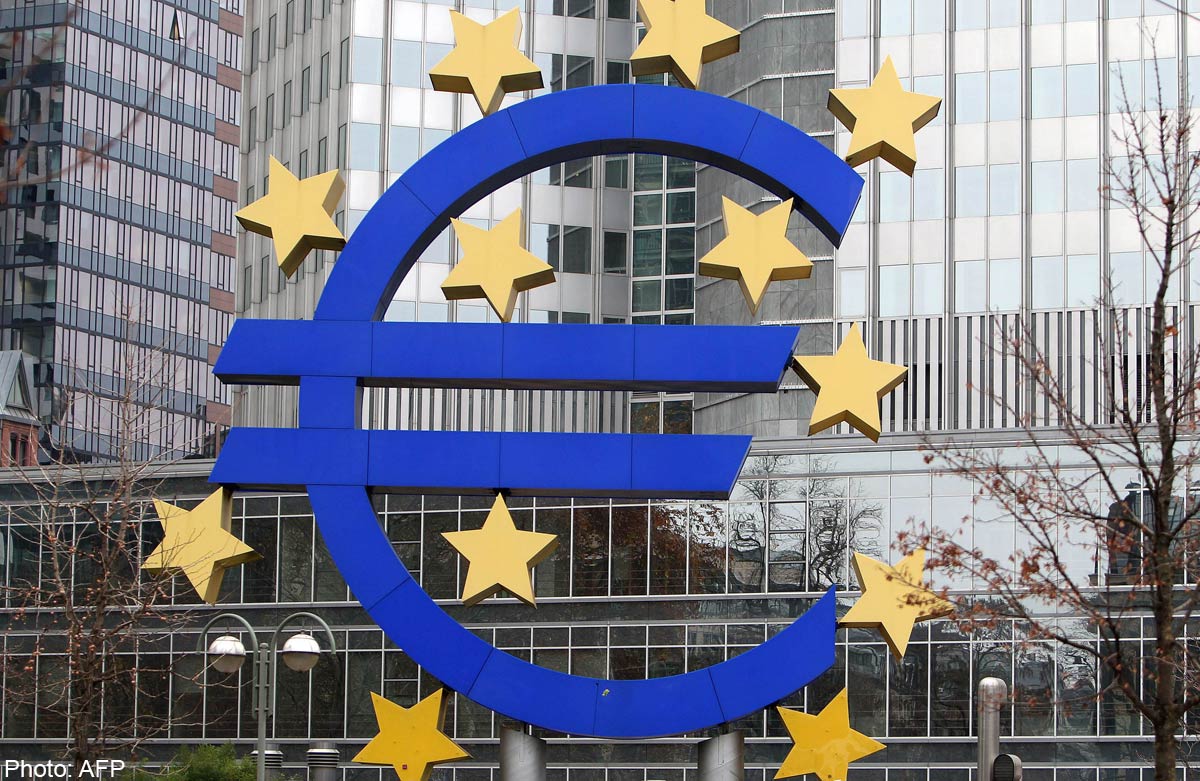 The euro plunged to a nine-year low against the greenback on Monday, on the back of political instability in Greece, deflationary fears and the continued fall in oil prices. The currency hit US$1.1869 (S$1.46) on Monday, before recovering to US$1.1913 late yesterday. Go back a year, and it was US$1.3724. There is a similar tale unfolding with the Singapore currency.
A year ago, €1 could buy S$1.73. That fell to $1.69 six months ago, $1.60 last week and about $1.59 yesterday. To put it another away: That €80-a-night hotel room in Paris that would have cost you $138 a year ago would now cost you $127. This trend will cheer any Singaporean visiting Europe this year, but the economy here is linked to the euro zone in more ways than one.
The European Union (EU) is Singapore's second largest trading partner after China, accounting for 11 per cent of the global trade last year. It was also the largest contributor of foreign direct investment (FDI) in 2012, accounting for almost $190 billion, or 26 per cent, of FDI in 2012, according to the Ministry of Trade and Industry.
Economists see three ways a falling euro could affect Singapore:
Limited impact on exports
A weaker euro could hurt Singapore's export competitiveness, but CIMB economist Song Seng Wun said the currency's weakness "has been clear for some time now, and most businesses would have hedged their positions". Moreover, most firms have their goods priced in US dollars rather than euros, he added. OCBC economist Selena Ling noted that Singapore's non-oil domestic exports to the EU were in negative growth territory last year: "It is just a matter of adjusting expectations lower - (exports) were not high to start with."
Weaker euro will help euro zone economies in the long run, and Singapore will benefit
Bank of America Merrill Lynch economist Chua Hak Bin sees benefits in the sliding euro: "A lot of people have been suggesting that the euro should be weaker to help revive the euro zone economy, so this readjustment to a stronger US dollar is consistent with their divergent growth paths."
Economists also observed that the European Central Bank is now more prepared to embark on quantitative easing in the form of massive bond buying to lower borrowing costs, which would help the euro zone's growth and, with it, its trading partners like Singapore.
Plunging euro signals fear and uncertainty over global economy
The euro's slide is creating unease about whether the region is on the verge of a new economic and financial crisis. As Mr Song points out, the euro did not fall in a vacuum and signals broader shifts in the world economy.
The key Singapore Interbank Offered Rate and the Swap Offer Rate have spiked in recent months on expectations of a US interest rate hike and stronger greenback.
Mr Song noted: "All this links to a single thing - fear for the global economy outside of the US, and a preference for US dollar assets. The moving around of assets will create a lot more volatility."
marilee@sph.com.sg

This article was first published on January 7, 2015.
Get a copy of The Straits Times or go to straitstimes.com for more stories.