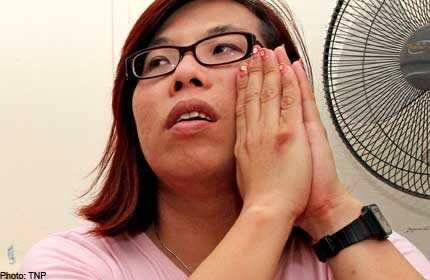 SINGAPORE - When she was 10 years old and growing up as a boy, she was already dressing up in her sister's clothes.
"I thought I was a freak then," said Ms Fanny Ler.
She suppressed her feelings, fearing a backlash about her cross-dressing urges.
"I just didn't have any information then. I thought I would grow out of feeling like this," she said.
In 1997, Ms Ler, who was still a man, fell in love with a woman and got married.
The couple got divorced in 2008. They have a daughter who lives with her mother.
Ms Ler said the divorce was unrelated to her transition.
She said: "(My former wife) didn't even know that I had such thoughts at all."
But it was also around that time that Ms Ler learnt from the Internet that she might be suffering from gender identity disorder, a medical condition in which a person does not identify with the sex they were assigned with at birth.
"I realised that I was not alone."
She decided to go for a sexchange operation after learning more about it from websites and forums.
After a three-year process, she completed her gender reassignment surgery in 2010.
But her life was not smoothsailing after that.
People could still tell she was previously male. Despite hormonal therapy, she still had facial hair and a low voice.
"I was constantly stared at and people talked about me behind their backs," she said.
Once, a pair of teenage boys rudely shouted "bapok" (Malay slang for transvestite) at Ms Ler while she was at a void deck.
She said: "I was so angry. I chased and shouted at them, 'My IC says I'm a woman!'" Despite facing constant ridicule and criticisms, she felt there was no point in hiding her identity as a transgender woman.
She was willing to share her story as she hopes Singaporeans can accept that there are people like her in our society.
"We are not freaks of nature, it's not our choice that we are this way. So don't treat us like a circus for you to point and laugh at."
Get The New Paper for more stories.