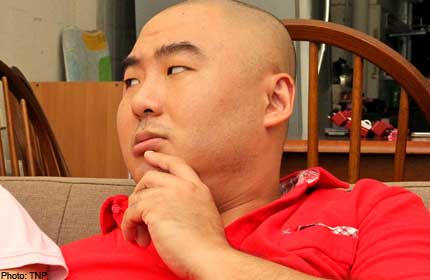 SINGAPORE - He grabbed a metal fork, ready to defend himself.
But Mr Zack Ling wasn't being robbed or attacked.
The chef was introducing his girlfriend to his family at the dinner table.
"I was afraid that my father would do something violent," he said.
After a long silence, his father, who was a military man, said: "Okay. You have my blessing." His girlfriend, Ms Fanny Ler, sat beside Mr Ling at the dinner table quietly.
Ms Ler was formerly a man.
As the eldest son in a conservative Buddhist family, Mr Ling said his father had expected him to find a "normal" partner.
He said he used to drink a lot and hang out with gangs.
He even thought that all transgender people were streetwalkers.
Then, before he met Ms Ler, he dated some lesbians and other transgender persons.
His family did not know about his past relationships.
During national service, he even tried to go out with someone in his unit who crossdressed as a female, he said.
Many of his friends are from the LGBT (lesbian, gay, bisexual and transgender) community.
"I don't see them as abnormal," he said. "Being LGBT does not make you less human."
On the recommendations of friends, he went to websites like SgButterfly.org, an online group for cross-dressers and transsexuals.
But he was ignorant about the community at first and made others think that he harboured a fetish.
"I used the wrong terminology when I referred to them and had a lot of misconceptions about trans people," he said.
But his ignorance turned out to be a blessing in disguise.
It led to him getting to know Ms Ler after she offered to correct his mistakes.
"She changed my life and she made me more mature," he said.
Mr Ling maintains he is straight and has no unique preferences in a partner.
"I don't care what kind of group my partner is classified as.
"If they are a woman inside, they are a woman to me," he said.

Get The New Paper for more stories.