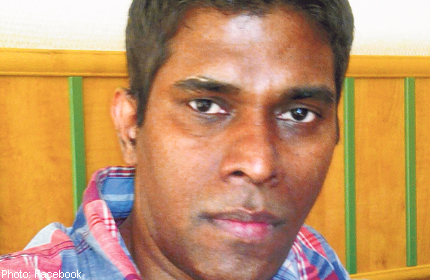 SINGAPORE - Kelong King Wilson Raj Perumal has denied any involvement in Australia's Victorian Premier League kelong scandal.
An investigation there resulted in six individuals connected with the Southern Stars football club being charged in a Melbourne court on Monday. The winnings from the allegedly fixed matches paid out by Australian and overseas betting companies is estimated to be more than A$2 million ($2.3 million).
One of the men involved is said to be Segaran G. "Gerry" Subramaniam, a Malaysian who allegedly acted as a point man for Wilson Raj.
But Wilson Raj, 46, told TNP on Tuesday that he did not know Subramaniam.
Speaking from Hungary, where he is assisting authorities with match-fixing investigations, he said: "I have no idea how Mr Gerry even looks like, let alone be involved with him.
"And I don't know any of the other people who have been charged in Australia.
"People should not be the judge, jury and executioner in this case. Let the relevant authorities investigate and conclude their investigations."
An Asian-based match-fixing investigator for SI Sports Intelligence, who wanted to be known only as John, told The New Paper on Monday that Wilson Raj was behind the fix.
He showed TNP e-mails, recordings and communications which highlight the convicted match-fixer's involvement Down Under.
When contacted on Tuesday, John was adamant that Wilson Raj's fingerprints are evident in Australia. He said: "Of course he is going to deny it. Wilson Raj is one of many match-fixers.
"But he was certainly aware and involved in the manipulation of matches in Australia.
"Me and my colleague have actually previously briefed the Victoria Police Sporting Integrity Intelligence Unit about Wilson Raj and gave them the broad background on match-fixing."
Middle man
Australian police told the court on Monday that Subramaniam admitted to them that he was in touch with known match-fixers across the world.
Detective Acting Senior Sergeant Scott Poynder added that the 45-year-old was in contact with known match-fixers from Malaysia and Hungary, and would relay messages to Southern Stars players and officials in order to manipulate their matches.
Wilson Raj was extradited to Hungary last year after serving a year of his two-year jail sentence in Finland in 2011 for bribing players and referees to rig matches.
TNP contacted the Hungarian authorities for details on Wilson Raj's status in the country and his links to match-fixing in Australia, but Ms Andrea Nagy, a spokesman for Central Investigative Chief in the Prosecutor's Office, said she was unable to comment.

Get The New Paper for more stories.