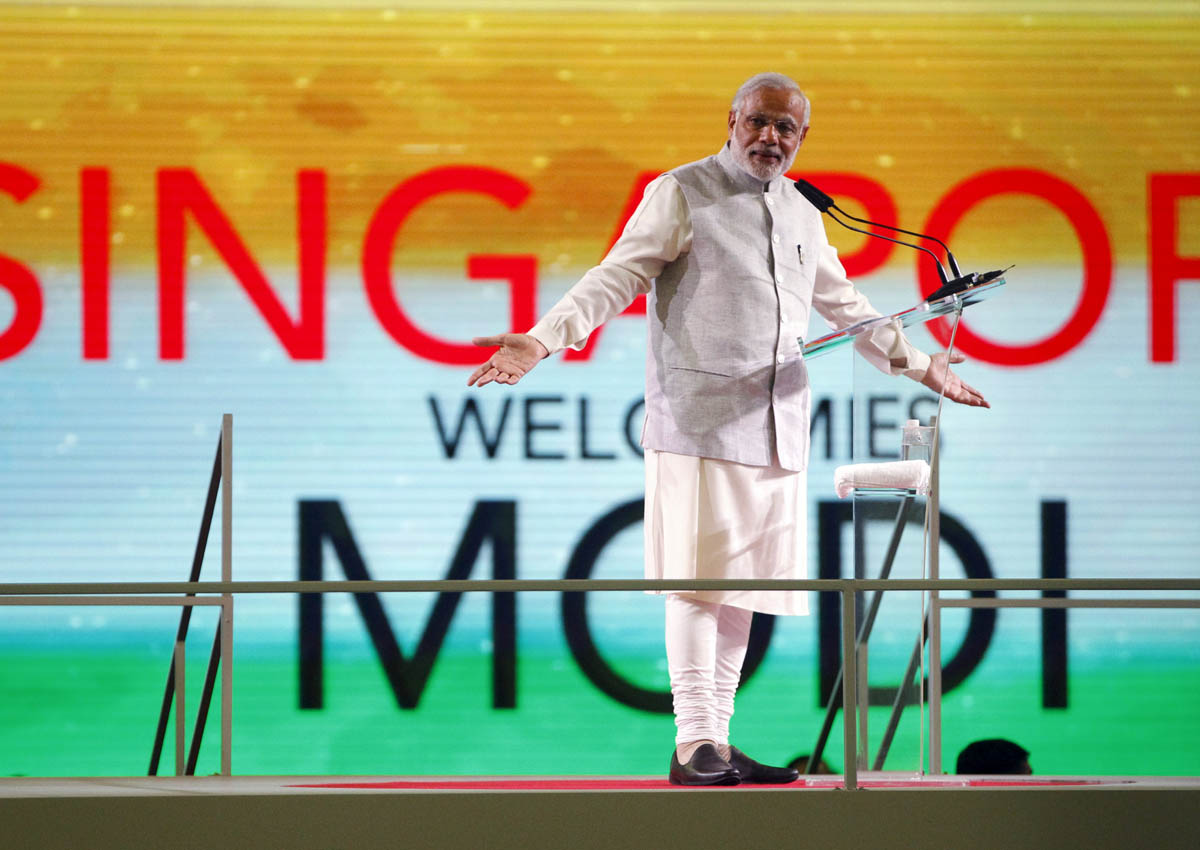 SINGAPORE - India Prime Minister Narendra Modi wrapped up his two-day visit to Singapore on Tuesday (Nov 24) evening.
From signing key agreements to having dinner at the popular Indian vegetarian restaurant Komala Vilas, here are seven things about his trip:
1. 50 YEARS OF TIES
The visit marks 50 years of formal ties between Singapore and India. India was the second nation to recognise Singapore after its independence in 1965.
A special gift of the front page of Tamil Murasu dated Aug 11, 1965, that carried the news of the recognition was presented to Mr Modi on Tuesday.
2. NO STRANGER TO SINGAPORE
When Mr Modi delivered the Singapore Lecture on Monday (Nov 23), he began by saying how Singapore and former Prime Minister Lee Kuan Yew have inspired him.
Mr Modi made his first trip here in 2006 while he was the chief minister of Gujarat. Singapore leaders have also regularly visited him in Gujarat and taken part in the Vibrant Gujarat Summits organised by Mr Modi.
Mr Modi was also present at the State Funeral Service for the late Mr Lee in March, and he ordered flags in India to be flown at half-mast as a mark of respect to Mr Lee.
3. SIMPLE FIRST DINNER AT KOMALA VILAS
Right after the lecture, Prime Minister Lee Hsien Loong and his wife Ho Ching hosted Mr Modi to a vegetarian meal at Komala Vilas.
They caused quite a stir at the restaurant, and a crowd of gawking onlookers gathered outside as word spread of Mr Modi's presence.
Here's what they ate: idli (a rice cake consisting of fermented black lentils), vadai (savoury fritters) and the restaurant's famous thosai (a crepe made from rice batter and lentils).
Their initial order was only for plain thosai, but Ms Ho later ordered onion and masala thosai, said Mr Rajakumar Gunasekaran, operations director of the restaurant.
Mr Modi was also hosted to lunch at the Istana on Tuesday.
4. STRATEGIC TIES
Mr Modi and Mr Lee witnessed the signing of nine bilateral documents on Tuesday.
The highlight was the India-Singapore Strategic Partnership, which elevates the ties between the two countries. It will broaden and deepen ties across various sectors including defence relations, economic and cultural co-operation, skills development and capacity building.
5. MEETING THE INDIAN DIASPORA
Mr Modi received a rousing welcome from about 18,000 people, mainly Indian expatriates here, at the Singapore Expo on Tuesday evening.
Singapore NRI Forum, which organised the event, said it was inundated with requests for seats.
Mr Modi also took a moment to take a photo with construction workers at the Indian National Army memorial at Esplanade Park, and posted the snap on Facebook.
6. NO MODI ORCHID, FOR NOW
Mr Modi declined to have a Singapore orchid named after him on this trip "due to paucity of time", Indian officials said.
But he launched a commemorative Singapore-India stamp set comprising two stamps that depict the presidential residences of both countries.
7. REAL-TIME UPDATES ON SOCIAL MEDIA
Mr Modi is known for being technologically savvy, and being very active on social media. His packed itinerary in Singapore is constantly updated on his Twitter account, Facebook page, and YouTube channel.

This article was first published on Nov 24, 2015.
Get a copy of The Straits Times or go to straitstimes.com for more stories.