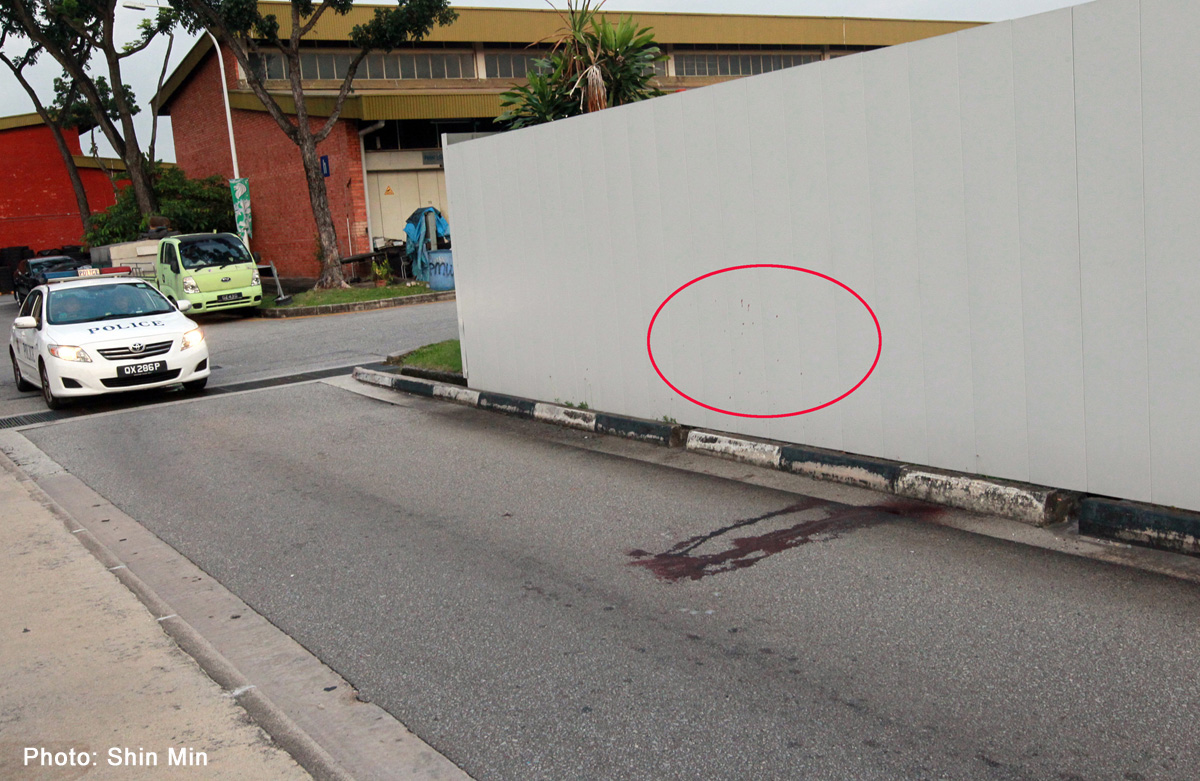 SINGAPORE - Thiruppathi Veerapperumal, 26, is alleged to have caused the death of technician Murugaiya Suresh Kumar at Pandan Loop along an exit leading to West Coast Highway between 10.10pm and 10.33pm last Saturday.

Get the full story from The Straits Times.
Man found dead at Pandan Loop
Lee Jian Xuan
The Straits Times
Wednesday, Aug 27, 2014
A 26-YEAR-OLD man was found dead at the Pandan Loop industrial estate on Saturday night, in what police have classified as murder.
The man, Indian national Suresh Kumar, was an employee of Poly NDT, which does non-destructive testing and inspections of parts such as ship hulls.
A call for help was made at about 10.30pm on Saturday, said the police in a statement yesterday. Upon arrival near the company's office at 60 Pandan Loop, police found Mr Kumar lying motionless on the ground. Investigations are ongoing.
Blood stains were reportedly splattered along the road, and also on the fencing of a nearby construction site.
Mr Kumar was pronounced dead at 10.53pm by paramedics at the scene.
He had suffered trauma injuries to his head and neck, and was found with a deformity on his left hand, said a spokesman for the Singapore Civil Defence Force.
It is believed that Mr Kumar was attacked even though his possessions were not taken, said a report in Chinese evening newspaper Shin Min Daily.
Engineering supervisor Mohd Affendi, 58, who works next door to Poly NDT, said Mr Kumar was "nice, polite and hardworking".
"He always said hello and he would ask us if we wanted coffee when he went to buy drinks," he added.
Operation manager at Poly NDT Wong Boon Tiong said Mr Kumar, who joined the firm in 2009, was a "straightforward and hardworking" man close to his co-workers.
"The company is also in touch with and assisting Suresh's family," he said.
Mr Kumar, who was single, is survived by a 30-year-old brother who works here as a construction supervisor, as well as his parents back home in India.
The assault has spooked other workers in the area, which is populated mainly by automobile and engineering workshops.
Said Mr Mohd Affendi: "I will tell the workers under me to be more careful around here at night from now on... the lights are so dim here and it's deserted at night."
jianxuan@sph.com.sg