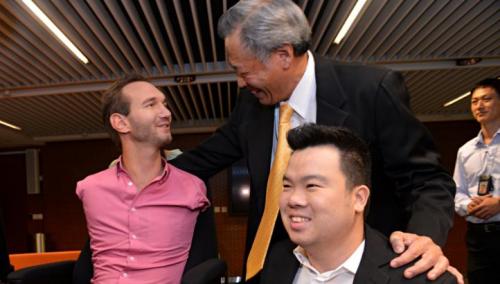 Navy serviceman Jason Chee will be given a desk job as an operations supervisor when he recovers from last December's horrific ship accident in which he lost both legs and his left arm.
The 30-year-old, who holds the Military Expert 2 rank in the Republic of Singapore Navy, said yesterday he is looking forward to taking up the role the navy has "secured" for him at its headquarters. "I want to go back to my job because I love the navy," he said. "If I quit the navy, what will happen to me?"
While the administrative job will be markedly different from his previous vocation as a weapons systems supervisor, ME2 Chee said he will get used to it. For now, the injured serviceman, who still has two fingers on his right hand, is focused on his recovery and rehabilitation process.
This includes pool-based physiotherapy, twice-weekly table-tennis sessions and twice-daily therapy sessions to strengthen his body and teach him to walk with prosthetic legs. ME2 Chee also said he will head to the United States next year to get his prosthetic limbs fitted.
The serviceman was speaking to reporters yesterday after meeting Defence Minister Ng Eng Hen and motivational speaker Nick Vujicic, who was born without limbs.
They met at an event in which Mr Vujicic was speaking at Star Theatre @ The Star Performing Arts Centre.
Dr Ng said he was heartened by the swift recovery of ME2 Chee and others left in similar positions who have "started from within". "I think that is resilience and I think that is something that we all can learn," said Dr Ng.
He said Singapore Armed Forces doctors will monitor and support ME2 Chee's rehabilitation and they are in touch with doctors who specialise in helping multiple amputees.
ME2 Chee was discharged from hospital in June and began travelling by motorised wheelchair in July when he also learnt to walk a few steps on prosthetic legs. His full rehabilitation, which aims for him to eventually walk unaided, is expected to take years.
ME2 Chee said his strong willpower has kept him going and he draws inspiration from several disabled people, including Mr Vujicic.
"I told myself not to give up," he added. "I motivate myself to do more things that I want to do. If I think negative and want to give up, what will happen next?"
jermync@sph.com.sg

Get a copy of The Straits Times or go to straitstimes.com for more stories.