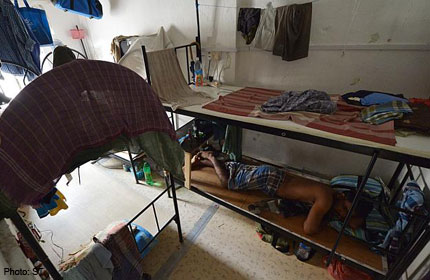 Construction worker D. Mathavan is broke.
The 40-year-old has not worked for six months due to a hand injury, yet insists on borrowing cash from friends to pay the $200-a-month rent to stay at a shophouse in Little India.
He would pay only about $50 a month if he stayed at his company's dormitory, but he does not want to as he fears his boss will send him back to India.
Migrant workers' group Transient Workers Count Too is calling on the Manpower Ministry to step in and provide accommodation for injured workers where they can feel safe.
It is also suggesting that employers or the Government pay for this housing.
The organisation says that problems result when workers run away. Some end up doing illegal work, such as washing dishes, and end up living in overcrowded shophouses.
Under Singapore law, employers are responsible for housing injured foreign workers or those with whom they are in dispute.
The Transient Workers group surveyed 163 such workers, from India or Bangladesh, between April and June to discover the extent of the problem.
Only one was staying at accommodation provided by his company, while just 45 workers - about 28 per cent - had been offered accommodation by their bosses.
A Manpower Ministry spokesman said staff whose employers do not fulfil their responsibility to house them should approach the ministry for help.
It will also investigate claims of forceful repatriation and take action against errant employers.
However, the spokesman pointed out that it is "not reasonable to compel the employer to provide alternative accommodation" for all their workers.
The exceptions are if their accommodation is unacceptable, the worker is physically assaulted or threatened or if attempts have been made to forcibly repatriate the worker without reporting the work accident.
Volunteer Balambigai Balakrishnan, who led the survey, said employees are not turning to the ministry for help and did not know that they can do so.
Instead, they listen to friends and lawyers who lend them money for rent.
"More must be done to educate workers and this should be done before they come to Singapore," said Ms Balambigai.
Injured workers also told The Straits Times they were unaware of the help available to them.
Mr Mathavan said: "I only knew that I could go to the ministry for help after I ran away from my boss' dorm."
Mr C. Y. Low, human resource manager at shipbuilder Sin Norm, which employs about 200 Bangladeshis, agreed that wrong advice may be a reason some workers are adamant on running away.
He said: "Some workers simply refuse to stay with us even after we sign an undertaking that we will take care of them."
ameltan@sph.com.sg

Get a copy of The Straits Times or go to straitstimes.com for more stories.