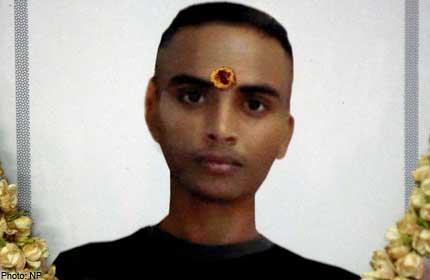 SINGAPORE - The family of the inmate who died in prison three years ago is asking to reopen a coroner's inquiry into his death, and for it to be completed within a week.
"This is in the interest of transparency and justice," they said on Thursday through their new lawyer M. Ravi of LF Violet Netto.
"His family deserves nothing less," Mr Ravi added.
Dinesh Raman Chinnaiah, 21, died in September 2010 from breathing difficulties in Changi Prison.
He had been restrained and placed chest down in an isolation cell, after carrying out an unprovoked attack on an officer.
A senior prison officer, Lim Kwo Yin, 36, pleaded guilty last month to causing his death by negligence, and was fined $10,000.
The coroner's inquiry was discontinued because criminal proceedings had already shown how he died, the Attorney-General's Chambers (AGC) said in a statement on July 25.
That decision was taken after the end of the criminal proceedings, when the state coroner met state counsel and the family's previous lawyer M. Mahendran in chambers.
They had found that the circumstances in which Dinesh had died were satisfactorily answered.
But in the four-page letter sent to both the AGC and the media which addressed five points in the Attorney-General's statement, Mr Ravi sought to show that an inquiry was necessary.
The Coroner's Act makes it "obligatory" for inquiries when people die while in official custody, he wrote.
He also argued that an inquiry should be held due to public interest, because drawing attention to the circumstances of the death may reduce the likelihood of similar deaths in future.
The letter further stressed the need for scientific methods and techniques to investigate Dinesh's unnatural death.
The AGC confirmed on Thursday that they had received the letter from Mr Ravi, and added that they "will study the contents carefully before replying".
Mr Mahendran, who is from Regency Legal, declined comment on Thursday, citing "privileged communications" between him and his client.
Second Minister for Home Affairs S.Iswaran had said on Monday that the Government accepts responsibility for Dinesh's death and will compensate the family.

Get a copy of The Straits Times or go to straitstimes.com for more stories.