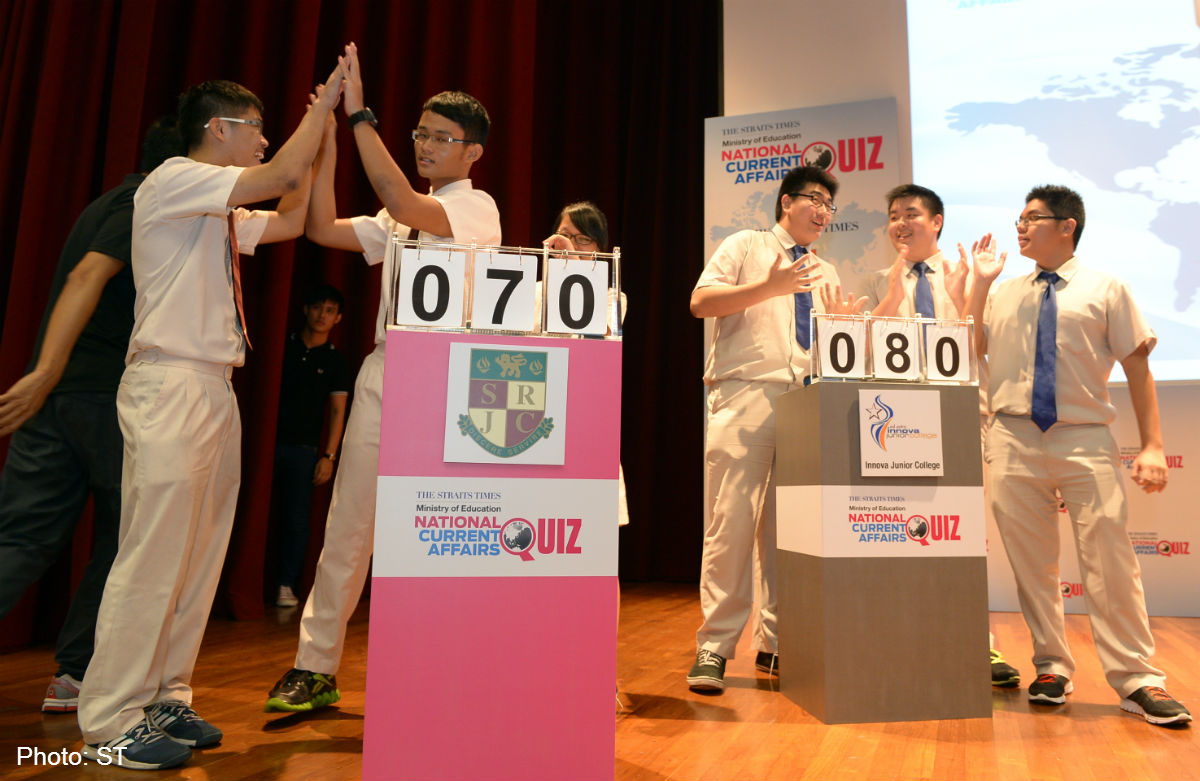 Innova Junior College (IJC) emerged champs of The Big Quiz yesterday, to cheers from their schoolmates, students from Singapore Sports School and Nanyang, Serangoon, Temasek and Yishun junior colleges.
The team beat a Serangoon JC team and two others from Yishun JC, with a total of 90 points. The first of four general knowledge quizzes was part of the revamped The Straits Times-Ministry of Education National Current Affairs Quiz, presented by the Singapore Press Holdings Foundation.
Organisers decentralised the event this year, holding it at four schools islandwide. In previous years, students had to clear written and "live" rounds before playing in a national-level final.
IJC's team, which called itself Ad Astra, after the school's Latin motto - which means "To the stars" - comprised Zhang Le, 16, Amirulhusnii Mohamad, 18, and Joey Ong, 17, who consistently maintained a lead over the three segments of the quiz. One of two teams from YJC, made up of Shi Qi Raphael, 17, Leow Cheng Yao, 17, and Muhammad Aqil, 17, won second place after correctly answering a question on the minimum wage most cleaners in Singapore would soon receive.
Going by the hoots and applause throughout, the new format was a hit. "We wanted to have more students watch their peers compete and enjoy the event, so we brought it to them," said Ms Serene Goh, Schools editor of The Straits Times.
The contest followed a talk by the broadsheet's assistant political editor Robin Chan. He spoke to about 600 students from the six schools on "The Mood at Half-Time" - based on The Straits Times' recent Insight Special Report, on how the Government has fared since the last general election in 2011.
Mr Chan later fielded questions from students on issues such as whether Singapore's political climate was conducive to supporting opposing views.
Ms Belinda Loh, who teaches general paper at Nanyang JC, said: "I noticed the students were keen to ask about checks and balances. It points to their own political awareness, and it's a topic that can be brought back to the classroom."
The next Straits Times talk and the second edition of The Big Quiz will be held on Wednesday, May 14, at Anglo-Chinese Junior College. For more information, log on to www.straitstimes.com/thebigquiz.
laremyl@sph.com.sg
Additional reporting by Ang Yiying, Amanda Phoon and Syahidah Zainal.
This article was published on May 8 in The Straits Times.


Get a copy of The Straits Times or go to straitstimes.com for more stories.