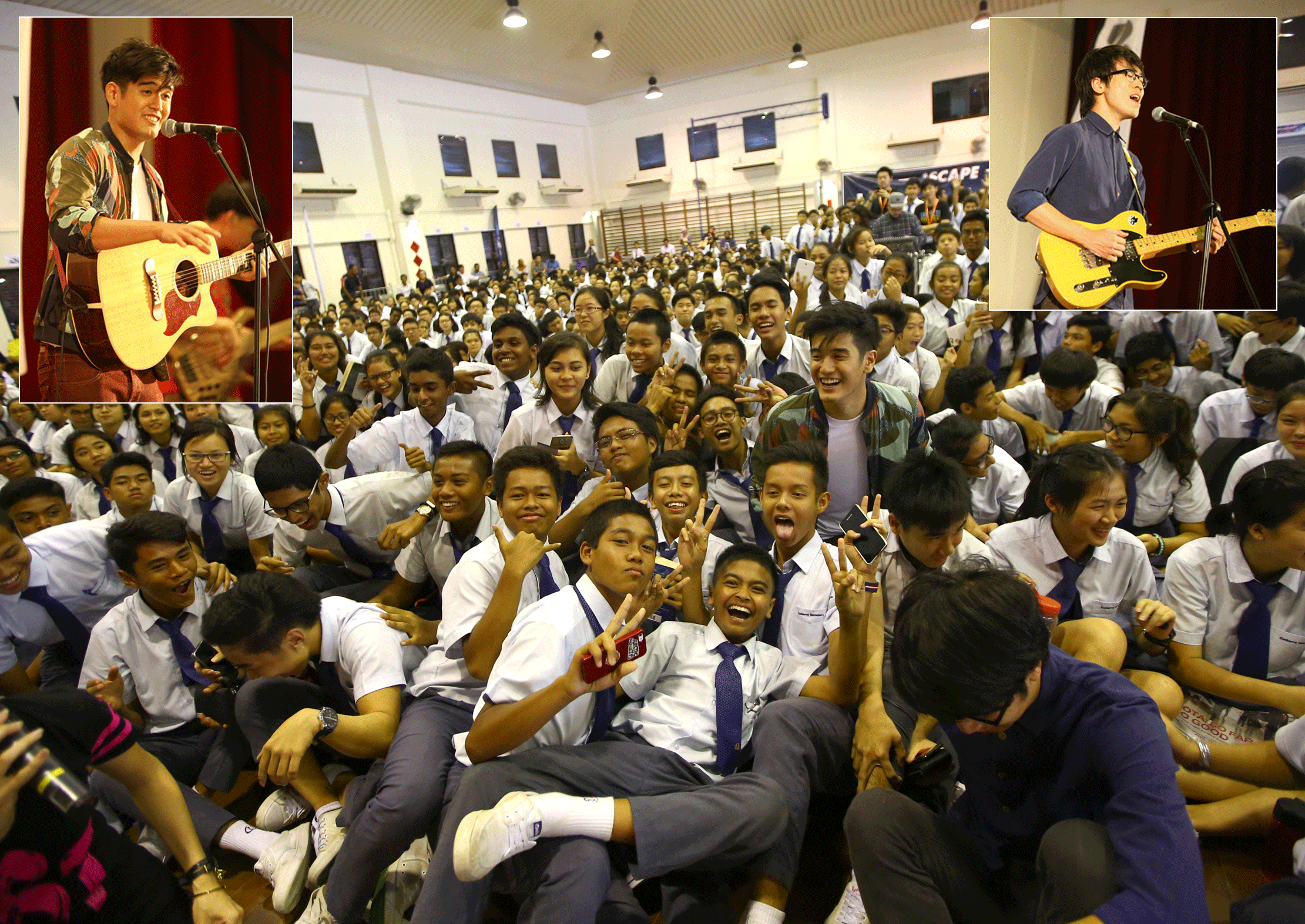 About 1,200 students from Canberra Secondary School got a treat during their school's afternoon assembly yesterday when local singers Nathan Hartono and Charlie Lim turned up to officially kick off the second edition of the *Scape Invasion Tour.
A joint partnership between *Scape and social enterprise Invasion Singapore, the outreach programme aims to inspire the next generation of musicians, provide them with a viable platform to showcase and promote their work and develop a community of youths passionate about local music.
Taking place from February to November, it is split into two legs to coincide with the school terms.
This is the second year running that Hartono is involved with the Tour.
He performed at last year's inaugural edition which also featured Sam Willows, Shigga Shay, Gentle Bones, The Lion City Boy and Michaela Therese. The tour covered 32 secondary schools, junior colleges and institutes of higher learning, reaching more than 19,000 students.
Actor-singer Hartono, 25, told The New Paper: "It's always very heartening doing these shows because the response is always surprising, and it touches me every time.
"I remember when we did shows in schools six or seven years ago, it was almost as if the students were being forced to sit there to watch us and it didn't feel right.
"But now the kids are more receptive and they're more responsive, and you can tell that they really enjoy the time they spend with us."
Lim, 27, one of this year's five new headliners, which also includes Inch Chua, The Good Life Project, Grizzle Grind Crew and Sezairi, added: "I couldn't ask for a better platform to play my original music. Nathan and I were also part of the Singapore Armed Forces' Music and Drama Company (MDC) doing this school tour thing. I remember seeing the MDC come down to my primary school.
"It's sort of come full circle that now it's my turn to give back."
Hartono also recalled the times when the MDC and other musical groups would perform at his schools.
"It was always an amazing experience and I hope that every time we do a show, we're doing the same for the kids and inspiring them as well... It was performances like that, seeing live music as kids, that a lot of us in the local scene are doing what we're doing today," said Hartono, who entered the industry in 2005 after winning a singing competition.
Indeed, Hartono and Lim, who each performed three original compositions, left a lasting impression on some students.
Said Secondary Four student Nurhadri Zulkifli, 16: "We didn't know when we came down for assembly that we would be watching this. We usually have people come and perform skits or story-telling but nothing like this, which is new and exciting."
natmeah@sph.com.sg

This article was first published on February 19, 2016.
Get The New Paper for more stories.