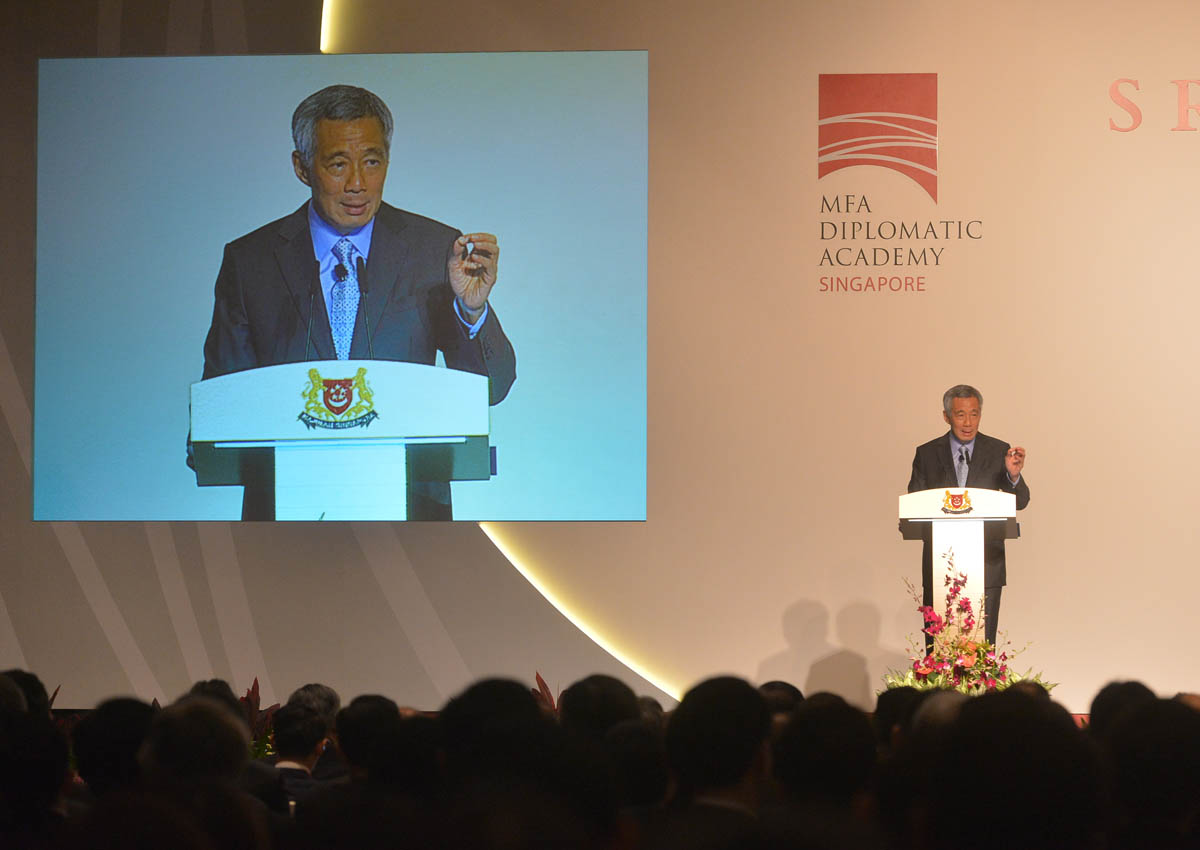 The Muslim community here must feel that they are a part of Singapore and fully accepted as equal citizens to keep Islamist extremism from taking hold, said Prime Minister Lee Hsien Loong yesterday.
During a 45-minute dialogue that followed his S. Rajaratnam Lecture on foreign affairs, Mr Lee said the downtrodden situation of some Muslim communities in other countries is a reason - although not a justification, he made clear - "to think dangerous thoughts".
"But this is a peaceful, harmonious and cohesive society (and so) there is less trigger," he noted.
He was responding to a question from Ambassador-at-Large Tommy Koh on how the Singapore Government can deal with the influence of the Islamic State in Iraq and Syria (ISIS) terrorist group in the region.
Later, Mr Lee noted that the Government's policy of ethnic quotas in public housing - which also gives rise to an ethnic mix in schools as students are allocated geographically - works to prevent the formation of enclaves where "despair and alienation" can arise.
This, however, is the situation in France's banlieue or suburbs, he added. Earlier this month, attacks by ISIS terrorists in Paris killed at least 130 people.
Mr Lee also credited the role played by Muslim community and religious leaders in Singapore in speaking out against extreme Islamist teachings, something that is rare in other countries, he said.
"This is very precious because in many countries, when governments try to work with religious leaders, the worry is that leaders lose their flock and become irrelevant," he added.
Singapore's Religious Rehabilitation Group, which counsels terror detainees and counters radical ideology, has done good work, he added.
Mr Lee also noted that the vigilance of the community in monitoring and reporting those who seem to be influenced by extremist ideology has thwarted terror plots in Singapore.
During the dialogue, he was asked questions on Singapore's soft power and how the Government shapes its foreign policy towards countries with unstable governments.
Mr Lee said that with politically unstable countries, the Singapore Government has to deal with "whoever is in charge", as ostracism would only make matters worse.
He noted that the Americans and Europeans ostracised the military rulers of Myanmar, while Singapore advocated engagement.
"In the end, I think we did the right thing," he said, pointing to Myanmar's transition to democracy that is now under way, with the country holding its first contested elections earlier this month.
At the ASEAN Summit last week, Mr Lee also said that he congratulated Myanmar President Thein Sein on managing the complex and difficult process peacefully.
Mr Thein Sein replied that he was most proud of the fact that the process started at the same time as the Arab Spring, but while the Middle East is now mired in a messy and unhappy situation, Myanmar is peaceful.

This article was first published on Nov 28, 2015.
Get a copy of The Straits Times or go to straitstimes.com for more stories.