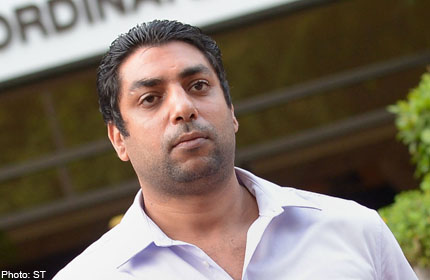 SINGAPORE - First, he punctuated his answers with sighs every time he was asked about incidents that happened five months ago.
Then, he started clutching his head occasionally, as if to command an answer from his memory.
Finally, on his third day as a witness in the sex-for-match-fixing trial involving businessman Eric Ding, part-time interpreter Khaled Atwa expressed his frustration.
Ding, 31, allegedly bribed Lebanese referee Ali Sabbagh and assistant referees Abdallah Taleb and Ali Eid with sexual favours to fix matches.
Mr Atwa, an Egyptian, was the interpreter when Mr Taleb and Mr Eid gave statements to the Corrupt Practices Investigation Bureau (CPIB) on the day they were repatriated.
Ding's lawyer, Mr Yusfiyanto Yatiman, cross-examined Mr Atwa yesterday about what exactly Mr Taleb and Mr Eid had said when he recorded their statements.
This was because Mr Atwa had mentioned in court some details about what the two Lebanese had said that was not found in the CPIB statements.
For instance, when asked what Mr Eid had said about a phone call to Mr Taleb, purportedly from Ding, Mr Atwa said it was to inform them about the arrival of the "girls".
But the word "girls" was not reflected in Mr Eid's statement, Mr Yusfiyanto pointed out.
Mr Atwa also said that Mr Eid "felt that he lost everything for... free sexual services".
Again, the lawyer said this was not found in the CPIB statements.
NOT RECORDED
When Mr Yusfiyanto kept asking Mr Atwa for more details on what the two Lebanese had said but was not recorded, the interpreter replied: "... If you want to ask me a question, can you (please) refer to what's in the statement?"
The lawyer retorted: "Mr Atwa, I'm asking you questions... on details that you introduced to this court outside the statement."
Later, Mr Yusfiyanto asked Mr Atwa again: "You agree that you can't remember some of the things you said in court in the past one to two days, you have difficulty remembering?"
Mr Atwa replied: "I agree with you. That's why I keep asking you to repeat (your question) again, because you have been asking a lot of similar questions... in so many different forms."
He even called the process "frustrating" and that it made him "tired". The trial continues today.
ABOUT THE CASE
Businessman Eric Ding Si Yang allegedly bribed three Lebanese match officials when they were here to officiate an Asian Football Confederation match on April 3.
Assistant referees Abdallah Taleb and Ali Eid received three-month jail terms on June 10, but were released that day as their sentences were backdated to their remand on April 4.
Referee Ali Sabbagh, 34, who was sentenced to six months' jail for corruption in June and released on Aug 3 for good behaviour, testified against Ding previously.
If convicted, Ding can be fined up to $100,000, jailed for up to five years, or both.

Get The New Paper for more stories.