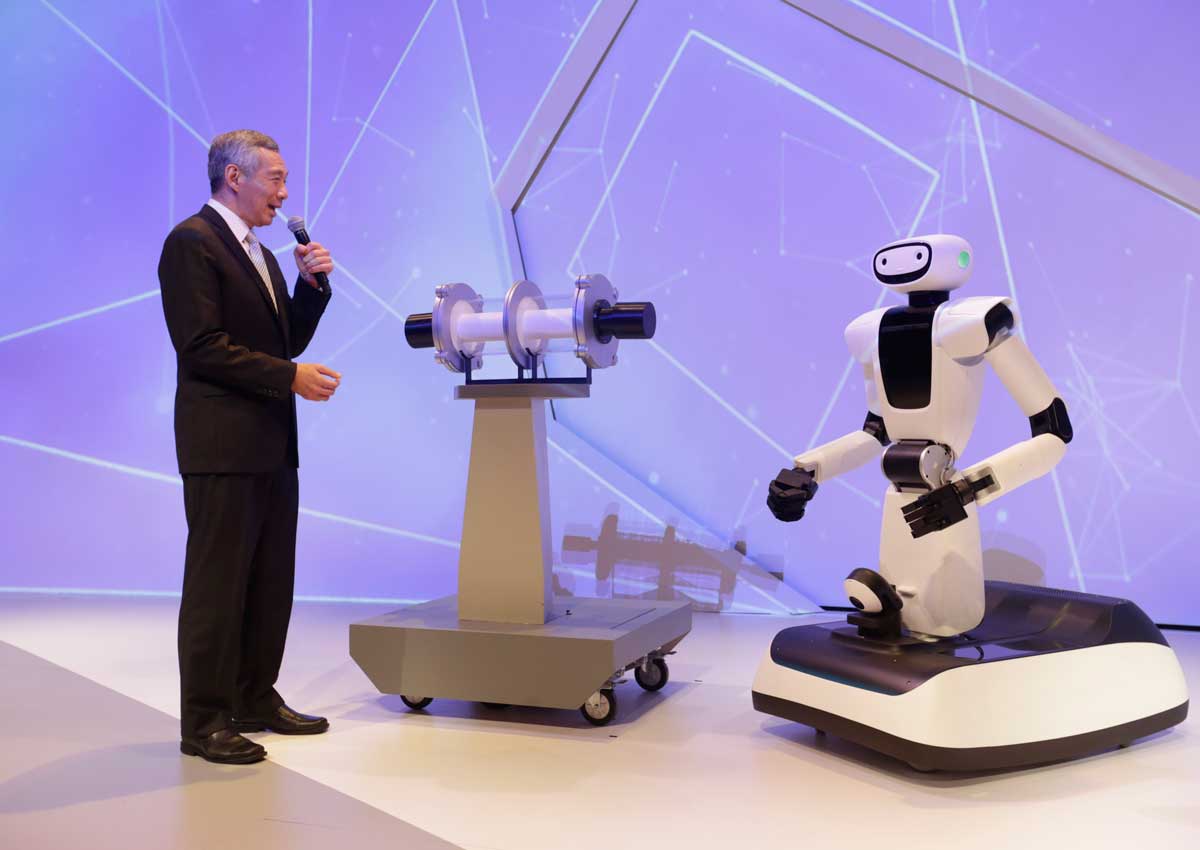 Much investment has been put into research and development (R&D) over the years and the payoff has been significant in terms of creating new jobs, renewing of industries and in improving lives, a point made by Prime Minister Lee Hsien Loong last night.
Mr Lee also noted that the country's small size has brought a major benefit, allowing firms, research institutes and government agencies to easily collaborate and start new ventures together.
The numbers cited by the PM last night show how R&D has borne fruit. He noted that the number of start-ups has rocketed from 24,000 in 2005 to 55,000 last year while the ranks of research scientists and engineers working here increased sixfold to 32,000 over 25 years.
The Agency for Science, Technology and Research (A*Star) has also undertaken more than 7,400 industry projects that have catalysed more than $1 billion in industry R&D investment, added Mr Lee, who was speaking at the official opening of the $450 million Fusionopolis Two at one-north's R&D hub at Buona Vista.
A*Star is re-locating four research institutes at Fusionopolis Two and in close proximity to the Institute for Infocomm Research (I2R) and Institute of High Performance Computing at Fusionopolis One.
Mr Lee noted that the co-location of the two institutes at Fusionopolis One has achieved good success.
"Through co-location, they have enhanced their capabilities and found more application for their research; this integration has catalysed many industry projects," he added, citing collaborations with companies like Singtel, DBS Bank, Rolls-Royce, Lloyd's and Fujitsu.
Having the four A*Star institutes - Data Storage Institute, Singapore Institute of Manufacturing Technology, Institute of Materials Research and Engineering, and Institute of Microelectronics - at Fusionopolis Two will help "marshal and integrate all the capabilities needed to support the future of manufacturing in Singapore".
Manufacturing, a key pillar of the economy, is being transformed by digital technologies, greater automation and new methods of manufacturing , Mr Lee noted.
Having research institutes located in close proximity will also enable Singapore to build and integrate capabilities in areas such as materials science, chemistry, and computational modelling, to support multinational corporations and the smaller enterprises. Mr Lee cited the new $150 million Joint Lab between Applied Materials and A*Star on semiconductor research announced yesterday.
Mr Lee also noted how R&D is improving the daily lives of Singaporeans, such as the work being done on reducing urban heat or the Smart Nation programme that will apply technology in transport, healthcare and education.
One innovation was on display last night when Mr Lee interacted with a robot named Olivia, an enhanced version of the robot he met when he opened Fusionopolis One seven years ago. Olivia, which was developed by A*Star's I2R, can interact with people, understand commands and analyse the characteristics of the person it is dealing with.
For all the progress made, Mr Lee also urged enterprises and institutions to stay hungry and bold in order to make this R&D and innovation hub a success, noting that "we need ideas, initiative and a strong network of enterprises and institutions driven by the spirit of research and entrepreneurship".
The PM later took a 10-minute drive around one-north in a self-driving car developed by A*Star. Such vehicles could help Singaporeans by taking them to bus interchanges or MRT stations, helping to ease road congestion.
wongsy@sph.com.sg

This article was first published on October 20, 2015.
Get a copy of The Straits Times or go to straitstimes.com for more stories.