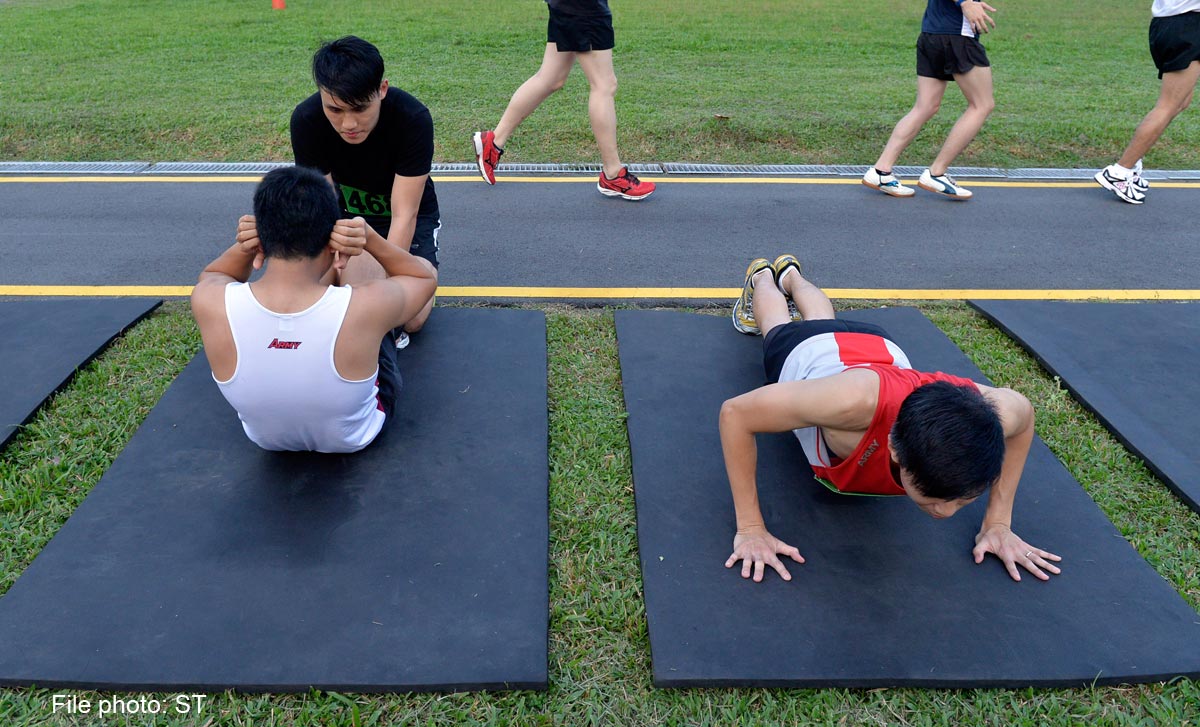 THE new Individual Physical Proficiency Test (IPPT) for servicemen will have just three categories, so more people are likely to pass.
It will comprise the 2.4km run, sit-ups and a new category - push-ups - and candidates will not have to pass the minimum mark for every station to make the grade.
On the chopping block are the much-dreaded standing broad jump, the 4x10m shuttle run, and chin-ups.
The new test is similar to those used in other countries, such as the United States, to keep their forces fit, said Defence Minister Ng Eng Hen, who announced it on his Facebook page yesterday. The changes, the first since 1982, aim to make the test "simpler to administer and simpler to train for", he said earlier.
Details on when the new fitness test will kick in and the scoring systems will be announced by army chief Perry Lim today.
Dr Ng said yesterday that he expects more operationally ready national servicemen (NSmen) to pass under the new format.
It will feature a new scoring system and more age bands that stipulate the standards that different age groups have to meet.
These could make it easier for those in the Singapore Armed Forces, police and civil defence forces to pass and qualify for cash rewards.
Career soldiers and full-time national servicemen will, however, have to meet existing passing marks to get the monetary awards.
Also new: Servicemen will not have to meet a minimum mark for each test. Instead, they will be able to accumulate points.
This way, soldiers can do more sit-ups, for instance, to make up for their weaker performance in push-ups and the 2.4km run, said Dr Ng.
"There's a limit to how much you can make up, but I like this counting system because it encourages NSmen to max out on each station and it plays to the individual's strengths," he wrote. Currently, an NSman between 25 and 29 has to complete his 2.4km run within 12min 40sec, do 30 or more sit-ups, and meet minimum standards in the three other exercises to pass and qualify for a $100 cash award.
About 116,000 men take the IPPT every year, and only half pass. Failing it means the serviceman has to do remedial training and take the test again until he passes.
The Straits Times reported last October that likely IPPT changes could include axing the standing broad jump station and adding push-ups as a testing criterion.
Chin-ups, standing broad jump and the 2.4km run are the most complained about by servicemen who usually fail these tests. But a simpler test does not necessarily mean servicemen can slack off.
"Even though the new IPPT is simpler to train for, it will still take effort and regular exercise to pass. And that's the idea - keeping healthy and fit should be a lifestyle and it's good for you," said Dr Ng.
Mr Alex Yam, deputy chairman of the Government Parliamentary Committee for Defence and Foreign Affairs, said the simplified IPPT has been "a long time coming" for NSmen who have to juggle work and NS commitments, and often struggle to make time to attend remedial training when they fail the IPPT.
"Now, there are too many stations. The new test is not about how much of a superman you are but about how well-trained you can be," he said.
jermync@sph.com.sg

Get a copy of The Straits Times or go to straitstimes.com for more stories.