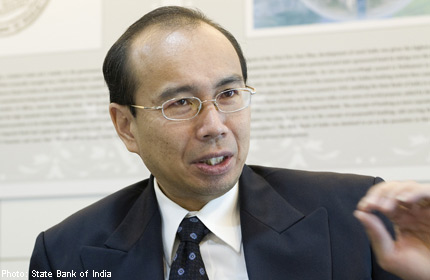 SINGAPORE - The State Bank of India (SBI) has a 200-year history and is the largest bank in India. It set up operations in Singapore in 1977 and has seven retail branches in various parts of the island.
The bank has supported tabla!'s Community Champion Award for the past three years, including this year. The award comes with a generous donation of $10,000 which the winner can choose to donate to the charity of his choice.
And Mr Seah Boon Ching, its head of consumer banking, thinks it's a good initiative "to recognise the effort of someone who is self-sacrificing and dedicates time and effort to help the less fortunate in Singapore".
He says: "We find that it is a very meaningful award as our donations have provided assistance to the beneficiaries of the Dyslexia Association of Singapore and the Tan Tock Seng Hospital fund."
The bank has been advertising in tabla! since 2011. Says Mr Seah: "Non-resident Indians are one of our key target customer segments in Singapore. Advertising in tabla! has helped us to reach out to them."
He added: "The bank will communicate our retail banking promotions via tabla! and the response from the advertisements has been encouraging."
Although tabla! has a strong online presence - it has a Facebook page and 17,000 read it online weekly - Mr Seah still prefers the print product. In fact, he says he looks forward to receiving the paper when it is delivered to the bank every week.
He says: "It has a good mixture of finance, entertainment and sports news in bite sizes which is appropriate for a morning read on a Friday."
Still, Mr Seah says he would like to see more financial news reporting or travel-related news in the paper.
He is supportive of tabla!'s role in integrating Indian expatriates and local Indians through its articles and also by organising the Integration Cup golf tournament and Integration Night dinner. He says: "tabla! is the only news publication in Singapore currently providing an opportunity for Indian expatriates and local Indians to get together with its events as well as through its articles.
"It is heartwarming to know that a local publication is able to dedicate their time and effort to providing this good platform to achieve this objective."

Get a copy of tabla! for more stories.