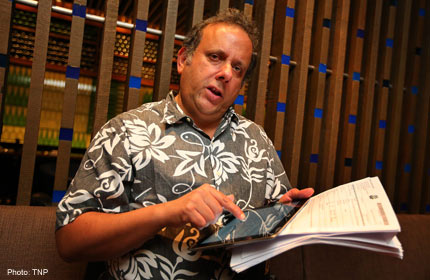 In January last year, opposition politician Kenneth Jeyaretnam received several threats to his family when he stood in the Punggol East by-election.
What particularly shocked the Reform Party secretary-general were four vicious threats targeting his wife and teenage son, not only because of their graphic content but also for the fact that they were sent by e-mail to his only child and copied to him.
The first, sent on Jan 19, contained a threat to castrate the teenage boy unless the politician left Singapore and stopped "meddling" with the country's economic affairs.
The next two contained threats to kill the youngster and mutilate his mother.
The last threat, sent on Feb 14, wished the boy a happy Valentine's Day while again threatening him with castration.
All four threats were sent by an unknown person known as the "Hijirah Maker".
When the threats stopped coming, the Jeyaretnams heaved a sigh of relief. Then on Tuesday, Mr Jeyaretnam's wife received an e-mail, which was copied to him and their son.
The "Hijirah Maker" was back and threatening to kill their son unless Mr Jeyaretnam remained overseas and did not return to Singapore.
As with the earlier threats, Mr Jeyaretnam reported the latest threat to the police on Tuesday. The police have confirmed that they are investigating the report.
On Wednesday, Mr Jeyaretnam, 54, and his wife, Amanda, 53, spoke about the threats and their fears in an interview with The New Paper.
Though he mentioned having received threats during his campaign in the Punggol East by-election, which was won by the Workers' Party candidate, Ms Lee Li Lian, this is the first time the couple have opened up in detail about them.
'IT HAS STARTED AGAIN'
Mrs Jeyaretnam, who works for an education charity, said: "The reason we've decided to go public now is because we thought the threats had stopped. It has started again.
"It looks like it's never going to end. And we want to shine a light on this."
In the first threat to castrate their son, the e-mail stated: "(The boy) shall be transformed into a 'hijirah', a human without gender and without sin."
She said: "A hijra (as it is commonly spelt in the Indian sub-continent) is a young boy who is castrated and turned into a eunuch. But in modern-day India, it's a term for the transgender community." The couple declined to give details about their son as they fear for his safety.
Mr Jeyaretnam said the four threats last year were accompanied by explicit pornographic images and pictures of mutilated bodies.
The latest threat did not have any graphic images, but this was little comfort for the couple.
Said Mrs Jeyaretnam: "It was a doubled-edged sword because (the e-mail) revealed our travel plans. My mother had passed away. Many people knew that Kenneth had (gone overseas) for (the funeral).
"The threat mentioned my mother's passing away and said that they had been responsible for her death and that the same fate would happen to our son. The first thing the police asked me when they saw this was, 'Was your mother's death suspicious?'"
She said it was not.
Calling the "Hijirah Maker" "pathetic" and a "coward", the concerned mother said their tormentor was just being "deliberately offensive".
Her voice brimming with emotion, she added: "Our son was grieving for his grandmother. She was his last grandparent. They were deliberately (being) as hurtful as they could possibly be.
"It's as though threatening to kill you was not enough. They had to add an extra layer on to that." The Jeyaretnams said they had taken precautions to protect themselves, but declined to reveal details.
Mr Jeyaretnam said his e-mail address is fairly public as it is on his party's website and Facebook page, but he has no idea how the "Hijirah Maker" found the e-mail addresses of his wife and son.
He said the family had received about 10 threats from other parties since January last year, but declined to give details and said they had been dealt with.
A 23-year-old man was arrested after Mr Jeyaretnam made a police report about a threat on Jan 18, a day before he received the first threat from the "Hijirah Maker".
"He was let off with a warning," he said.
He said the threats would not stop his involvement in the political arena or deter him from possibly taking part in the next election.
"We can't allow these kind of threats to affect the democratic process. Otherwise, it would be a complete breakdown of our way of life."
HIJIRAH MAKER'S FIVE THREATS
1 Mr Kenneth Jeyaretnam, 54, said it was sent to him and his son on Jan 19 last year and threatened to castrate the teenager and feed his genitals to his cousins and uncle.
2 It stated that "death can be sexy" and warned his son to prepare for death.
The message came with 27 images, including, Mr Jeyaretnam said, "pictures of naked women - glamour models standing next to coffins, holdings guns and knives...lying in coffins, covered in blood like murder victims".
3 It threatened Mrs Amanda Jeyaretnam with "female genital mutilation...(and) was accompanied again by obscene images including a still from the movie Hostel", Mr Jeyaretnam said.
The 2005 horror film had gory scenes of people being physically tortured and killed.
Mrs Jeyaretnam said: "We can't even discuss the details. It was just too horrific. It said to our son, 'This is what we are going to do to your mother.'"
4 Received on Feb 14 last year, it was "again a threat to castrate my son, saying Happy Valentine's Day", the politician said. There were also images of body parts in a bag.
5 It was e-mailed to Mrs Jeyaretnam on Tuesday and mentioned her mother's recent death. It warned that should her husband return to Singapore after the funeral, which was held overseas, his son would suffer the same fate as his grandmother.
ashaffiq@sph.com.sg

Get The New Paper for more stories.