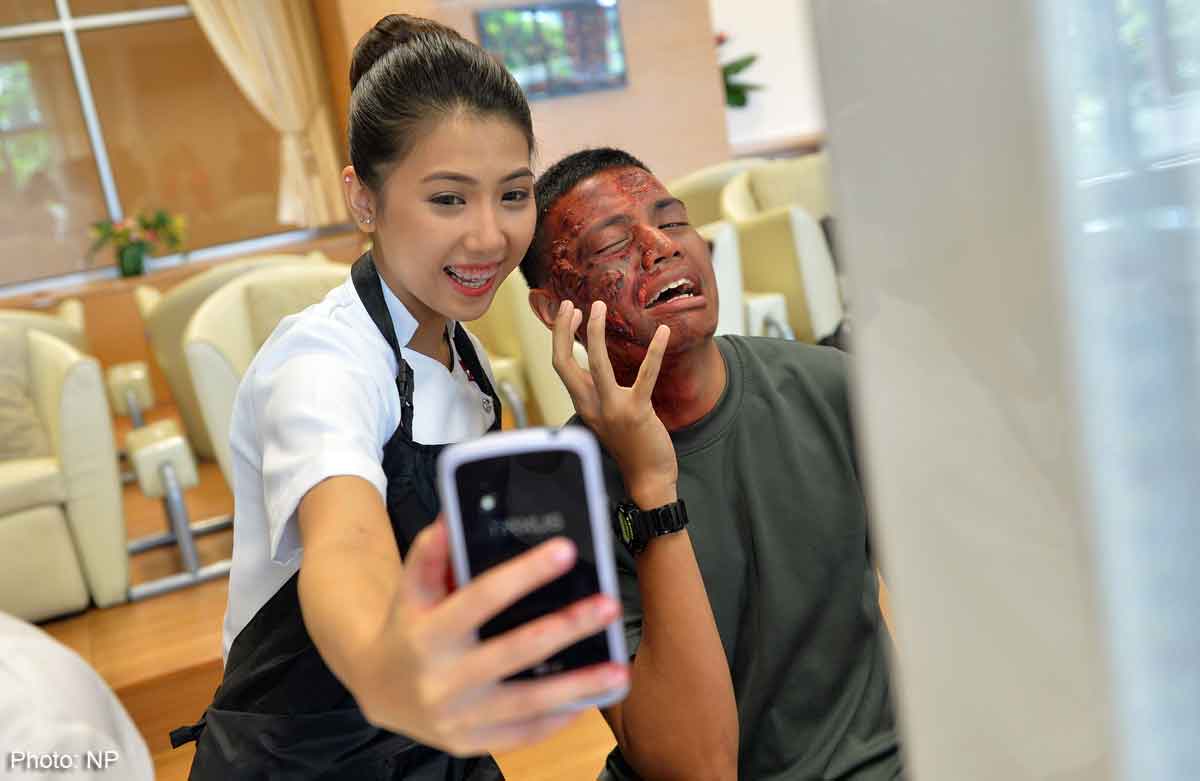 For the past week, Miss Eunice Wong, 18, has been spending hours researching terrorist attacks to see the kinds of injuries victims of bomb blasts suffer.
The ITE College East student needed to know the horrific impact that shrapnel would have on a person so she would be able to reproduce the same kinds of "injuries", using make-up, for a major emergency exercise next month.
What she and her beauty coursemates have done is so impressive, you could be forgiven for thinking the "victims" were actually caught in a terrorist attack.
Using just wax, make-up and various brushes, the students were able to create fake bullet wounds, fractures and burns.
Miss Wong is one of 80 ITE students pursuing Nitec in Beauty and Wellness course and Higher Nitec in Beauty and Spa Management who will be helping the Singapore Civil Defence Force (SCDF) in Exercise Northstar 9 on May 9. (See other report.)
The school was approached by the SCDF after working with them previously for an exercise also requiring make-up to simulate injuries.
Miss Wong, who just completed her Nitec in Beauty and Wellness course, is also the gold medallist for Beauty Therapy at the 10th ASEAN Skills Competition last year.
The competition draws the best in the region and is the Olympics of technical skills.
She said: "In my free time, I would search YouTube for videos on terrorist attacks to see the wounds.
"It has to be realistic, from the gradient of the wound colours to the flow of the blood.
"I especially like splashing fake blood. The more the better."
When the students' work was shown to the SCDF, they were very impressed.
Major Janice Oh, head of the medical training branch at the Civil Defence Academy, said: "The wounds look 100 per cent like the real thing."
She added that 250 SCDF personnel will have make-up applied on them for the exercise as they act as casualties.
She said: "The realism of the injuries is important to prepare us for real situations.
VISUAL IMPACT
"With better visual impact, we believe it will bring our skills to a whole new level."
Mrs Michelle Tan, 37, a lecturer from the Beauty and Wellness course, said the students are well prepared.
She said: "They usually do the glamour type of make-up, but it seems it is too easy and not challenging enough for them.
"When we expose our students to such opportunities, they get to develop their potential even further."
"They spend hours outside of curriculum time to read up and practise, using what they learnt with what they are taught in school."
The students said that an "injury" that initially took them 45 minutes to create now takes them just five.
Miss Pang Xin Yu, 17, a first-year Beauty and Wellness student who started school in January, said: "I'm excited to be given such an opportunity as a junior.
"I will be doing burns and cuts on various parts of the body. I hope it helps make the exercise more real.
"I've already practised on my cousin and it's now become as easy as putting on my own make-up."