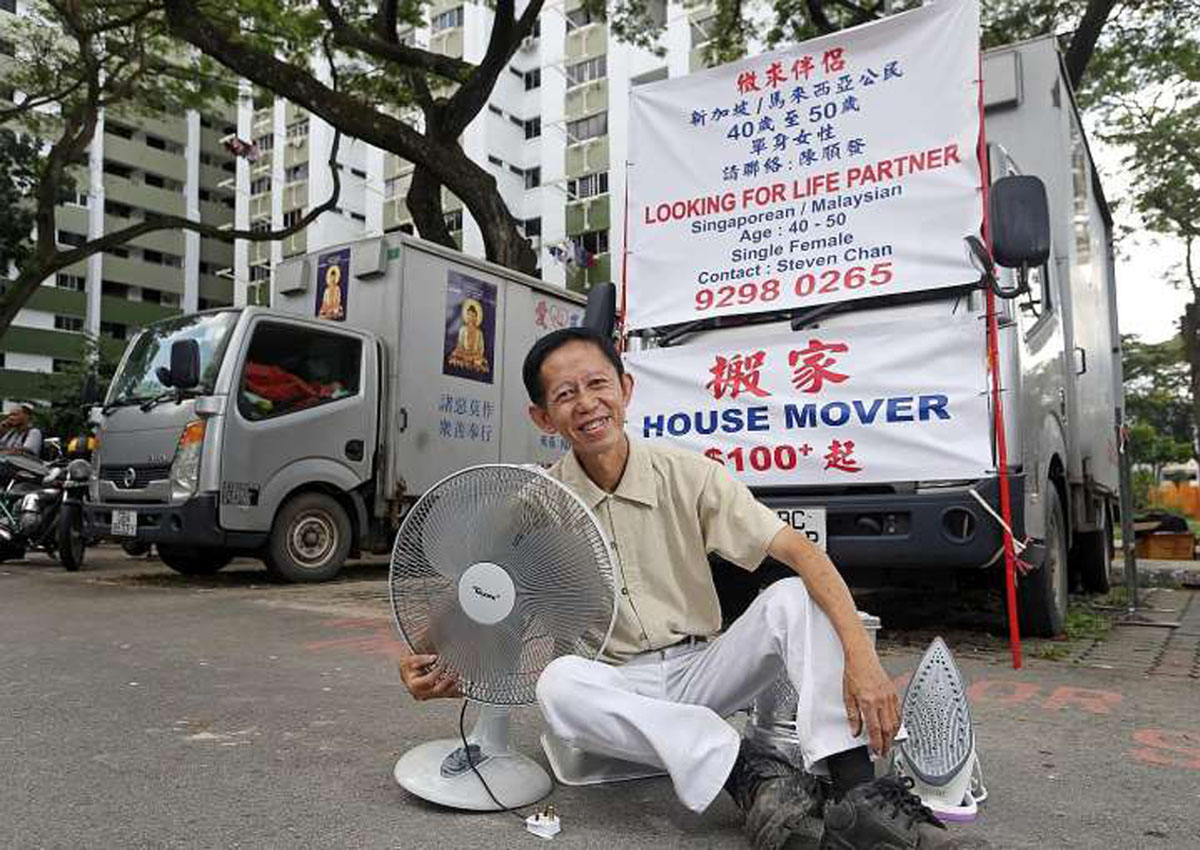 Eight calls and a date to boot.
Karung guni man Steven Chan, an expert in things old and used, is making strides in his unique bid to find new love.
The 59-year-old divorcee, who has been looking for a life partner for over three years now, took his search public last week.
He has placed a 2m-high banner on one of his three lorries, with his intentions printed in bold red letters - "Looking for life partner".
She must be Singaporean or Malaysian, between 40 and 50 years old and looking to get married, he added.
News of Mr Chan's "advertisement" was first reported last week in Chinese evening newspaper Shin Min Daily News.
He told The Sunday Times that eight women have since called him. While most were in their 60s or a few years older than his cut-off age, one of them - a 51-year-old woman - has made the cut.
The duo have set up a date for this Saturday. Mr Chan will visit her at home before taking her out for dinner.
He said with a grin: "She asked if I could help her remove her old metal bed frame and how much it would cost.
"I told her, 'I want to make friends with you, why would I charge you?'"
Dressed in a crisp brown shirt and white chinos for this interview, Mr Chan looks more like a wealthy businessman than a rag-and-bone collector who gets his hands dirty.
The only giveaway are his heavy-duty black boots, scuffed from heavy lifting.
He said he decided to go "public" in his search for love after friends failed to introduce him to a suitable match. He has also tried looking for a partner through a matchmaking agency without success.
"I realised I could rely only on myself," said Mr Chan, speaking last Thursday in Taman Jurong where he goes to collect old newspapers, metal cans and scrap metal from residents. Business was brisk, with a long line of residents waiting to see him.
Every so often, his mobile phone - an old Nokia - crackled with a business call.
"I'm so busy with my work and I have no chance to meet women," said Mr Chan, who lives in a three-room flat in Boon Lay.
One of the residents, Madam Ng Mui Keng, 56, said of Mr Chan: "He's humorous and really knows how to crack jokes. Sometimes, we sing Teochew songs together."
Mr Chan was married in 1991, but got divorced a year later because of "differences in opinion". Since then, he has not seen his daughter, who will be in her 20s.
"I want someone to build a home with. Now I work, go home and look at the four walls," he said.
"Life has little meaning without someone to share it with."
dansonc@sph.com.sg

This article was first published on January 10, 2016.
Get a copy of The Straits Times or go to straitstimes.com for more stories.