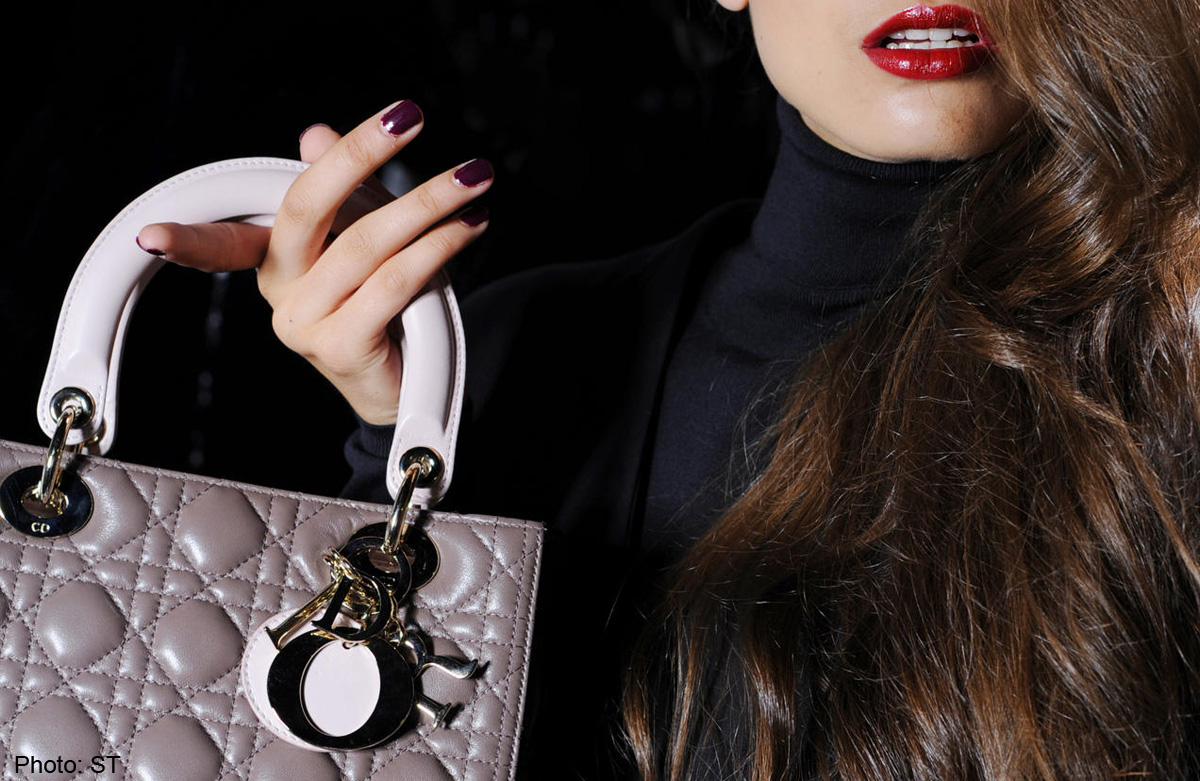 SINGAPORE - 'I feel lost without my Prada," says one immaculately dressed woman, as she makes sure that her handbag is neatly placed beside her, the triangular logo conspicuously on display. Yes, that lady wears Prada.
According to a recent report by Yahoo! Finance, the global luxury goods market is worth more than US$300 billion (S$380 billion) and is expected to grow to US$376 billion by 2017. Although Europe and the US account for over 60 per cent of luxury sales, Asia is expected to register the highest growth at 11 per cent. The Economist Intelligence Unit forecasts that in a decade's time the region will grow to contribute more than half of the world's luxury retail revenue.
Given these statistics, what do Singaporean women think about luxury products, particularly handbags? And what drives so many to fork out a few months' salary just to purchase one?
We surveyed 150 women, aged 20 to 54, more than half (53 per cent) of whom own at least one luxury branded handbag. They reported being generally satisfied with their purchases, with Prada registering the highest level of satisfaction, followed by Chanel and Louis Vuitton.
Among those who do not own a luxury bag, both pragmatic and social reasons play a part. These women believe they have better alternatives to spend their money on (80 per cent), family and friends are against their owning a luxury handbag (61 per cent) and they viewed such bags as unreasonably expensive (41 per cent).
But beyond this, are there differences in the personality or values of buyers and non-buyers of luxury handbags? In general, those who buy luxury bags choose brands that help to express their personality to others. Meanwhile for non-luxury bag owners, the bags they choose do not carry such symbolic weight.
Specifically, we observed that luxury handbag owners are more likely to want to show off if they get the chance. More than four in 10 of such owners want to be the centre of attention, compared with less than two in 10 among non-luxury bag owners. While almost three in 10 of luxury bag owners will show off whenever they can, less than two in 10 among non-owners do so.
Although following trends was once the "in" thing, it has become increasingly apparent that buyers today deliberately avoid blending into the crowd. One woman commented that most of her friends carry Prada and Louis Vuitton which she viewed as common brands. She wants to be unique and so her favourite brand is Aigner - a label she feels is more distinctive. Another said that she has bags of more than 10 different luxury brands, her least favourite being Louis Vuitton because it is far too common.
What does this say about such women? It used to be that buying ostentatious brands was a way to maintain face. Now, luxury brands do that and more. While there are those who buy luxury brands to enhance their social standing, there are also those who do so, not just to save face, but also to stand out and portray a distinctive persona.
The brands must tell a unique story about the person carrying the bag. For instance, carrying a MiuMiu bag evokes an avant-garde, sensual and provocative style with a luxurious sense of freedom.
Switching between brands
A Burberry bag, meanwhile, exudes a more sophisticated and classic look through the iconic Burberry Check dating back to 1920s. These different images allow women to freely adopt different personas according to their social situations by switching between brands.
There is also an element of narcissism in these women. Wanting to be unique so that they can be the centre of attention speaks of a need to be noticed. We are living in the era of "I love me", in a world where material possessions are seen to bring about instant respect, admiration and recognition from others.
Hence, it is no wonder that with narcissism, tangible cues that will enhance the visibility of the luxury brand become paramount. For instance, we found that luxury handbag owners place more importance on appearances such as the logo, the distinctive handbag shape and the brand name rather than quality of the bag per se.
It also says something of a snob appeal. People who tend to be snobbish are more likely to express their personalities through luxury purchases. They want to be exclusive. When a new luxury bag is first launched, snobs will be the first few to buy it to take advantage of the limited supply and demand. Its rarity and scarcity command higher value, respect and social status. However, when more people start to be aware of the new bag and demand increases, the bag loses much of its social value and hence, snobs reject the bag as it is more widely used by the masses. Its distinctive personality is lost.
Luxury bag owners are also quite particular with how they look. More than 40 per cent said that they will feel embarrassed if they are around people and do not look their best, compared with 27 per cent of non-luxury bag owners.
Despite the desire to stand out, peer pressure and conformity are still pervasive. Recommendations from friends are taken seriously as they do not want to make a wrong decision.
However, as consumers are barraged by the myriad of choices in the market, luxury brands have become victims of their own success. Brand loyalty among Singaporean women remains low as they enjoy switching between brands to find the one that suits them best. This is especially so for the younger segments who find joy in impressing others with their collection of luxury handbags. It goes without saying that luxury brands need to start building stronger connections and lasting relationships with their customers in order to remain market leaders.
Yet, our research also shows that a growing number of women will eventually shun international brands as they become more ubiquitous and lose their exclusivity. Taking luxury consumption to a whole new level, this group of women is increasingly attracted to extremely high-end luxury brands that are unknown to the general public.
Allowing no compromises on quality, personality instead of brand popularity is clearly more important to them. Will this trend have future implications on luxury brands we know today? One thing's for sure, luxury brands have to work harder.

Get The Business Times for more stories.