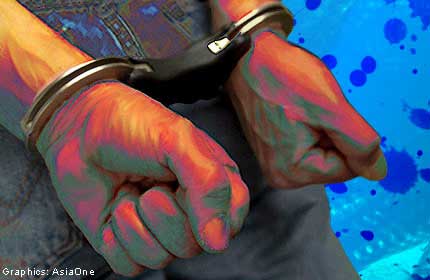 A property agent who posted an online advertisement for a "no strings attached" relationship was jailed for 10 months yesterday for having sex with a 15-year-old girl.
Lee Pok Seng, 44, is the third man to be jailed for underage sex with the minor.
Earlier this year, gynaecologist Ong Theng Kiat, 63, was jailed for 10 months on two of 13 charges, while sales executive S. Ravi Chander, 49, got a 15-month prison term last October, also on two counts.
Deputy Public Prosecutor Sharmila Sripathy-Shanaz said investigations showed that Lee, then 42, placed the advert on locanto.com.sg.
Some time in mid-2012, the minor responded and expressed an interest to meet him. He told her that he was 38, while she said she was still studying, and later admitting in a text message that she was 15 and in Secondary 3.
She asked if he wanted to meet and he agreed.
A few days after they first communicated, he picked her up from a coffee shop outside her school and drove the girl, still in her school uniform, to his flat in Petir Road in Bukit Panjang.
Once inside the flat, he led her to the master bedroom and said they should not have sex as she was only 15. However, the court heard she insisted they do it. Ms Sharmila said Lee subsequently relented.
The incident came to light in May last year when the minor's father confiscated her mobile phone and saw messages of a sexual nature between Lee and her.
She lodged a police report the following month.
Lee's lawyer, Mr Ismail Atan, said his client did not use the Internet specifically to find minors for sex. In fact, in his advertisement, he had sought "NSA fun" with a mature woman. He said Lee was remorseful and was facing considerable stress due to problems at work, with his family and in his marriage.
Ms Sharmila pointed out that despite knowing her age before they met, Lee went ahead to meet her, undeterred and unfazed by her age. "It is settled law that her role is wholly irrelevant in sentencing," she said.
Much as the minor might have actively initiated the encounter, she said the purpose of Section 376A of the Penal Code was to place the onus on the male adult to exercise restraint and discipline in curbing his carnality.
District Judge Hamidah Ibrahim, who took two charges into consideration, said she was prepared to give him some credit since it was a single encounter, unlike Ong's case, which was far more egregious.
Lee could have been jailed for up to 10 years and/or fined for having sex with a person under 16.
elena@sph.com.sg

This article was first published on June 13, 2014.
Get a copy of The Straits Times or go to straitstimes.com for more stories.