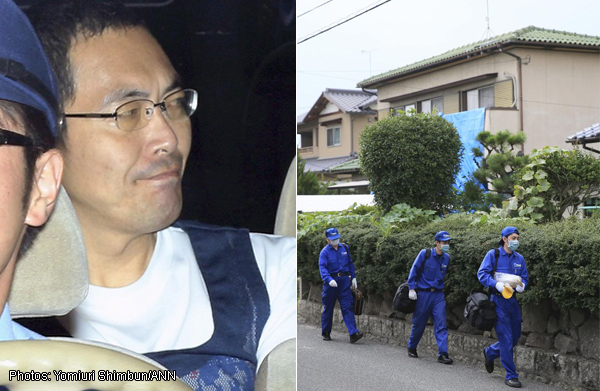 OKAYAMA - A 49-year-old man arrested Saturday on suspicion of confining an 11-year-old girl at his house here has told police he wanted to be with the girl forever, according to a source related to the investigation.
Takeshi Fujiwara renovated a room on the first floor of his home to allow the door to be locked from the outside, the source said.
Combined with suspicions that Fujiwara used a forged license number on his car, this has led police to believe the crime was premeditated. They intend to investigate further, with the possibility of rearresting him on suspicion of abducting a minor.
Okayama prefectural police sent Fujiwara to the Okayama District Public Prosecutors Office on the confinement charge on Monday morning.
Fujiwara's house is about eight kilometers northeast of the home of the fifth-grade girl in Kurashiki, Okayama Prefecture. Police quoted him as saying: "I did it all by myself. I talked to the girl, got her in my car and drove directly to my house."
Shortly before his arrest on Saturday night, prefectural police officers visited his house with a search warrant for suspected abduction of a minor. The officers knocked on the front door and called out, but there was no response from inside the house.
Investigators therefore approached the living room, broke a window and burst into the house. When they rushed into a 4.5-tatami mat room, they found the missing girl and Fujiwara, who was sitting on a nearby bed. He was arrested on the spot without incident.
Fujiwara used to live with his mother, but now lives alone and describes himself as an illustrator.
An investigative source said Fujiwara hired a contractor this year to renovate the room. In addition to an outside lock, a space that appeared to have been a window was covered from the outside and the walls were soundproofed. Police therefore believe the man planned to confine her for a long time.
A car believed to belong to Fujiwara had been seen by the girl and her mother, 39, in early May and mid-June.
A neighbour also saw this car in late April and reported it to the police on Friday, shortly after the girl went missing. The neighbour saw a man taking off a license plate to reveal another plate hidden behind it.
The number the neighbour saw was very similar to that of Fujiwara's car, and its last four digits were the same as the number that the girl's mother saw in mid-June.
Police deemed the upper plate likely to have been forged and seized Fujiwara's car. They believe he planned to abduct the girl and waited for a chance by canvassing her surroundings.
During their search of Fujiwara's house on Sunday, the police found the girl's school uniform and the school bag she had when she went missing, but they did not find her cell phone.