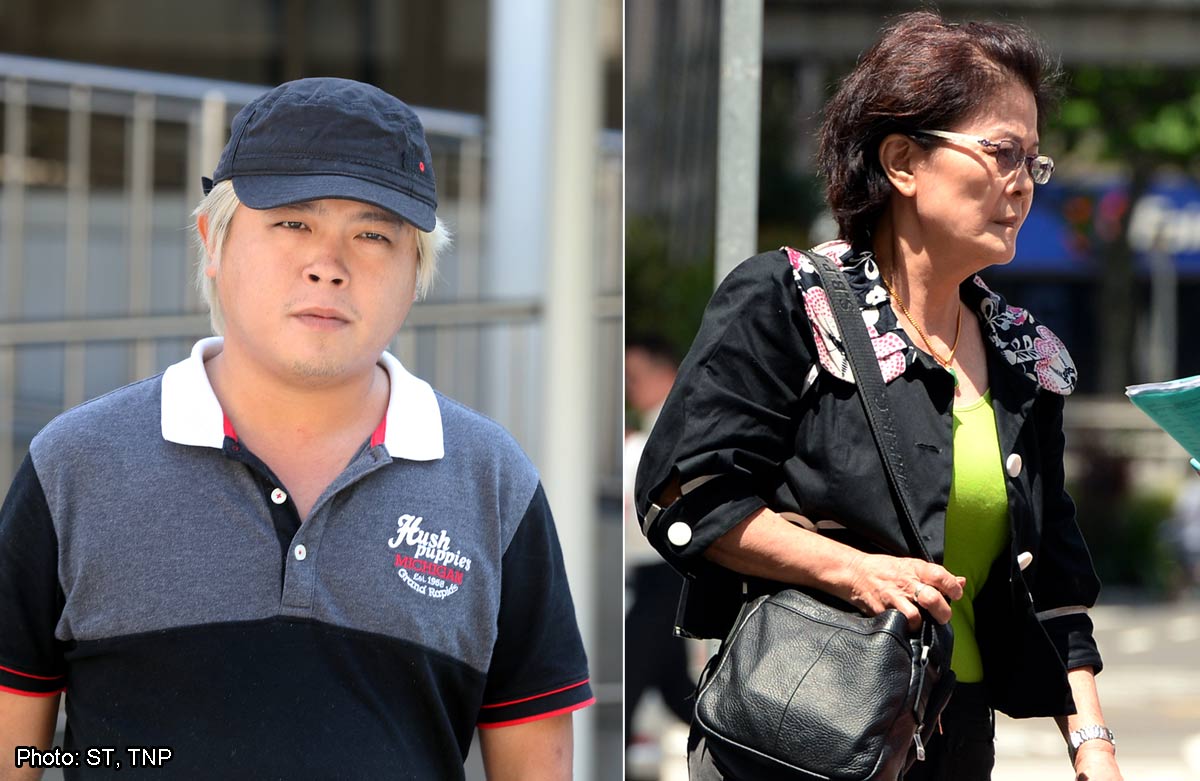 He became a villain when a video, of a Vietnamese tourist who was in tears and went down on his knees at his shop, went viral.
Yesterday, Jover Chew Chiew Loon left his hawker mother in tears after she raised $40,000 to bail him out of remand.
Chew, 33, and four of his employees were charged in court for a string of cheating offences at the now-defunct Mobile Air, his former shop at Sim Lim Square.
Chew faces 26 charges, including one count of criminal intimidation, one count of cheating and dishonestly inducing a delivery of property, and 24 counts of abetment by conspiracy to commit cheating with others.
It was a vastly different Chew who emerged from court yesterday.
When The New Paper approached him, he showed none of the aggression or arrogance that angered netizens.
"I don't wish to comment on anything," he said softly in Mandarin. "Thank you."
He did not flee or hide from the glare of the media. Instead, he headed straight for a smoking corner and lit what was probably his first cigarette since he was arrested and put in remand on Wednesday.
Earlier, his mother, who wanted to be known only as Mrs Chew, was accompanied to court by an unidentified elderly man. She was reticent to reporters and would only confirm that she was posting bail for her son. She added that she was not clear about whether Chew intends to plead guilty.
When asked about how she managed to raise the $40,000 to post bail, the gaunt woman kept quiet and walked away but started tearing.
It was only when Chew was released at about 3.30pm that she showed signs of relief.
As Chew was reunited with his mother, he gave her a reassuring squeeze on the shoulder before they made their way out of court and parted ways, with Chew heading alone to the smoker's corner.
MOTHER
For the past five months, Chew has been living off his mother, reported evening daily Lianhe Wanbao.
Mrs Chew, who is in her 60s, said her son would sometimes help out at her ngoh hiang, or pork roll, stall but she advised him against it.
"I tell him not to help out. It's not that I am afraid of how others would see us but I don't want to bring up the past," she told Wanbao. Relatives also advised Chew to lie low and not to go back to selling mobile phones.
An avid angler, Chew has been spending his free time fishing. He recently took home a 5kg garoupa and shared it with neighbours, said Mrs Chew.
On Wednesday, when mother and son were having breakfast together, Chew received a call for him to report to the police station at 3pm.
Mrs Chew thought nothing of it then as her son has been assisting in investigations since the start of the year.
But a text from Chew that same afternoon made her panic. He would have to be in remand for 48 hours, he told her.
Her eyes brimmed with tears as she related the series of events that led to Chew's arrest. She told Wanbao: "I thought he would come home like he usually did after helping in the investigation.
"He even joked with the policeman over the phone. I didn't think anything was wrong."
She added that even though her son is not charged with an offence as serious as murder, she is still extremely worried.
On Wednesday, Chew and four of his employees were arrested. He turned up in court yesterday in a police car, head bowed.
Following the incident with the Vietnamese tourist, personal details and pictures of Chew were put up online by outraged netizens.
Other tenants in the electronics mall blamed him for the thinning crowds.
Chew and 4 workers cheated 25 people
Four of Jover Chew Chiew Loon's employees were charged in court yesterday for cheating offences in Sim Lim Square between January and October last year.
According to the charges tendered, 25 victims were enticed to buy mobile devices at a certain price.
But when money changed hands, they were told they had to pay extra for services such as in-house warranties. The amount involved in these cases came up to $14,449.
Chew, 33, faces 26 charges, including one count of criminal intimidation, one count of cheating and dishonestly inducing a delivery of property, and 24 counts of abetment by conspiracy to commit cheating with others.
His employee Lim Hong Ching, 33, who claimed to have bought over Mobile Air from Chew and renamed it HJ Mobile, was charged with two counts of cheating.
Also charged were Koh Guan Seng, 38, who faces 15 counts of cheating. Kam Kok Keong, 31, faces eight counts of cheating and Lim Zhi Wei Kelvin, 32, faces one count of cheating. All except Chew indicated that they would plead guilty.
All four are expected to appear in court on June 19.
Chew, who is out on $40,000 bail, is expected to return to court on June 25. He faces up to 10 years in jail and a fine if he is found guilty.

This article was first published on May 30, 2015.
Get The New Paper for more stories.