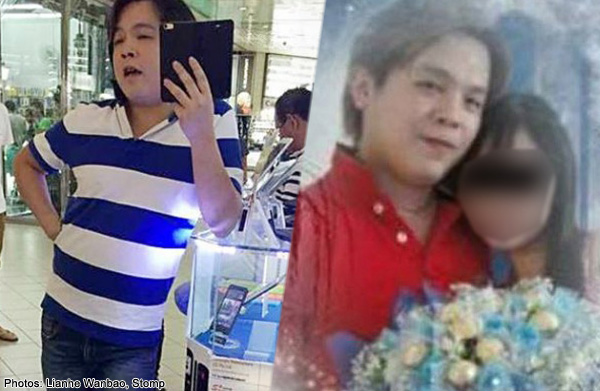 Jover Chew's wife, Ms Winnie Koh, 31, has been trying relentlessly to urge her husband to close down his shop and make a public apology.
Mobile Air owner Jover Chew has been the subject of intense internet scrutiny the past few days.
Jover Chew's shop became infamous after two recent incidents -- recently refunding a woman $1,010 in coins, which included one-cents and five-cents, and leaving a Vietnamese tourist in tears while kneeling and begging for a refund after buying an iPhone 6.
Like Jover, Ms Koh, 31, also runs a mobile phone business -- J2 Mobile. As a result, Ms Koh was also at the receiving end of the public backlash.
However, she had earlier stated that her shop is not linked to Mobile Air.
According to Shin Min Daily News, Ms Koh expressed that Jover Chew has not been home for many days.
She hopes that he will reflect on his mistakes and start a new life by winding up his business.
She said:
"I really hope my husband will come out and make a public apology, but I don't know if he will.
"I really hope he can turn over a new leaf, because this time he has gone too far."

Visit STOMP for more stories.