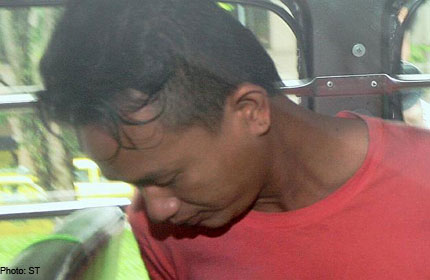 One of two men currently on trial for murder after a fatal robbery attack in Kallang was on Thursday sent for psychiatric assessment after he refused to appear in court.
It was at least the third time that 25-year-old Micheal Garing resisted being present at his trial, even though he had already been taken from prison to the holding cell in the Supreme Court building.
The trial was adjourned to next Tuesday after his lawyer, Mr Ramesh Tiwary, on Thursday asked for Micheal to be examined by a prison psychiatrist.
Micheal and Tony Imba, 34, are accused of being part of a group of four men from Sarawak who carried out four violent robberies in the Kallang area between the night of May 29 and the early hours of May 30 in 2010.
The duo's trial for the murder of the last victim, 41-year-old Shanmuganathan Dillidurai, a construction worker from India, started earlier this month on Oct 3.
Micheal first resisted being taken to the courtroom last Friday when one of the victims, undergraduate Ang Jun Heng, 22, was lined up to testify. He eventually came out after Mr Tiwary spoke to him in the holding cell.
On Wednesday, key prosecution witness and one of the attackers, Hairee Landak, 22, who has been sentenced to 33 years' jail for his role, took the stand to give his account of the attacks. The fourth suspect, Donny Meluda, 22, is at large.
After the lunch break, Micheal refused to appear in court and did not want to see his lawyer, who then asked for an adjournment.
On Thursday morning, Micheal again did not want to turn up in court or see his lawyer.
Mr Tiwary then asked for a psychiatric assessment, saying the current witness, Hairee, was critical to the defence and he needed his client to give him clear instructions.

Get a copy of The Straits Times or go to straitstimes.com for more stories.