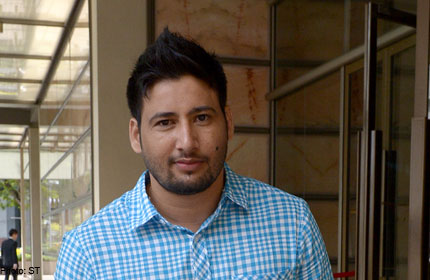 The 41-year-old Indian national who died after he was attacked during a robbery in Kallang three years ago had a cracked skull and a gaping cut across his throat, the High Court heard on Wednesday.
Forensic pathologist Paul Chui, who went to the scene when the body was found, told the court that a piece of the dead man's scalp and his severed left hand had been recovered from the open field his body was in.
Dr Chui was testifying on the third day of the trial of Micheal Garing, 25, and Tony Imba, 34, charged with the murder of construction worker Shanmuganathan Dillidurai.
The two men from Sarawak are accused of being part of a group of four men who carried out four violent robberies in the Kallang area between the night of May 29 and the early hours of May 30 in 2010.
One accomplice, Hairee Landak, has been jailed for 33 years and is expected to be a key prosecution witness against the duo. The fourth is at large.
Before the fatal assault on Mr Shanmuganathan, they had allegedly attacked two construction workers from India - Mr Sandeep Singh, 27, and Mr Egan Karuppaiah, 46 - and Singaporean Ang Jun Heng, 22.
Dr Chui, who conducted an autopsy on Mr Shanmuganathan's body, said the Indian national had 20 external injuries. The most significant was a 12cm-long, 9cm-wide wound on his neck that almost severed his airway and damaged two major blood vessels, he said. Dr Chui said he died from a combination of the neck and brain injuries, a leak in the chest and bleeding from other wounds.
The pathologist, who also reviewed the clinical records and CT scans of the other three victims, said the injuries suffered by two of them were potentially fatal. Dr Chui said Mr Ang could have died from severe blood loss from the multiple wounds to his head, face, back of the neck and abdomen.
He said the neck injury was a couple of millimetres from severely damaging Mr Ang's spinal cord, which would have caused a rapid death.
Mr Singh could also have died from a blow to his head that had resulted in skull fragments being embedded in his brain, Dr Chui said.
The neurosurgeon who performed an emergency operation on Mr Singh also took the stand on Wednesday.
Dr Sharon Low, from the National Neuroscience Institute, said his brain was exposed and she had to remove bone fragments embedded in the brain and repair his skull with a titanium plate. Dr Low said Mr Singh would have died from infection to his brain if he had not been treated earlier.
A 58cm-long parang, with a blade measuring 46.5cm, and a width of 4cm, which the prosecution contends was used in the assaults, was also presented in court.
The trial continues.
selinal@sph.com.sg

Get a copy of The Straits Times or go to straitstimes.com for more stories.