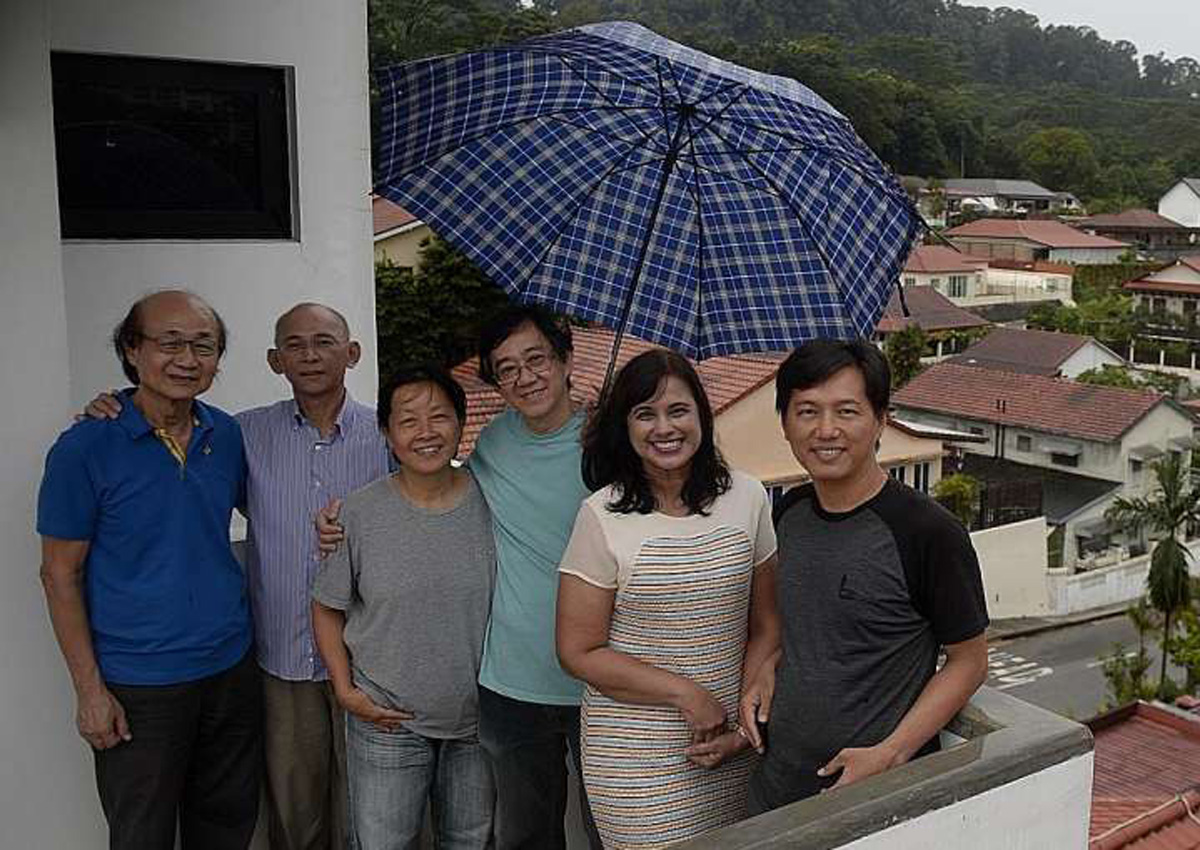 A group of Fuyong estate residents got together six years ago to try to secure a longer lease for the neighbourhood they love.
The lease for the estate, which is nestled behind the Rail Mall in Upper Bukit Timah, expires in 2046.
The more than 10 residents surveyed the other households to ask if they would like to get an extension. Most said yes. But they soon realised that the process would be lengthy and complicated - with no guarantee of success .
However, the camaraderie they developed during the process has paid off in other ways. Group member Chia Yee Kim, 70, said: "Through the survey, we realised there were many families in this area who need help. There were people in their 80s who are not very mobile and live alone."
The group brainstormed ways to help these people, who often miss out on social assistance as they live in landed properties. One member, Mr Steven Chua, 58, who previously worked in the finance industry, owns a bakery in Chinatown. It was decided that once or twice a week, someone would pick up unsold buns at his bakery and distribute them to the needy in Fuyong.
Among those helping out is Mrs Dave Ng, 54. The private tutor said: "The elderly are very excited to receive the buns. They are soft and it's easy for them to eat."
Widow Nellie Tan, 81, who lives alone in a single-storey, four-bedroom house that has seen better days, eats the buns while watching TV. When The Straits Times visited her, she proudly showed off her front door and grab bars, which her neighbours had helped to install.
"My neighbours are like my own family," said Madam Tan, who has difficulty walking.
Artist Oh Chai Hoo and his wife Chua Chan Hee, both 55, frequently run errands for her. Mr Oh said: "It's nothing much, we are just doing what we can." In return, Madam Tan offers them what she can. She enjoys cooking Peranakan dishes and makes curry powder for the couple and her other neighbours.
To document the estate, the group applied for the SG50 Celebration Fund and published a book - Faces Of Fuyong. Freelance photographer Edwin Koo, 37, edited it and took photos of the residents.
The book tells the story of how philanthropist Lee Kong Chian bought the land in 1951 and developed a low-cost private housing project for public sale. There are also anecdotes from residents past and present.
Resident Wong Yuen Lik, 44, who chaired the SG50 book project and did the research for it, said: "I went through so many sources - old newspaper articles and photos, the archives, the library, company profiles, Singapore Land Authority and Urban Redevelopment Authority."
Yet the one thing he did not manage to confirm was how the Fuyong name came about. "It could be because it's the name of Lee Kong Chian's home village in China."
Mr Oh designed a sculpture for a park in the estate inspired by the Chinese character "ren", which means people. "The estate started because of its people... I hope the sculpture inspires hope."
Foreign Affairs Minister Vivian Balakrishnan, MP for Holland- Bukit Timah GRC, and more than 80 families were at the book's launch at the park last month.
These days, the networking committee meets once every one to two months at Mr Chua's home, though they have spontaneous discussions about their plans all the time.
The park is their venue for street parties, where the 142 households gather to chat and eat. The group receives some funding from the Chestnut Neighbourhood Committee to organise these parties, though members must pick up the tab for other projects.
Mr Chia said: "We started this group with self-interest in mind, but it has evolved into a close-knit effort to build a community. It's getting harder to find such kampung spirit these days. We should do what we can to keep it alive."

This article was first published on Dec 17, 2015.
Get a copy of The Straits Times or go to straitstimes.com for more stories.