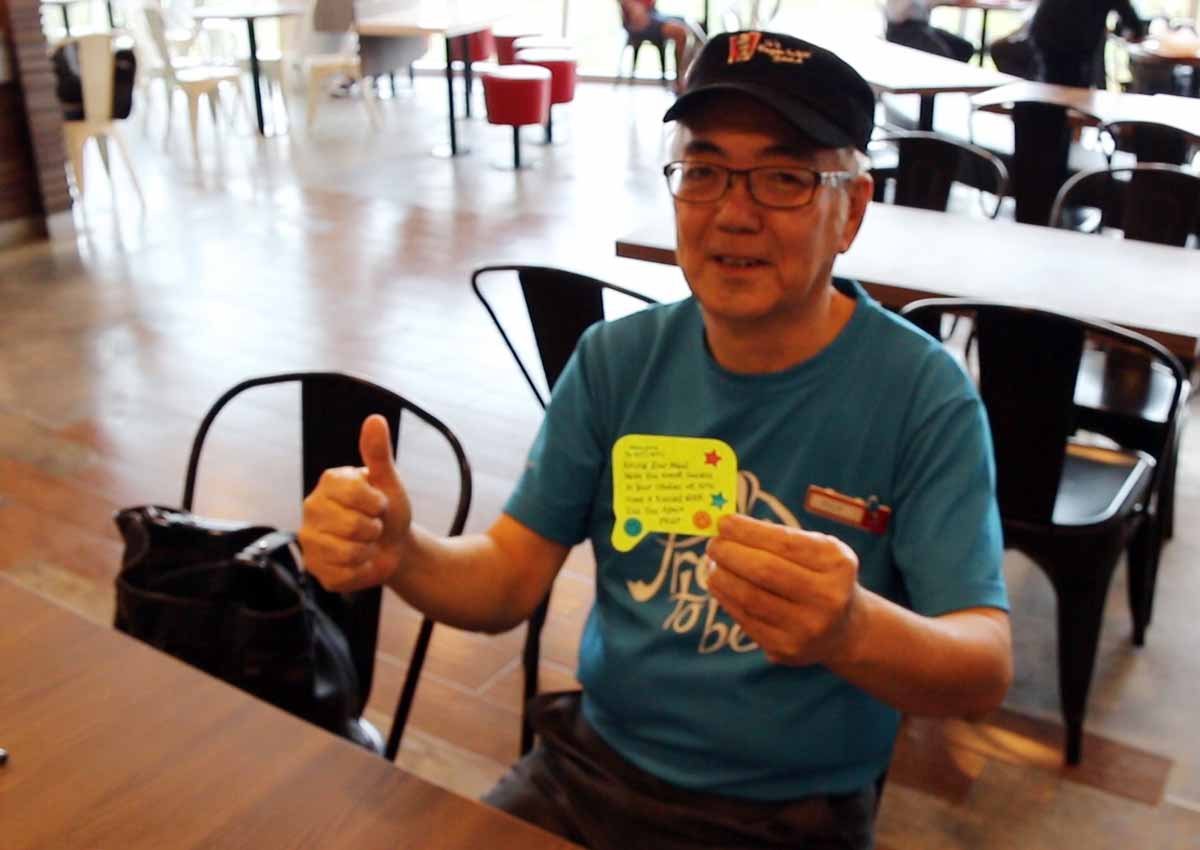 Imagine receiving a sweet, handwritten note the next time you order your KFC meal.
For customers at the KFC outlet at Nanyang Technological University (NTU), the notes have been a part of daily life since late 2015.
The man behind the notes is Mr Philip Chong, 62, a cashier at the outlet.
When Mr Chong joined the NTU KFC outlet in 2015, he observed that the students were very stressed about their studies and looked like they needed encouragement, especially during their exam period.
"The exams period is the best time to motivate them," he told The New Paper.
"The words will transform their lives even further."
The notes, handwritten by "Uncle Philip" as the students call him, contain short messages of encouragement such as "Wish you great success in your studies!" and "Have a great day ahead!".
The notes are part of KFC's Branded Service Initiative, which hopes to add a personal touch to the experience at KFC.
A KFC spokesman said the initiative started in July 2015 in a few stores and was rolled out islandwide by August.
The KFC at NTU is one of the stores that gives notes out regularly, thanks to Mr Chong.
He started out writing the notes at the Gek Poh KFC outlet where he used to work.
After positive feedback from customers there, he was motivated to continue writing.
His notes are also popular among the NTU students.
"After reading the notes, the students are very happy and they come to me at the counter to thank me and say they love the note," he said.
Mr Chong, who is married with two adult children, writes the notes in the evening after work. Mr Chong, who was been working at KFC for over two years, loves interacting with customers.
Mr Chong writes about 50 notes a day.
One of those who received his notes, Miss Theresa Lim, 23, a mechanical engineering student, said: "It's a small but very sweet gesture that can brighten up someone's day."
Customers have also posted on KFC Singapore's official Facebook page about the notes.
Mr Eugene Lee wrote: "We were very surprised and touched when we received a sincere post-it note from our server Mr Philip... "His genuine attitude and friendly demeanour while taking our order deeply touched our hearts."
The praise makes Mr Chong determined to continue writing.
"I won't stop writing these notes. I will write them for as long as I am here."

This article was first published on Oct 10, 2016.
Get The New Paper for more stories.