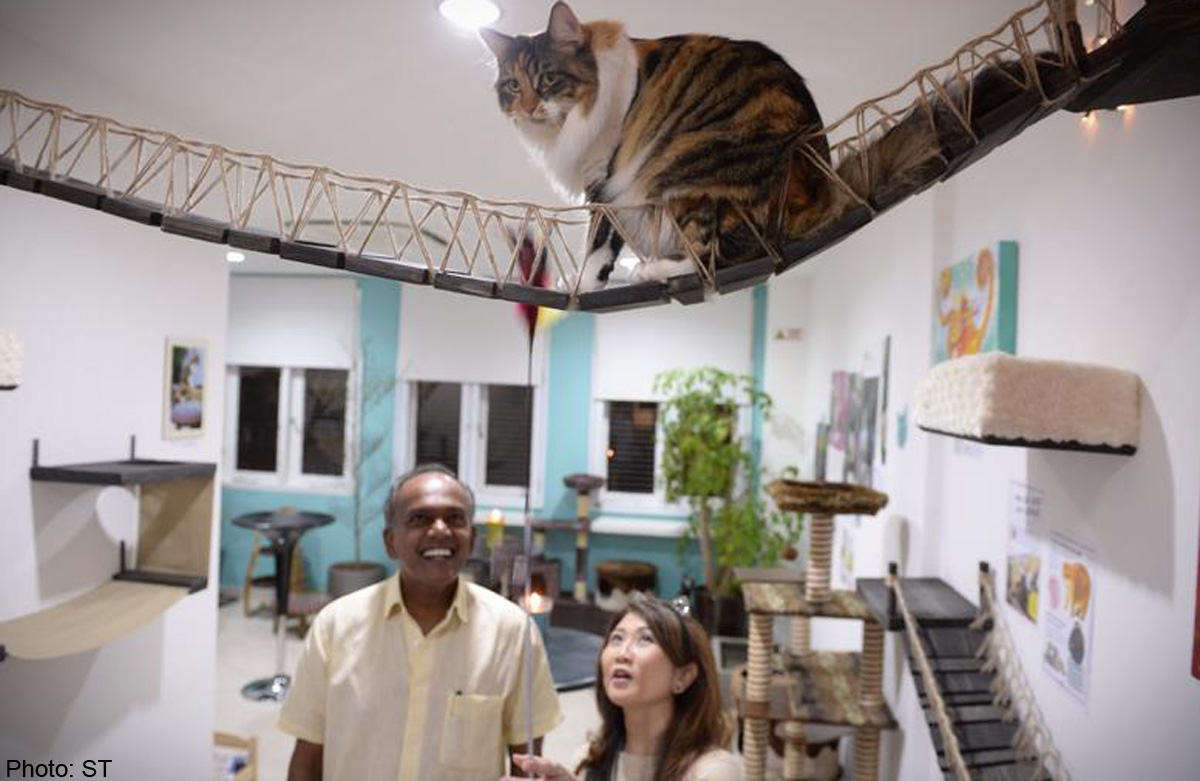 A PILOT programme that lets Housing Board flat owners in Chong Pang keep cats in their homes could be expanded to other constituencies, Law and Foreign Minister K. Shanmugam hinted yesterday.
"We are trying to... see how it (the programme) can be extended," said Mr Shanmugam, who is an MP for Nee Soon GRC - which Chong Pang is part of.
"Some of the MPs and ministers have come forward to say that they are prepared to try, and if necessary, raise the resources (for it)."
The Love Cats programme was first rolled out in 2012 as a two-year pilot scheme that covered about 120 blocks in Chong Pang.
It aims to encourage responsible ownership, with a rigorous screening process for those who want to have the animal in their home.
And when issues with the pets arise, a mediation mechanism, led by volunteers and employees from animal welfare group Cat Welfare Society (CWS), will help to resolve them.
Commenting on the programme yesterday, Mr Shanmugam said it has been fairly successful in helping to get humans and animals to co-exist.
This could be achieved in other areas if "more constituencies... try out what I have done", added the minister.
He was speaking at the opening ceremony of Singapore's first cat museum, a three-storey centre at 8 Purvis Street.
Founded by 48-year-old cat lover Jessica Seet, the not-for-profit Lion City Kitty - The Cat Museum, Muses And Mansion has three galleries.
The first is called The Cat Museum, which features storyboards, photographs and paintings that tell the history of cats from around the world; there are also stories of cat-human interaction.
The second segment, The Muses, is a gallery dedicated to the cats of Singapore. Its main feature is an adoption space featuring nine cats from CWS, but the area will also include tips on how to care for cats.
"With this space, our aim is to socialise the cats in an ideal home environment and get them ready to join a family," said Ms Seet, who owns vocal-training company Art of Voice.
The centre hopes to find homes for 50 cats by Singapore's Golden Jubilee on Aug 9.
CWS chief executive Joanne Ng said the organisation was thrilled to be part of the project, which creates a "unique space for interaction and creativity that will lead to the adoption and greater understanding of the cats".
At the third segment, aptly named The Mansion, the centre's nine resident cats take centre stage and are allowed free run of the space - toys, scratch posts, and sofas included.
Steps will be taken to ensure the cats are well rested and not stressed out by strangers, said Ms Seet.
The museum will be open only three days a week. It is open from 4.30pm to 7.30pm on Fridays, and from noon to 7.30pm on Saturdays and Sundays. On weekends, when hours are longer, however, the centre will be closed for an hour from 3.30pm to 4.30pm for a "kitty kat nap".
Undergraduate Yap Jun Hong, 24, said he is keen to visit the museum. "My girlfriend and I love cats, and we are especially interested in the adoption gallery, as we may want to adopt one in the future."
The Lion City Kitty - The Cat Museum, Muses And Mansion will be open to the public from today. Entrance fees are $9 each person. Children aged six and below get free admission.
audreyt@sph.com.sg

This article was first published on January 10, 2015.
Get a copy of The Straits Times or go to straitstimes.com for more stories.