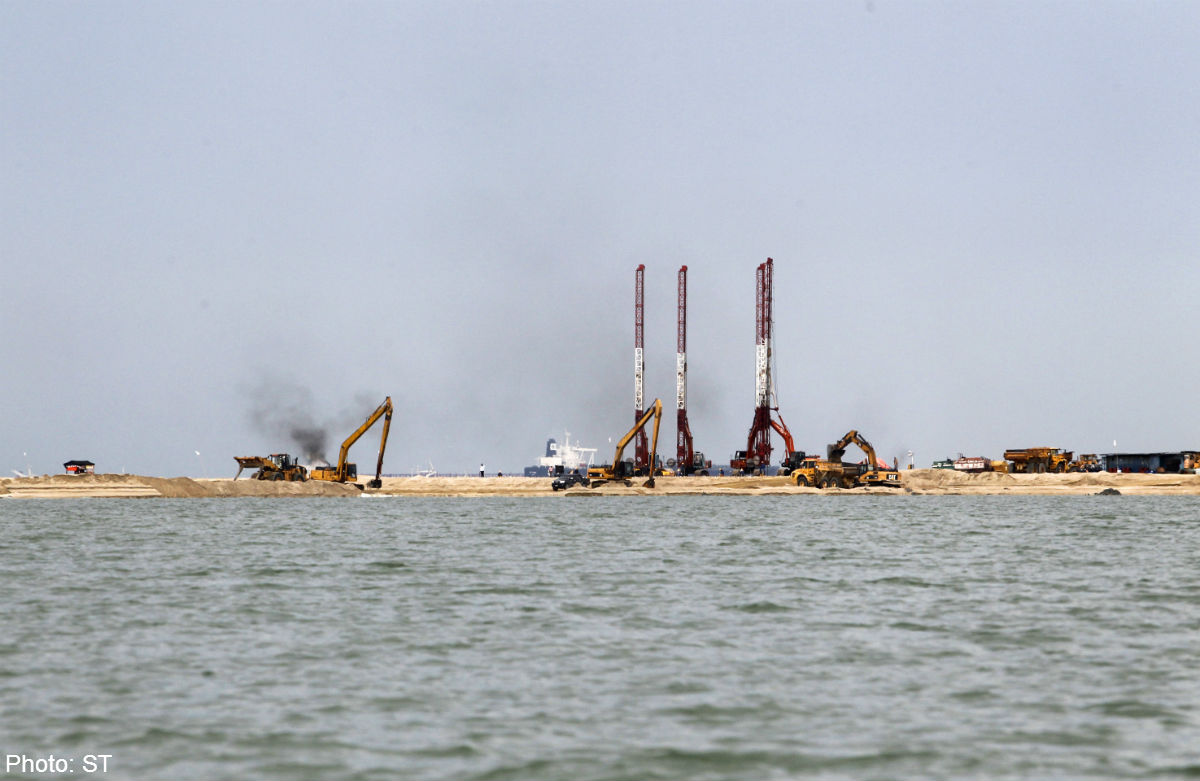 SINGPOARE - Malaysia has assured Singapore that no reclamation is taking place for its two controversial projects near the Johor Strait, said Senior Minister of State for Foreign Affairs Masagos Zulkifli yesterday.
It remains committed to fulfilling its obligations under international law and will take all necessary measures to avoid any adverse transboundary impact, he said in Parliament.
"Singapore is very concerned about the potential transboundary impact on Singapore from reclamation projects in Malaysia that are in close proximity to Singapore," he said in response to questions from Dr Lim Wee Kiak (Nee Soon GRC) and Mr Ang Wei Neng (Jurong GRC).
The Republic has conveyed its concern on a number of occasions to Malaysia, asking for more information on these reclamation and construction works, he added.
Prime Minister Lee Hsien Loong spoke and wrote to Malaysian Prime Minister Najib Razak on the matter in May.
National Development Minister Khaw Boon Wan, who co- chairs the Malaysia-Singapore Joint Ministerial Committee for Iskandar Malaysia, also wrote to his Malaysian counterpart the same month.
The issue was also discussed in May at a meeting of the Malaysia-Singapore Joint Committee on the Environment in Malaysia.
Malaysia had responded on June 30 to Singapore's request for the projects to be temporarily suspended until the Republic receives and studies information on them. The Straits Times understands that Malaysia's Department of Environment was responding to a letter sent by the National Environment Agency.
The Malaysian Foreign Ministry then sent a diplomatic note to the Ministry of Foreign Affairs (MFA) on July 1.
Malaysia has also given Singapore preliminary general information on the projects and promised to share all other information once ready, Mr Masagos said.
Singapore is seeking further clarifications on some of the information provided, and will study the projects' impact.
"We have proposed to hold consultations with Malaysia so that both sides can further discuss and exchange information on these projects," he added.
The major reclamation works first attracted controversy last month, with concerns over their possible impact on Singapore and the environment.
The first project, a luxury home complex on a man-made island three times the size of Ang Mo Kio, is located near the Second Link. Dubbed Forest City, it is developed by China's Country Garden Holdings and a Johor state company.
The second is a residential project by China developer Guangzhou R&F Properties named Princess Cove.
Singapore was not given prior information on either project, and it is concerned about the effect on the coastal environment and infrastructure, among other problems, said Mr Masagos.
Under international law, Malaysia is obligated to "not permit reclamation activities of this scale and nature to take place so close to Singapore without first conducting an environmental impact assessment", he said.
If damage to the environment has been caused or is imminent, Malaysia has a duty to immediately notify Singapore, he added.
Under a 2005 settlement agreement following a reclamation case, both countries must monitor their environments in the Johor Strait, share information and address any adverse impacts.
According to a Johor official, Forest City developers had voluntarily stopped work for about a week while awaiting approval from the Department of Environment. But a Straits Times check on June 25 found that work on a sandbank was still ongoing, as the developers had asked for more time to wind down operations.
charyong@sph.com.sg

This article was first published on July 10, 2014.
Get a copy of The Straits Times or go to straitstimes.com for more stories.